Connected planning gives Genoa instant insight into risk exposure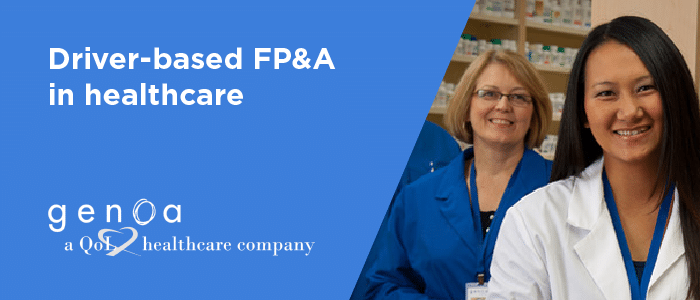 Stephanie Weiland started her career as a blackjack dealer in Las Vegas, so she has seen plenty of winners and losers. After shifting into corporate finance, she developed her career in investment, retail, and real estate companies before taking up her current position as Senior Manager, FP&A, at Genoa, a QoL Healthcare Company.
With its rapidly growing network of over 350 pharmacies in 45 states and the District of Columbia, Genoa is the leading pharmacy provider for behavioral health and addiction treatment communities and serves the needs of more than 500,000 people annually. Since it offers specialist services, Genoa is not the type of pharmacy you can just walk into off the street so you may not have heard of the company—but it is the sixth-largest pharmacy chain in North America.
Genoa adheres to performance-based healthcare
Genoa practices performance-based healthcare, and its presence in community clinics helps reduce the need for emergency visits by 18 percent and achieve 96 percent patient adherence to medication regimes—three times that of general pharmacies.
This explicit understanding of the key performance indicators (KPIs) in Genoa's business model helps the company convince clinics to allow it to open offices on their premises and propels Genoa toward its vision of serving the needs of millions of patients. It also carries over into Genoa's financial planning and budgeting.
Because of the changes in healthcare and regulatory environments, Stephanie reports that her team is constantly asked, "How are the changes in government impacting us?" and "What's our risk?" With her background in finance, Stephanie has a heightened appreciation for such questions and is a passionate advocate for using driver-based methodologies in FP&A, which can help alleviate fears underlying such questions. "I can say confidently, across all the different exposures I've had, I personally feel that driver-based forecasting is something all companies should do," she says.
Delivering answers in minutes, rather than weeks
However, using spreadsheets to plan and budget for a rapidly growing roster of pharmacies and a workforce of 2,300 made it impossible for Stephanie to provide quick answers to questions about how changes to drivers (such as drug reimbursement levels) might impact financial performance. Fortunately, Stephanie discovered the Anaplan platform and, after a single day spent building a proof of concept planning, budgeting and forecasting model based on Genoa's own data, she was completely won over. Today, Genoa enjoys connected planning, using a 23-gigabyte model that provides executives with answers to "what-if" scenarios, risk exposures, and sensitivity analyses in a matter of minutes rather than weeks.
Watch the video, "Driver-based forecasting at Genoa: Finding the right FP&A tool," to hear Stephanie and her colleague Mathew Meier explain how connected planning on the Anaplan platform has given Genoa better insights to manage its rapidly growing business.