People of Anaplan: Meet Rachelle de Luna
Singapore is widely considered the most walkable city in Asia, and Rachelle de Luna takes good advantage of that fact. When she's not working as an Inside Sales Lead for Anaplan, she walks the city she calls home—or heads to Malaysia to hike the mountains, visit waterfalls, go spelunking, or do anything that gets her closer to nature. When the exploring is done, she relaxes by watching documentaries and hanging out with friends over a glass of red wine.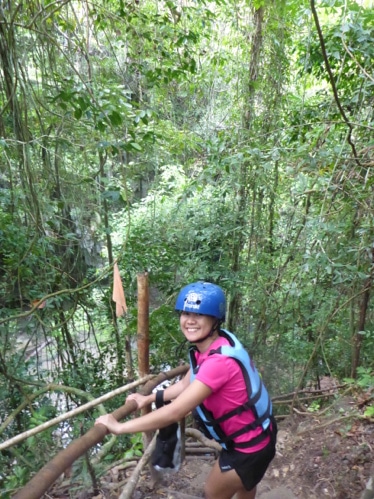 What did you want to be when you grew up?
My father worked as a finance manager for a manufacturing company, so when I was young, I thought I would be like him. However, I was also influenced by my love of art, so I studied theater production design at De La Salle University in Manila. Since then I've been involved in multiple theater productions, both in the Philippines and Singapore, doing stage management.
Have you always been interested in technology?
Yes, I like to learn new things, like cloud applications. I especially like the fact that technology is consistently evolving and becoming more relatable to business users.
What do you do at Anaplan, and how does your work impact Anaplan users?
I work in Business Development, also known as Inside Sales. I do a lot of research on potential customers, and use a LinkedIn tool called Sales Navigator extensively to learn about their business and understand how Anaplan might help them be more profitable. My job is to spread the message of Anaplan to our prospects in APAC, create awareness on social media, engage with C-level executives, and open the doors for our sales team to showcase the power of the Anaplan platform.
Why did you decide to join Anaplan?
I find the product easy to talk about and connect with. Although it's powerful technology, I don't need to be too technical to talk with people about Anaplan. It's interesting to see how Anaplan resonates as the best solution for planning and forecasting in every department. 
When did you realize that Anaplan is something special? What was your Anaplan "a-ha" moment?
I have been with the company for three years now. My "a-ha" moment came when I realized that I didn't have to spell out A-N-A-P-L-A-N over the phone anymore—Anaplan is now a recognizable brand in APAC and it's been exciting to be apart of that expansion and awareness. It's also been fulfilling to see how our team has grown; I was the fifth employee in APAC, and now our team is more than tripled in size! We're only moving upward!
What is your favorite part of working with your team at Anaplan?
I work in Anaplan's Singapore office most of the time. What I like most is how I collaborate closely with account executives and the marketing team. We meet every week to make sure that we're aligned with all of our activities. I also look forward to attending field marketing events, as they give me the opportunity to meet and engage with our prospects face-to-face.
What is your favorite thing to plan?
I like to plan nature trips, such as hiking or camping with family and friends.  
Interested in growing your career at Anaplan? Check out our careers page for current job openings.
Curious about the people behind the Anaplan logo? Explore our People of Anaplan series, which shines a spotlight on our employees around the world. Learn about their interests and hobbies, what makes them tick, and how they help make Anaplan the leading planning and performance management platform for smart businesses.