Run HR like a business with connected people planning
What skills do you need to drive your business strategy? How do you perform headcount planning and stay ahead of skills gaps that could otherwise hinder your forward progress or erode your company's competitive advantage?
Workforce planning has emerged as a critical differentiator for companies operating in today's volatile economy—now more than ever. In the thick of this uncertain environment, one thing remains constant: talented employees are tough to retain. And that's a huge problem for executives. In fact, according to a Harvard Business Review Analytic Services report, 87 percent of them struggle to find talent—let alone retain top employees—and have shortages in select areas.
How workforce planning works today
In the digital economy, HR has become a critical business function. Whether you need to streamline the workforce to preserve the bottom line, develop or find critical skills to grow the top line, or both, your people plans need to be tightly connected to your business. That's because strategic business plans drive operational budgets. Department managers update the strategic plan with workforce and capacity plans that roll into HR recruiting plans and course correct financial budgets. On the ground, managers optimize their staffing plans on a daily, even hourly basis—marching to the operational KPIs. Yet, this planning still occurs today in silos and spreadsheets, and is disconnected from the overall business. The result is that strategic plans become obsolete just a few weeks after they are rolled out.
Workforce planning must connect your people plans to the business
Workforce planning informs decisions about recruiting, developing, deploying, and retaining your people. Yet, too often in businesses, these aspects are considered separately when they should be considered together. Having the systems and tools in place to understand which roles drive profitability and results, as well as manage the talent pipeline to fill those roles, is critical to informing talent acquisition, retention, and development and deployment efforts.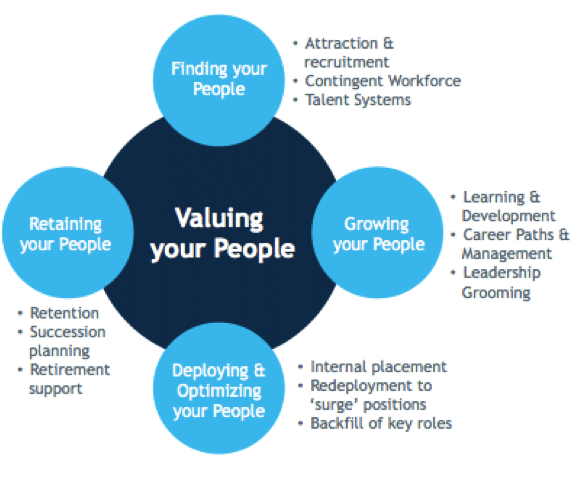 Unlimited "what-if" scenarios and strategic workforce planning
What if you could plan for and optimize the talent needed to drive your business strategy? Imagine being able to reduce labor costs without negatively impacting productivity. This means you could target retention activities on key talent, identify mechanisms to rapidly hire needed talent, proactively move talent internally to maximize the return—each activity would help you increase and maintain overall workforce productivity. With strategic workforce planning that is connected to operational inputs, you could solve every "what-if" scenario imaginable.
Anaplan for HR: unstoppable people performance
With Anaplan's new workforce planning app, you can collaboratively plan and unify your workforce requirements—headcount, skills, retention, and recruiting—for the current and future needs of the business, including:
– Aligning your people plans with your business plans
– Shaping and adapting your plan with unlimited "what-ifs"
– Optimizing your people performance
– Delivering on your hire targets
Most importantly, the workforce planning app will help you to automatically integrate data from your HR, Finance, and other key business transactional systems to connect your plans. Inform the business, clearly execute your plans, and put the right people, in the right job, at the right time—it all connects.
Discover the possibilities of connecting your people plans tightly with the rest of the business. Watch this short video on Anaplan's workforce planning app to learn more.