Women in the workplace – managing your brand
At Anaplan, we're committed to supporting a diverse workforce that empowers all people, regardless of gender, ethnicity, age, neurodiversity, religion, sexual orientation, disability status, or any other aspect that makes them unique. As part of this goal, Anaplan's Women's Interest Network (WIN) hosts regular presentations in which women share their experiences in the workplace and offer advice on succeeding in the business world.
Last month WIN was lucky enough to have Ana Pinczuk, Senior Vice President and Chief Transformation Officer at Anaplan, offer her thoughts on managing one's personal brand. As Regional Lead of WIN at Anaplan, I was given the honor of interviewing Ana. "Open" and "authentic" are two of our core values at Anaplan, and Ana easily embodies both of these: despite her many accomplishments, Ana remains committed to learning and growing in both her business and her personal life. Ana also maintains an open door policy to employees who want to share their thoughts or ideas, or gain her advice.
As expected, Ana's presentation and the Q&A that followed offered a wealth of advice to employees at all stages of their careers. In what follows, I'd like to highlight a few words of wisdom she left us with.
1. Managing a personal brand is about reconciling how others see us with how we see ourselves.
If there was one major takeaway from the presentation, it was this: the key to managing one's personal brand is about reconciling how we see ourselves with the way others see us. Ana used the slides below to point out how these two perceptions—how we see ourselves and how we're seen by others¬—rarely harmonizes in the way we imagine, and how the difference between the two can grow over time.
As Ana explained, managing our personal brand involves figuring out where the differences lie and how to close them, both within a specific workplace (how your managers and co-workers see you) and over the course of a career (how people in your field see you, or how you appear to the wider business world).
Ana also stressed that the gap is often greater for women than it is for men: many studies have shown that while women are often objectively rated as top performers in their workplaces or excellent candidates for promotion, subjectively women often doubt their own capabilities or experience, leaving them less likely to ask for a promotion or take on new responsibilities.
2. Capitalizing on goodwill can close the gap. So can feedback.
In drawing attention to this idea, Ana wanted to emphasize that understanding that there is often a gap between how we see ourselves and how others see us is above all an opportunity to learn more about ourselves. This is true whether we perceive ourselves as less capable than others see us as, or whether we overinflate our own abilities relative to how we're perceived.
In the first case, where the perception of us is that we're more capable than we see ourselves as being, we can leverage these positive perceptions to move up in the organization or the field, since we've effectively earned the right to do so. (Women, take note!)
The second case, in which we overestimate how we're seen from the outside, can be trickier. Often we're not aware that this gap exists until we're passed up for a promotion or given specific feedback by our managers. As painful as these experiences can be, however, they also provide tremendous opportunities for growth, as long as we're willing to commit to receiving constructive feedback and adjusting our behavior accordingly.
3. Acquiring a new role is about capabilities and perception.
Often we imagine taking on a new role, but see ourselves as lacking the necessary skills and experience (this is the situation in the left slide below). In this case, it's important to remember that the gap isn't just about what skills you have—it's also about how you're perceived. Being perceived as a high performer (even if you don't feel like one!) can go a long way towards convincing people that you're up to the demands of the new position.
Again, this information is critical for woman, who often imagine they don't merit consideration in the hiring or promotion process because they lack a skill or two, when in fact hiring and promotions are often based on potential—a quality that is far more about how one is perceived than what a given candidate can do at any given moment. Knowing this, it's helpful to think of the situation more as the one in the right slide, where closing the gap means both acquiring new skills and leveraging a good impression of yourself.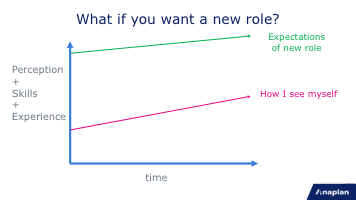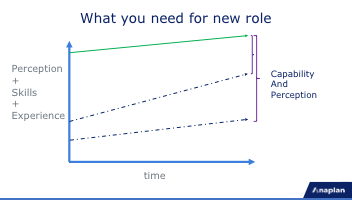 4. Perceptions don't end at 5 p.m.
In the Q&A, I asked Ana about the importance of conducting oneself professionally when outside the workplace. Her response was that the world never stops observing you. From the perspective of your personal brand, conducting yourself inappropriately outside the office can negatively impact your career goals. Acquiring a reputation as an office gossip, the person who drinks too much at holiday parties, or even someone who is respectful towards others at work but the opposite once they leave the building can severely limit your opportunities for advancement, especially if you're not aware that this is how you're being perceived.
Importantly, this doesn't mean you shouldn't be authentic. You should! It just means that it's important to measure your behavior with an eye towards its impact on how people perceive you.
5. Authenticity matters.
Above all, Ana stressed that it not only important to appear to be someone whom coworkers like and respect—it's important to actually be that person. The point of closing the gap between how you're perceived and how you see yourself isn't about creating a mask to put on the moment you walk into the office; it's about becoming a more authentic person. If you're worried about career advancement, actually being an authentically helpful, hard-working employee and co-worker is a crucial first step towards being seen as one.
As we all move forward in our careers, it helps to be guided by someone with both experience and the willingness to share it. To that end, I thank Ana Pinczuk very much for sharing her thoughts with the Anaplan community! As mentioned above it is the goal of Anaplan's Women's Interest Network (WIN) to host regular presentations in which women (and men!) share their experiences in the workplace and offer advice on succeeding in the business world.
I also encourage everyone to attend our future WIN events, including a forum at Pinterest on Thursday, July 25 and a Working Moms Panel at Anaplan HQ on Wednesday, September 4.
| | |
| --- | --- |
| Anaplan is hiring! See how we live our values every day. | Careers |