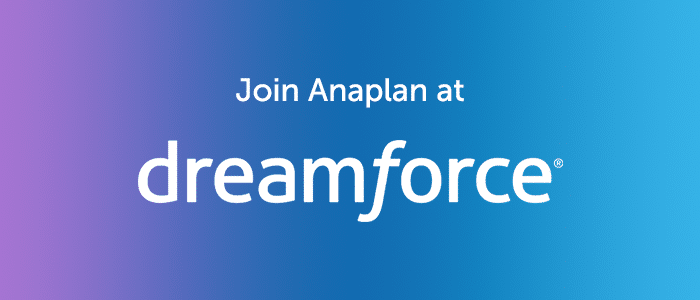 Smart sales and marketing performance management
October 4-7, 2016 | Moscone Center | Booth #2032
We'd love to connect with you during Dreamforce. Stop by our booth #2032 to see first-hand how companies are leveraging Salesforce and Anaplan together to achieve efficient planning for sales and marketing, accurate forecasting, and optimized compensation.

Account Segmentation
and Scoring

Marketing Performance Management

Territory
and Quota Planning

Sales Forecasting

Incentive Compensation
and Crediting
Anaplan Customer Presentation
Don't miss your opportunity at Dreamforce to hear how leading organizations, such as DocuSign, are leveraging Anaplan to plan, model, and optimize their business processes and sales performance.
Session Title: DocuSign improves sales forecasting speed and accuracy with Anaplan
Join us to learn how DocuSign enables their field to have strong visibility, consistency, and accuracy inside the sales forecasting process with Salesforce and Anaplan. The implementation has created a single source of truth for management to view the business as a whole company, as well as individual teams. By giving the managers better perspectives and tools, DocuSign is taking the risk out of the sales forecasting process by providing the transparency and accuracy required to continue growing at a rapid pace and scale.
| | |
| --- | --- |
| Date: | October 6, 2016 |
| Time: | 1:30 PM |
| Location: | Moscone South, Cloud Expo |
Featured speakers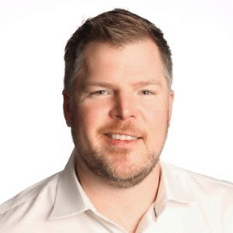 Jeremy Scheffel, DocuSign
With Sales Operations, Incentive Compensation, Product Marketing and Management experiences across a diverse base of companies that deliver analytics, mobile and contact center solutions, Jeremy joined DocuSign to develop a sales performance intelligence practice to support its leadership's drive to continue growing at an exceptional pace and scale.
With a background in both end-customer and internal analytics programs, the ongoing theme in his career has been blending quantitative and qualitative research to drive better decisions to grow revenue, improve margins and mitigate risks. The first part of the journey at DocuSign began with account scoring and quickly turned to a re-envisioning of Sales Forecasting process spanning more than 30 sales teams to enable both a bottom up and top down perspective on sales performance. Jeremy earned an Honors Bachelor of Mathematics with a specialty in Information Systems from the University of Waterloo in Ontario Canada.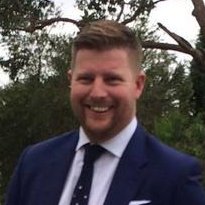 Rowan Tonkin, Anaplan
Rowan has worked across the customer lifecycle, from sales through to implementation, consulting, and customer success. He specializes in operations of sales and marketing and how to drive performance for organizations.
About Anaplan
Anaplan is the leading planning and performance management platform for smart businesses. Anaplan combines an unrivaled planning and modeling engine, predictive analytics and cloud collaboration into one simple interface for business users. 
Connect with the Anaplan Team in
our VIP Suite