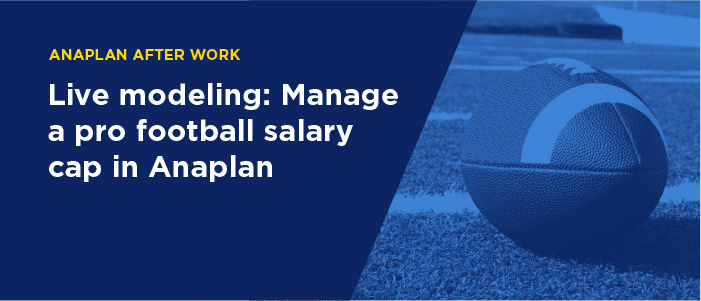 July 12 | 3:30 p.m. – 6:00 p.m. | Minneapolis
What's it like to be a pro football general manager? Join Anaplan After Work to find out.
We've built a model on the Anaplan platform to showcase its vast capabilities – through the use case of managing the salary cap and day-to day budgetary challenges of a professional football team.
So join us—and other planning leaders—at Surly Brewery to experience firsthand the challenges pro football general managers face every day. You'll have the opportunity to network and learn how the Anaplan platform can help every business function across your organization make better-informed decisions and drive faster, more effective planning processes.
Event Details
Date:
July 12, 2017
Time:
3:30 p.m. – 6:00 p.m.
Location:
Surly Brewing Co.
520 Malcolm Ave SE
Minneapolis, MN, 55414
Map & Directions