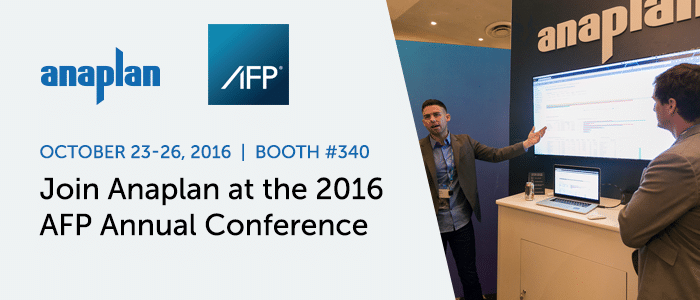 Join Anaplan in Orlando for the 2016 AFP Annual Conference to Break Boundaries. This year's conference brings together over 6,500 finance, accounting, treasury, and finance professionals. The conference is promised to expand your focus, tear down silos, make unexpected connections, and help you find valuable insights.
Stop by our booth #340 to learn why Anaplan is the leading planning and performance management platform for smart business. Discover how Anaplan combines an unrivaled planning and modeling engine, predictive analytics, and cloud collaboration into one simple interface to simply your planning, budgeting, and forecasting processes.
Don't miss our session during the Financial Planning and Analysis Education track, where Emily Weigand, Anaplan's VP Finance, will present "Expediting the Planning Cycle."
Like every process in a company, planning processes have to keep pace with increased market volatility and rate of technological change. If not, the company as a whole can risk missing market opportunities. In this session, Emily will discuss her experience leading the finance team at Anaplan. She will share insights on how attendees can accelerate their planning processes and move from strategic objectives to an operational plan in half the time.
We hope to see you there! For more information, visit AFP.