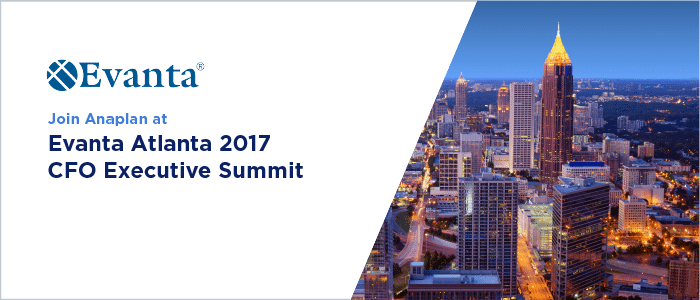 Atlanta | Tuesday, October 24
Join Anaplan and other finance leaders at the annual Atlanta CFO Executive Summit, hosted by Evanta.
At the event, we invite you to join Anaplan for an interactive fireside chat, where we will discuss the changing role of the CFO in leading the financial transformation of the enterprise. You will learn how leading CFOs are driving a new age of financial planning by connecting data, people, and plans across finance and operations to drive revenue and grow the business at a rapid pace.
You can also meet with us during the day for a detailed discussion about how the Anaplan platform can help your organization drive faster, more effective planning processes and better-informed decisions.
Sign up to schedule a 1:1 meeting with our connected planning experts. We hope to see you there!
Event Details
Date:
October 24, 2017
Location:
The St. Regis Atlanta
88 West Paces Ferry Rd NW
Atlanta, GA
Directions to Venue
10:50-11:40am

Elevating business strategy and planning to the cloud
After personally building the interconnected databases that support her company's incentive programs, National Vision's Karma Bevelhimer, VP of Financial Operations, faced the challenge of moving to the cloud. This shift would mean better data security, but would the transition to a third-party's platform mean losing the functionality the program depended on? But through new efficiencies and simplified user experience, functionality, collaboration, and accessibility to data, in fact, improved. Join this co-presentation between Bevelhimer and Anaplan's Scott Lyon to learn how National Vision's successful cloud initiative is leading the way for the company's growth.

Karma Bevelhimer has over 20 years of experience in financial planning and analysis with over 15 years of that in retail.  She joined National Vision in 2003, and was instrumental in establishing their business intelligence solutions and supporting the operational and financial needs of the rapidly growing business.
Prior to joining National Vision, Karma worked at Zales managing the financial operations of the Zales brand and at Research Institute of America, a Thomson Reuters subsidiary, in their corporate planning.  She holds a Bachelor of Science degree in business administration with an accounting emphasis from the University of Northern Colorado.

For more than 25 years, Scott Lyon has applied information technology solutions to improve business results across a variety of disciplines and industries. First as an IT integrator with Accenture and PeopleSoft, then as a visionary sales leader with a number of Inc. 5000 Fastest Growing companies; Lyon has successfully harnessed technology to deliver measurable results for his clients while building profitable hyper growth technology companies. As the VP Sales, SVP Sales and CEO over the past 12 years, three of Lyon's former pre-IPO companies have been successfully acquired.
In his current role, Scott is helping companies transform their planning, analytics and operations with next-generation solutions from Anaplan, a San Francisco software company that is redefining enterprise planning in the cloud.
Based in Atlanta, GA, Scott is a private company advisor, is active with his church and enjoys spending time with his wife and two children jogging, golfing and playing any sport that includes a racquet.