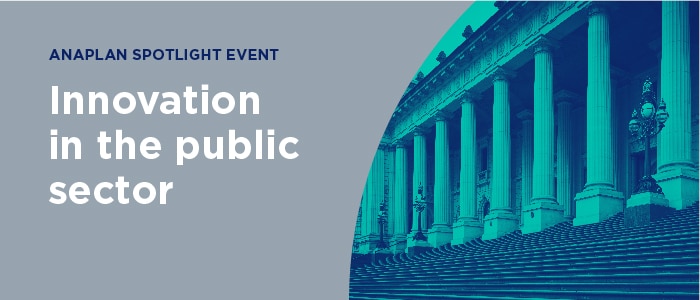 Innovation for the public sector: Hands-on model building workshops
Discover how connected planning with Anaplan can help you identify savings, streamline processes, liberate workforce planning, and deliver insight across your organisation—with power, scale, and agility.
The public sector is expected to deliver better operating performance under increasingly tighter budgets and growing complexity. Standalone spreadsheets and outdated systems only add to the challenge. With Anaplan, you can create and connect user-friendly plans and processes with financial and operational drivers.
At this hands-on, interactive workshop, you will build an Anaplan model from scratch, on your own laptop, in less than a day. After the workshop, we will give you the tools, workspace, and knowledge you need to enhance your model for up to four weeks.
Schedule of upcoming workshops
November 2nd – London
November 9th – Birmingham
December 7th – London
*Please pick a date and location when registering on the form
9:30 a.m.

Welcome and Introductions

10:15 a.m.

Overview of the Anaplan Platform: Driving Faster and More Effective Planning and Decision-Making

10:30 a.m.

'Anaplan in Action' Interactive Demonstration, Featuring Specific and Cross-Functional Use Cases

11:45 a.m.

Model-Building Discovery Workshop, Including Working Lunch

4:10 p.m.

The Anaplan App Hub: The Ultimate Illustration of Modelling Versatility

4:30 p.m.

Workshop Wrap-Up