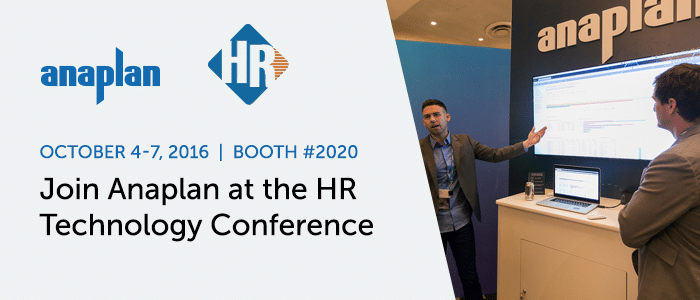 3 reasons to attend HR Tech and connect with Anaplan
Join 8,500 HR professionals at the industry event of the year—HR Tech. Come by Anaplan's booth #2020 to hear how the Smart Business Platform is transforming HR processes and how it can empower you to run your HR organization as efficiently as you run the rest of your business. Meet with Anaplan to learn how you can:
Align your workforce plans to business objectives by intelligently aligning your headcount plan to changing business goals
Model "what-if" scenarios to accurately predict hiring needs based on real-time insight into the data
Better optimize your people, resources, and workforce plan—by spending less time in spreadsheets and more time on value-added strategic HR planning
Join us to learn what other HR professionals are doing with Anaplan. Register today for HR Tech 2016.
And last but not least, visit our booth to enter our drawing for a chance to win a brand new Apple Watch!
Visit hrtechconference for more details.