Buyer's Kit
Planning, budgeting, and forecasting
Download the Buyer's Kit
お申込みありがとうございます。間もなくお申込み内容に関するemailをお送りします。
Be a catalyst for change in your organization.
Without the right tools, implementing planning, budgeting, and forecasting (PB&F) best practices can seem nearly impossible—or it quickly turns into a substantial undertaking. Today's best-of-breed financial planning platforms can help you support the enterprise with more timely, reliable business insights. Through stronger business partnering, finance leaders become catalysts for transformation across the organization.
Download the Planning, budgeting, and forecasting buyer's kit to help guide you in the selection of the right software to implement PB&F best practices.
What's inside the Planning, budgeting, and forecasting buyer's kit: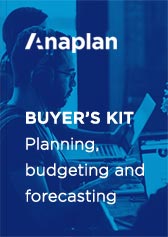 Sample PB&F RFP template
Planning, budgeting, and forecasting with Anaplan data sheet
Gartner Strategic Corporate Performance Management Magic Quadrant
AFP research report: Building an integrated business planning capability
Strategic planning and budgeting and forecasting Anaplan demos
RSA customer story: Finance provides value-added analysis
Harvard Business Review report: The new game plan for strategic planning
United Airlines customer story: Achieving multi-dimensional financial planning
Get access to thought leadership from: "We don't like constraints—if we see a better way to do something, we want to be able to change it. That's one of the reasons why the flexibility of the Anaplan platform stuck out for us."
—FP&A Manager, Booking.com