We're delighted to introduce the latest release of Anaplan!
We're always looking for ways to improve the Anaplan platform's ability to help you empower decision-makers in your company to make smarter plans. Anaplan's second release of 2015 allows you to provide dynamic insights and clear actions to your business managers without sacrificing simplicity.
Empowering decision-makers
Real-time, dynamic reporting is key to empowering decision makers across your business to make decisions that drive growth. With Anaplan's second release of 2015, your decision maker empowering experience gets even better, both on and offline!
Anaplan for Office® Excel
Working with Excel is easier than ever with this release. Create and share presentation quality formatted financial reports and management report packages with ease. Format it once and refresh on-demand. And, with write-back, you can enter budgets offline, confidently consolidating with the corporate plan in one click. Decisions are made faster, decision makers are empowered and your plan accuracy is increased.
Using your Anaplan security credentials, you can link the Anaplan report of their choice to Excel; format once and dynamically refresh going forward, a simple click is all it takes. A secure, dynamic connection maintained between Excel and the Anaplan means you never have to rekey or reformat again.
Need to work offline but need to get your latest budget or forecast done anyway? Now you can easily take your Anaplan budget, plan or forecast offline when needed. Use Anaplan for Office Excel to quickly move your 'plan', 'what-if model' or 'budget' into Excel. Update your budget or forecast in Excel, and when you are back online, simply push your revisions back into Anaplan with a click.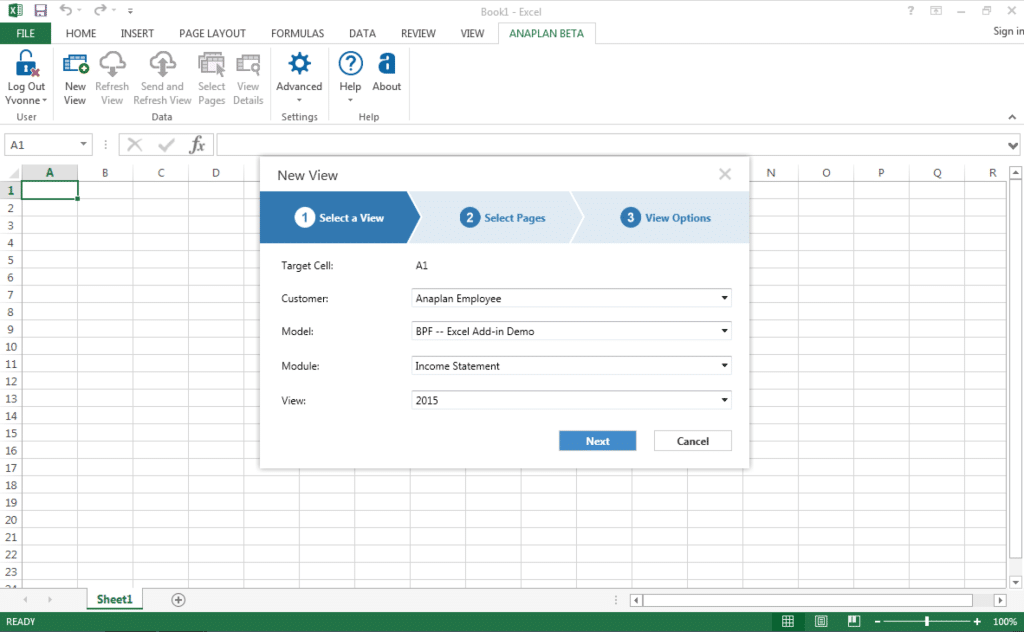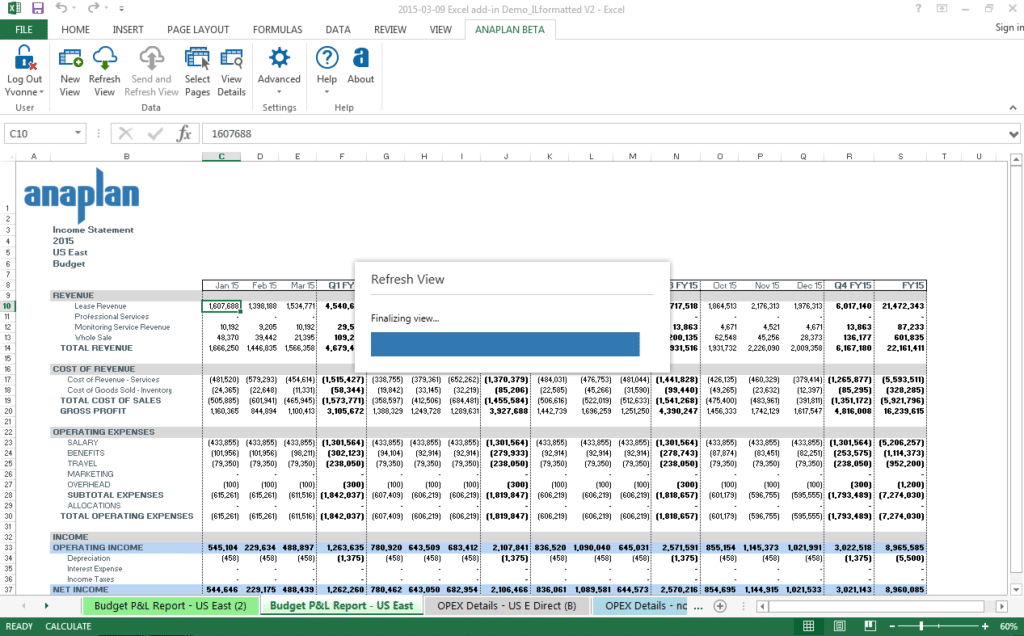 Watch the video
Engagement Features
Three new features are designed to enrich your collaboration, search, and drill-down experiences.
Department leaders want to understand the context for changes to information on their dashboards, whether it's a revised KPI, a driver or updated forecasts. This release allows multi-line commentary on any cell in your dashboards, enhancing collaboration around your plans. As soon as you write it, everyone sees it.
In addition, we've enhanced the right-click functions, to allow immediate and intuitive "Search", as well as "Drill To Transaction" for the time period and version of your choice.
Watch the video
Faster Plan Maintenance
Model Map: Search and Magnify
Anaplan model map are visual representations of the connections between different elements of your business plans. Using a model map, you can see, for example, how a budget drivers, such as workforce benefit percentages, are connected to your workforce budgets, which are connected to your total expense projections. In this release, we've added the ability to quickly search for a data element and magnify it's location, so that you can easily identify where to make changes to your data elements, structures or calculations.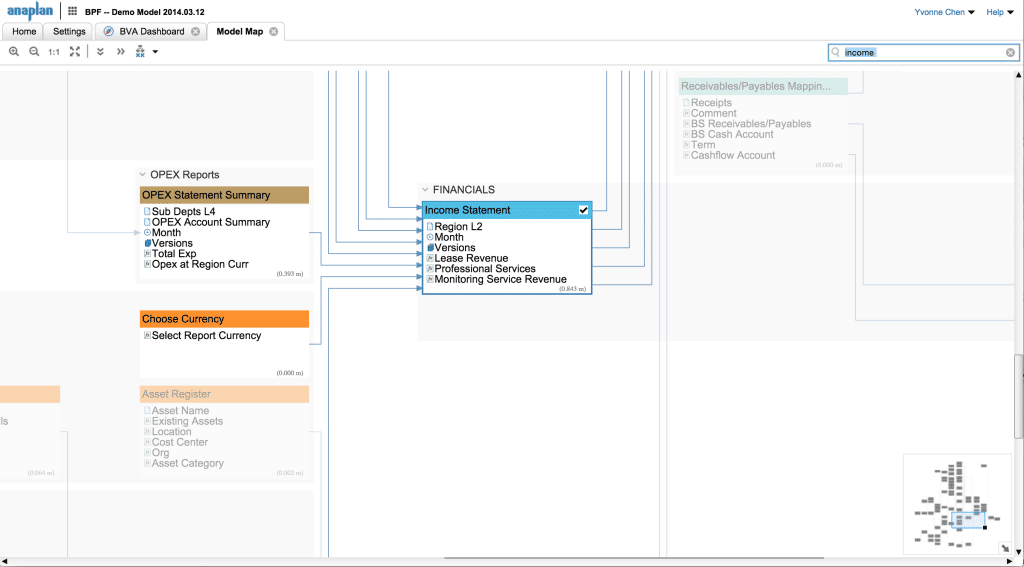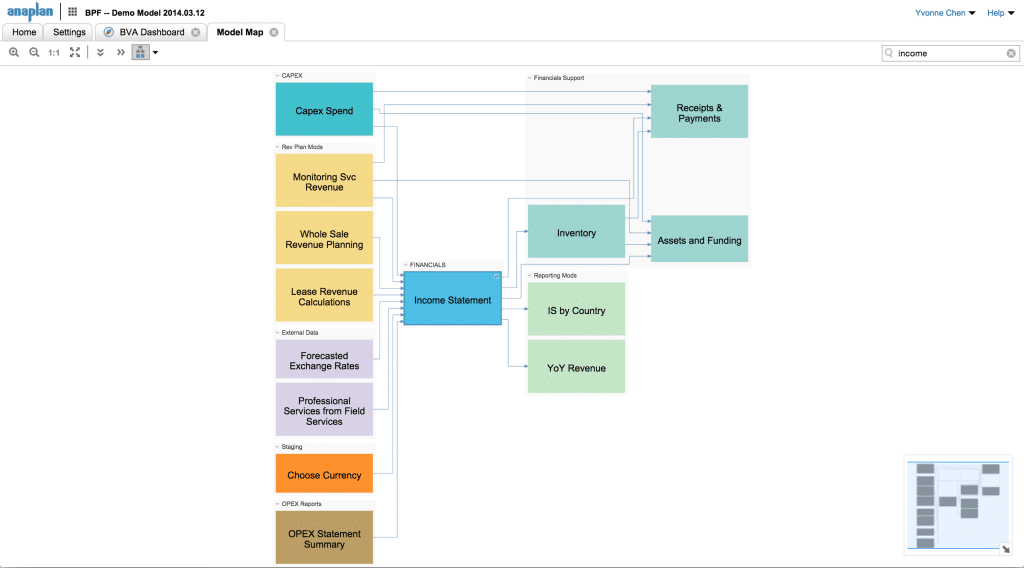 With Model Maps you can see how your planning data and drivers are connected. The new Search and Magnify capability makes it even easier to pinpoint where to look when you have questions or need to make changes.
Watch the video
Time Period as a List Format
Application builders, simplify your time related calculation. You can now apply a Time Period format to your line items. Think of this new formatting option as applying a special kind of list-format to line items. It's really useful in result modules where you want to use LOOKUP or SUM in line item formulas to obtain time period values from source modules.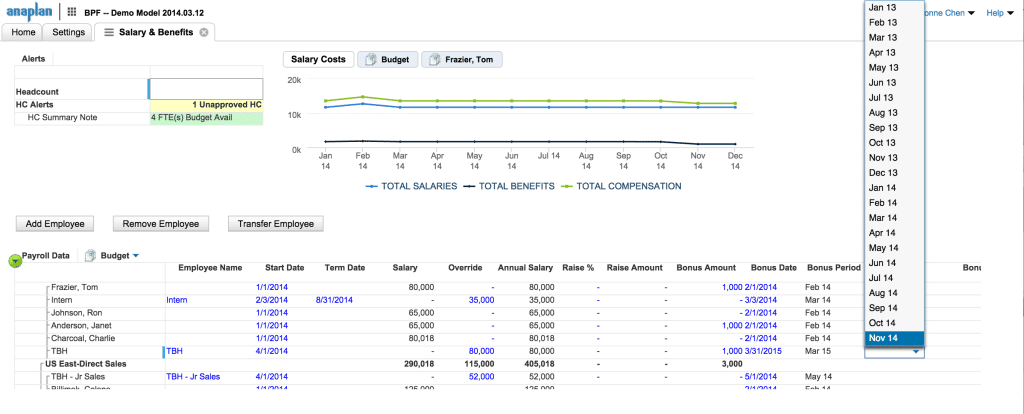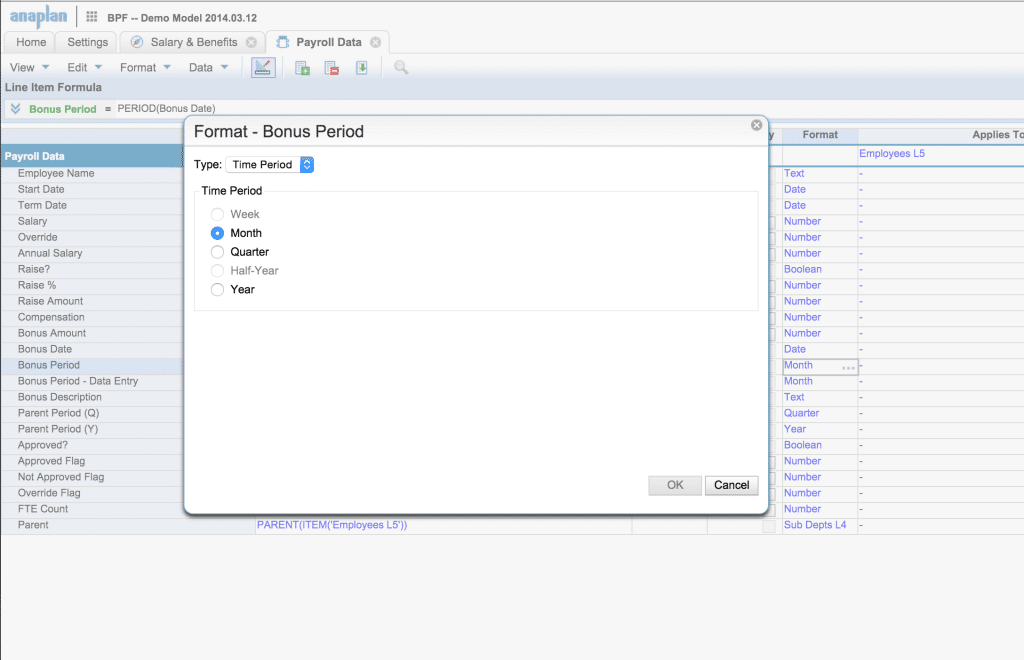 More Integration Options
Anaplan Connector for MuleSoft
Data Integration is key to delivering a unified view of your plans and results in Anaplan. Anaplan has always supported integration with a spectrum of tools to meet your integration needs, from the most simple to the most sophisticated. Start by using Anaplan's simple yet robust flat file import / export tool, which allows you to integrate any data right away. Then evolve and mature your integration capabilities using a variety of tools: from native connectors like we've built with Salesforce.com, to ETL solutions where you have a number of options. Finally, use Anaplan APIs or a combination of these tool options for custom integration projects.
New in this release, we add to the Anaplan Data Integration tool set a Mulesoft ETL connector that accelerates integration to popular transactional systems. Anaplan has partnered with Mulesoft to create an ETL connector to Anaplan, allowing joint customers to leverage Mulesoft's packaged connectors to on-premise systems, such as Oracle and SAP, and cloud systems such as Netsuite, Workday, and and Salesforce.com.
Want More Details?
Be sure to explore Anapedia to learn more about all of the new features and capabilities in this release.