Anaplan release 2016.3
Maximizing control and visibility for smart planning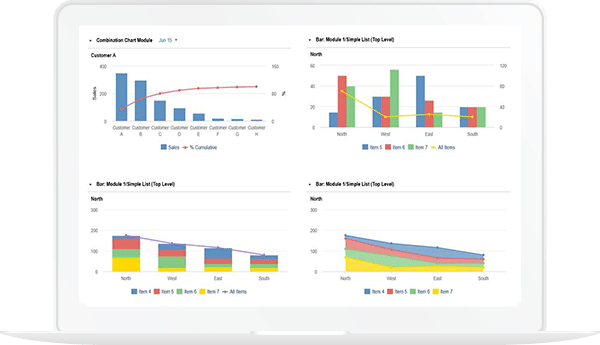 Highlights: Promoting governance, dynamic visualizations, dashboard enhancements, new apps, and export flexibility
Connected business planning begins with having greater control and visibility over your plans.
This release focuses on delivering just that, along with additional features to help you plan, forecast, and optimize in every part of your business with agility and ease.
Administer user access controls in one place
Connected business planning goes across the company and with so many customers using multiple models, we're investing even more in Anaplan Administration. In our last release, we added key functionality to Anaplan Administration so you can administer all your plans in one place, such as globally enabling/disabling users, user drill-down, model drill-down, and model categorization. Now, we are continuing to invest in Anaplan Administration by enhancing governance and control with Access Control.
In just a few clicks, administrators can access, drill down, and eventually set a user's global permissions through Administration, giving you more central user control and greater security for the company. This is an expansion on the way administrators can set and control system roles, enabling greater administrative control for better governance and smart planning. Look for continued investment in this key piece of governance functionality for the connected business!

The Assignments tab lists of all the Anaplan users in your company and their roles in the platform.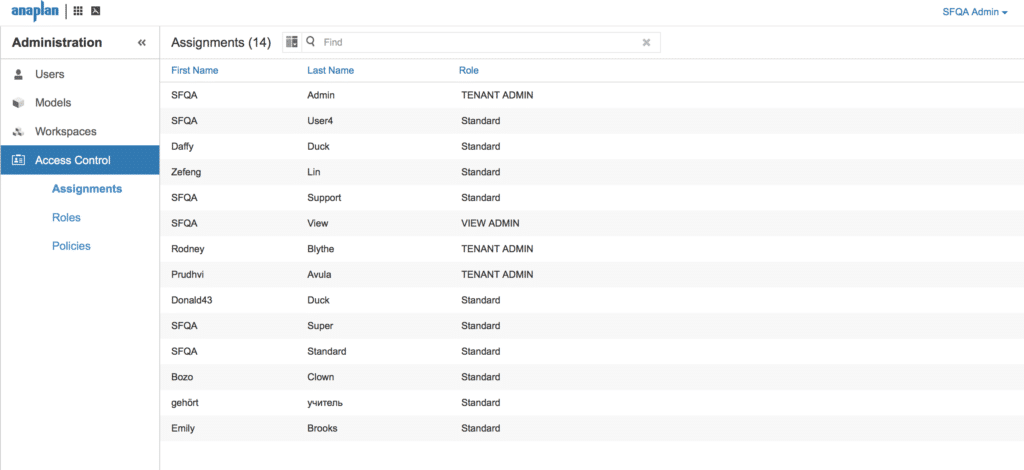 The
Roles
tab displays the role types, accompanying descriptions, and total users company-wide assigned per role.

The
Policies
tab lists the policies by role. In future releases, the relationship between policies and roles will become more complex and powerful.

Dynamic visualizations and enhancements to see more at a glance
"Refresh" dashboards in one click
Making well-informed business decisions starts with identifying the latest data and insights to develop clear, accurate, and efficient plans. Agility and accuracy matter. Data matters—and that's where maintaining accurate dashboards becomes important.
In just one click of a button, all open dashboards will refresh after running a process, ensuring that your dashboards are always live and up-to-date. You can now trust your data as you analyze numbers, gather insights, and make well-informed business decisions to drive growth and performance.
Combination Charts deliver visual impact
As plans become more flexible and collaborative, your consumption of data evolves as well. It is no longer sufficient to simply mine data and view it in a table or basic graph to conduct complex analyses. Now, you can visualize data in multiple ways with the
Combination Chart
, which enables you to view bar charts and line charts instantly. For example, a manufacturer can easily compare the number of units sold in the past few months with the total revenue generated to identify growth and demand. By overlaying different visualizations on one chart, you can now compare and contrast data at a glance. No more toggling back and forth between different visualizations to uncover the story behind the data. Unpack the data in real time to achieve greater time to value and make smart business decisions on-the-fly.
Create a Combination Chart in two easy steps:1.
Select "Combination Chart" for your chart configuration.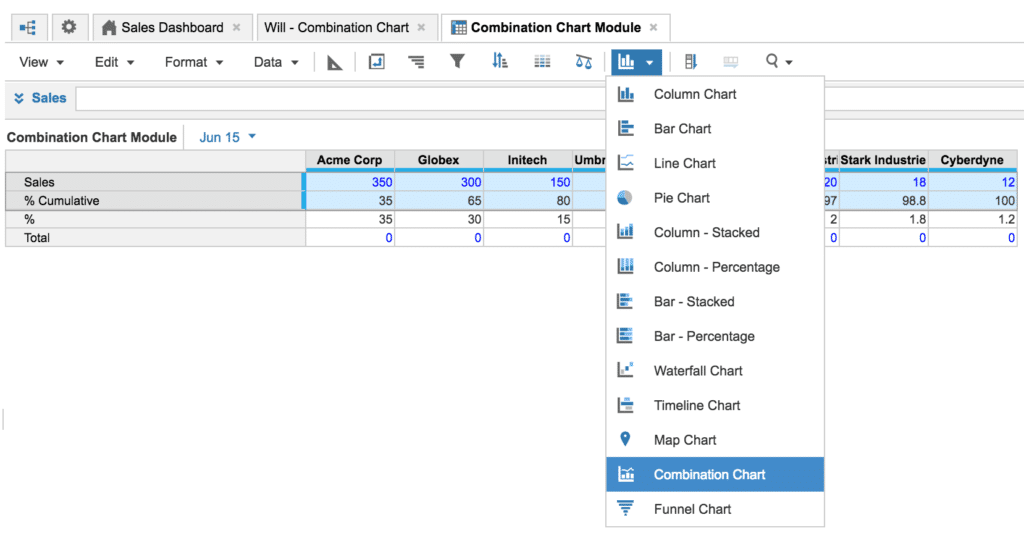 2.
Customize your chart configuration as desired, such as selecting chart type in the dropdown or labeling your axes.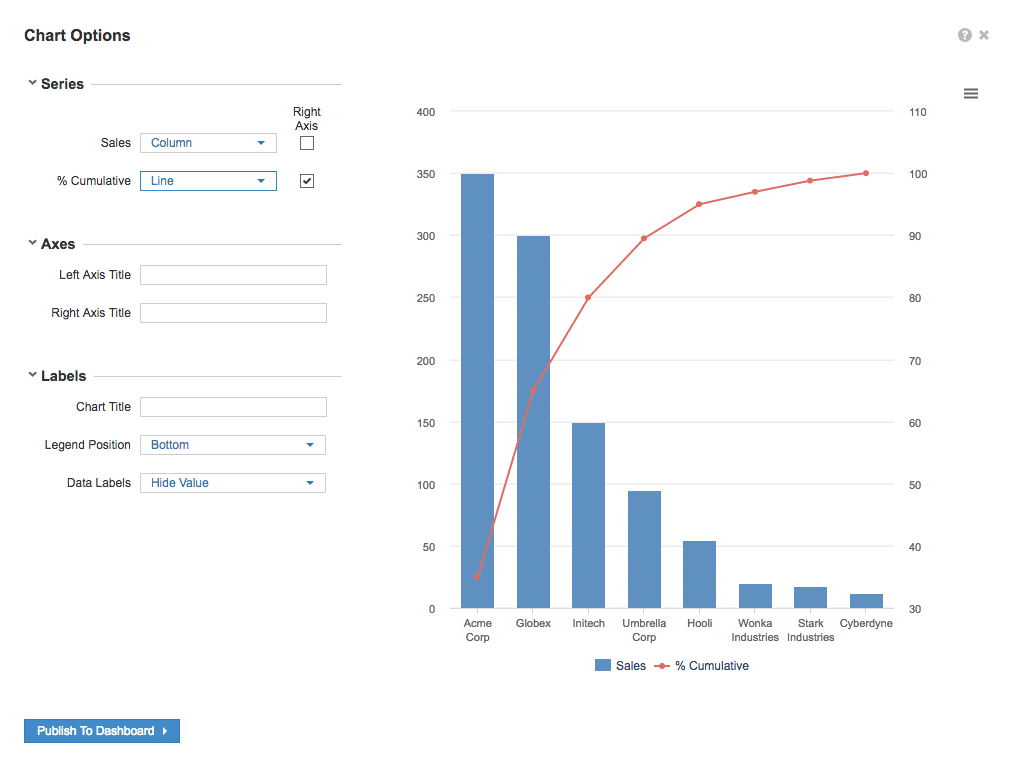 Here is your newly created Combination Chart. Now you can compare and contrast competitive sales across multiple revenue sources to identify your greatest return and drive ongoing business decisions.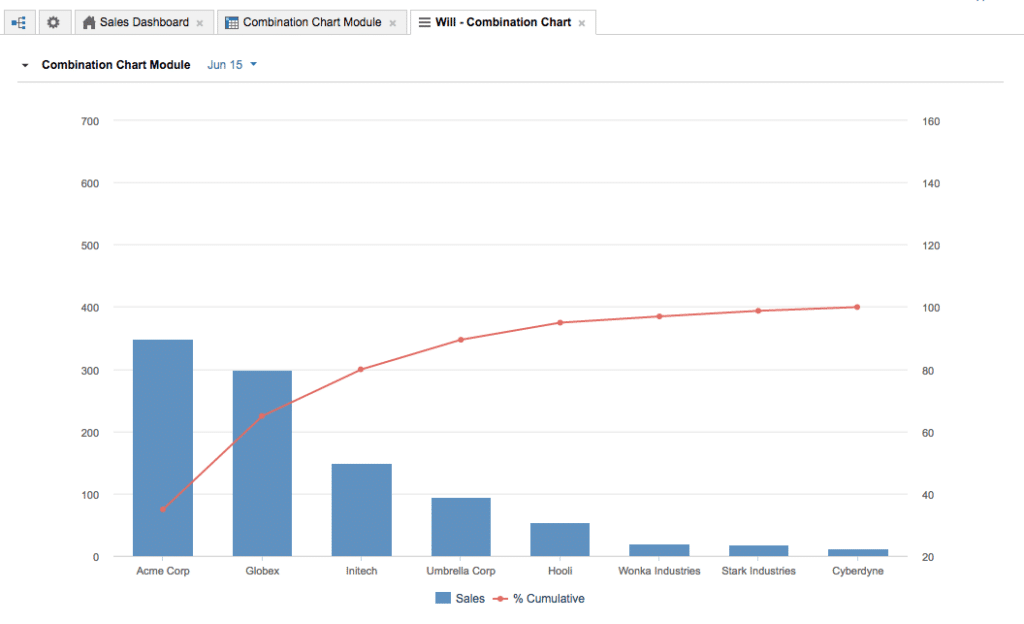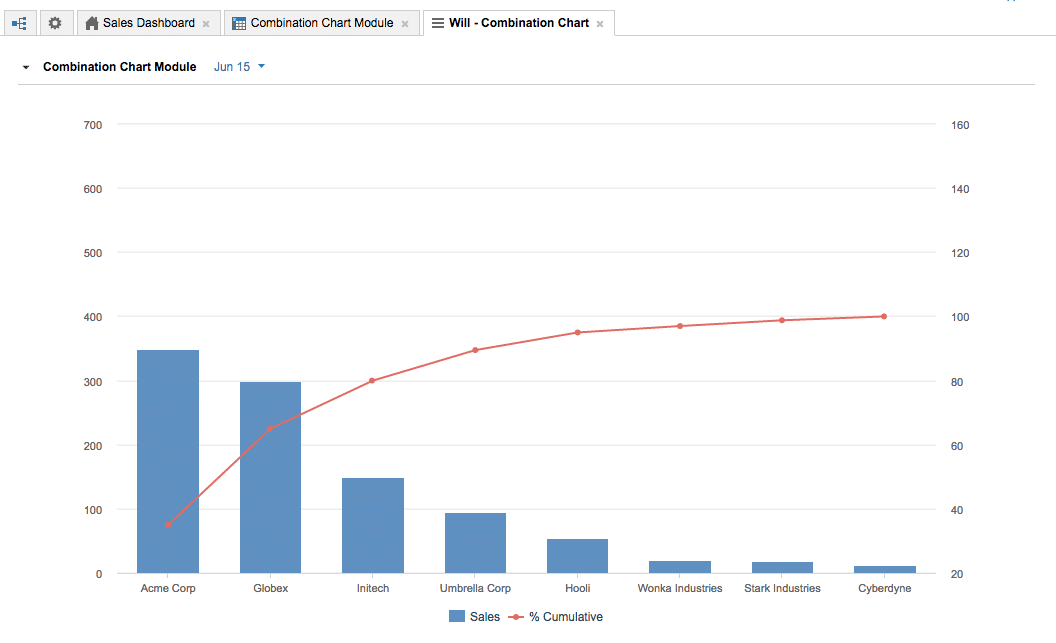 Learn more about combination charts in
Anapedia.
"Reorder" line items with a simple drag-and-drop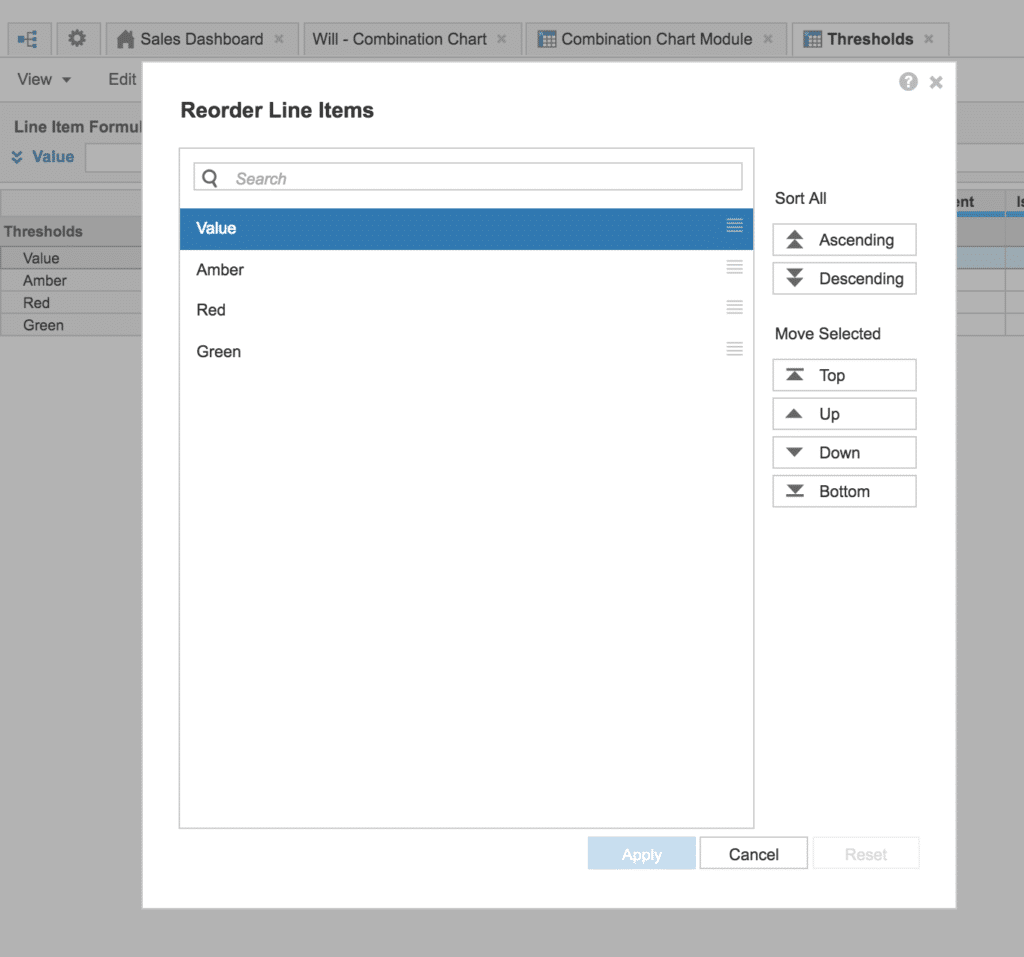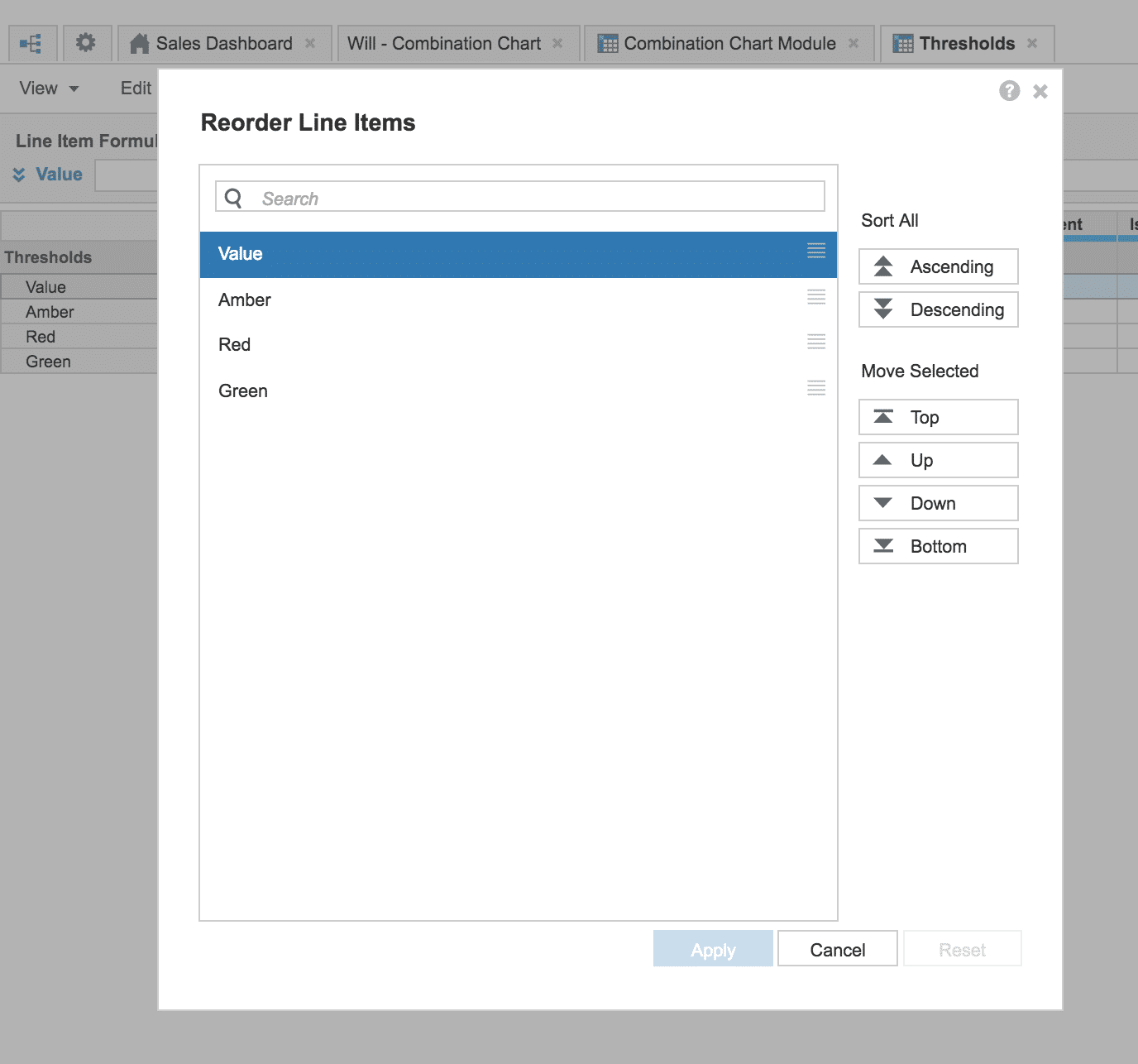 A one-time "move" isn't that bad, but repeat that several times over and it's a real pain, especially in regards to reporting. Instead of clicking on "move" to rearrange your line items, you can now
reorder
line items with a simple drag-and-drop. Now that's an agile approach!
Adjust dashboard spacing for greater visibility
When you are viewing business plans on a mobile device, screen real estate is valuable and expensive. You want to quickly gauge the health of your business without the hassle of configuring your dashboard to fit your screen or more drill-down than necessary.
Now, you can easily disable touch-friendly spacing to maximize the real estate of your touch screen. Mobile users will appreciate the added flexibility to control extra white space for easy viewing.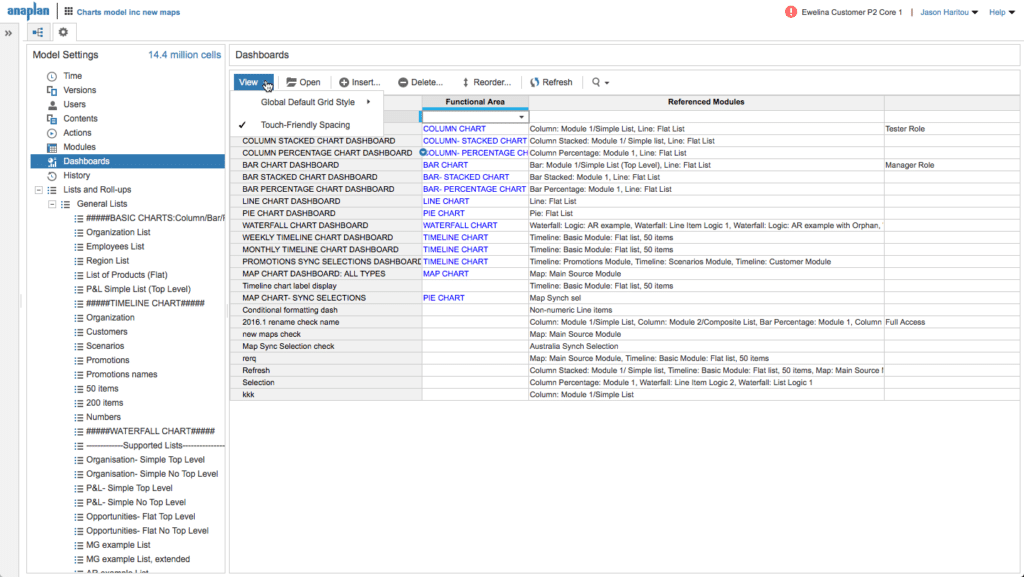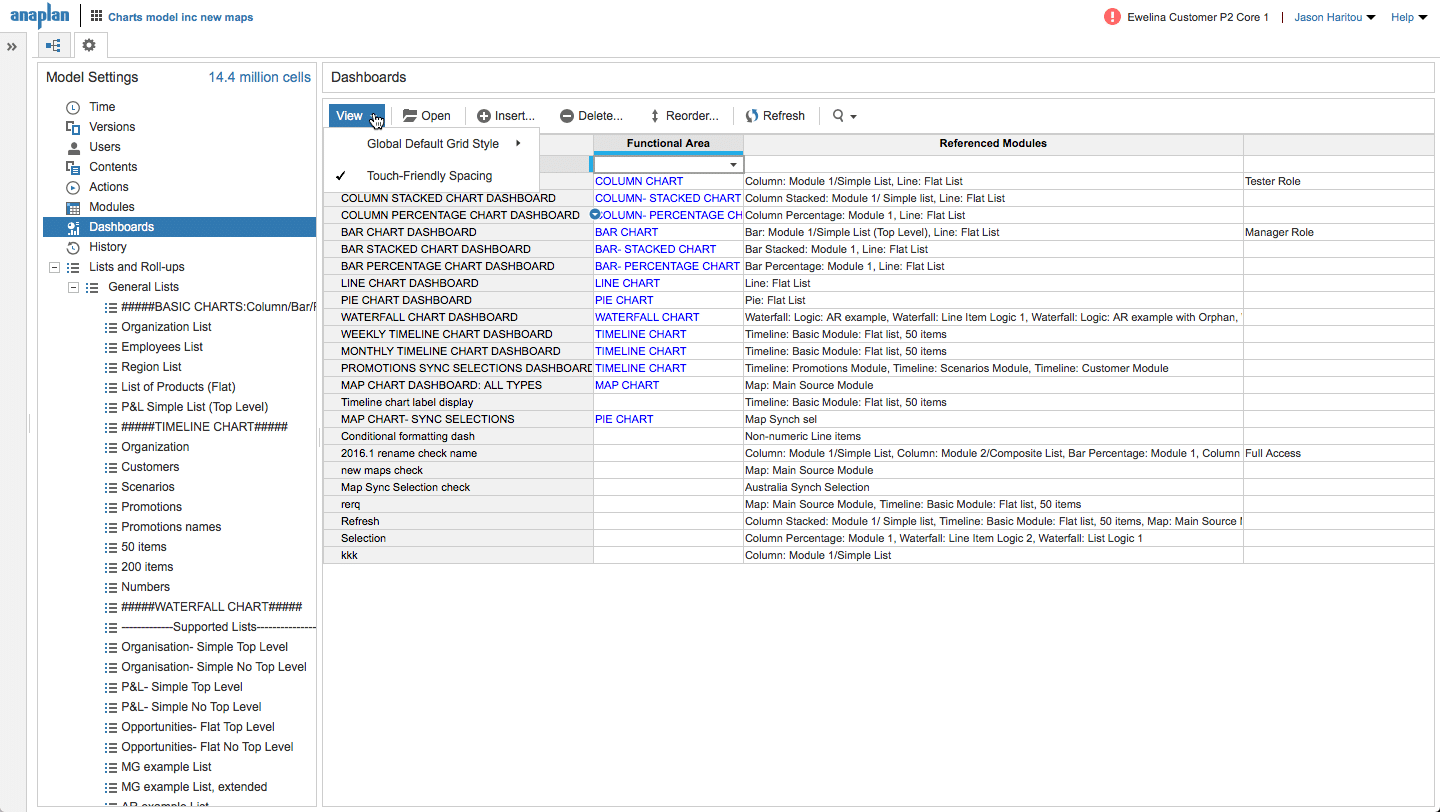 Streamlined exports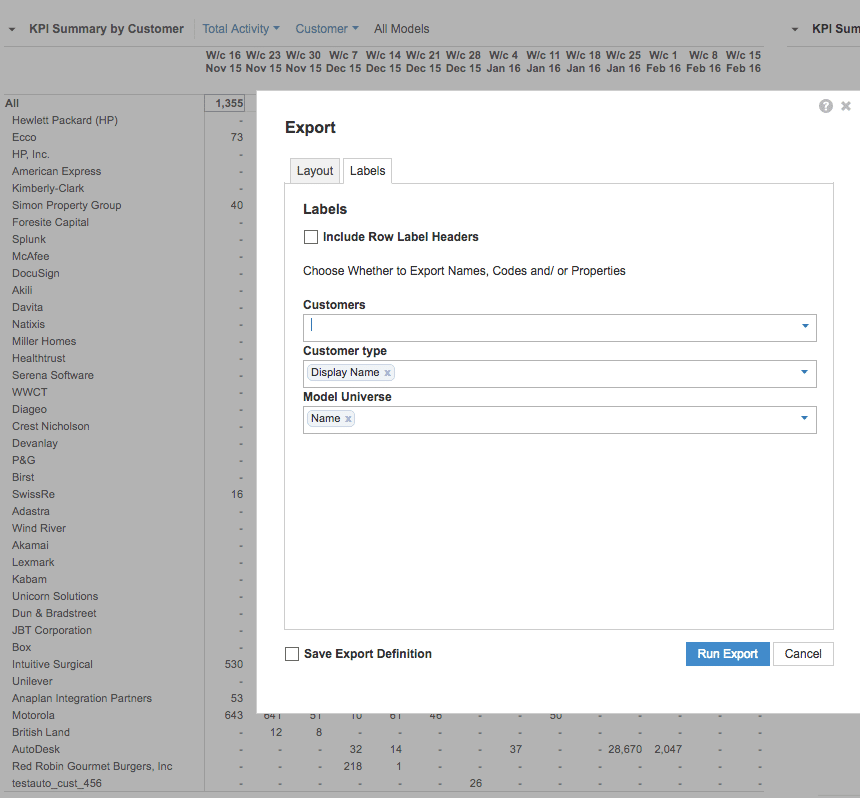 Data migration and integration has its challenges, but exports shouldn't be one of them. To help you easily export data, end users can now opt to
hide the dimension header
to only pull the essentials—i.e., the data itself. Enjoy a streamlined export process without needing to manually remove or delete row labels, enabling you to have a data-first focus.
Introducing Anaplan's new status page
Get more visibility with the latest updates on Anaplan's status at status.anaplan.com. Subscribe to this site by email, SMS, or RSS feed to receive up-to-the-minute updates about planned maintenance as well as any outages. Anaplan's Product Operations and Support teams will communicate to subscribers about outages, updates, and other platform status-related material.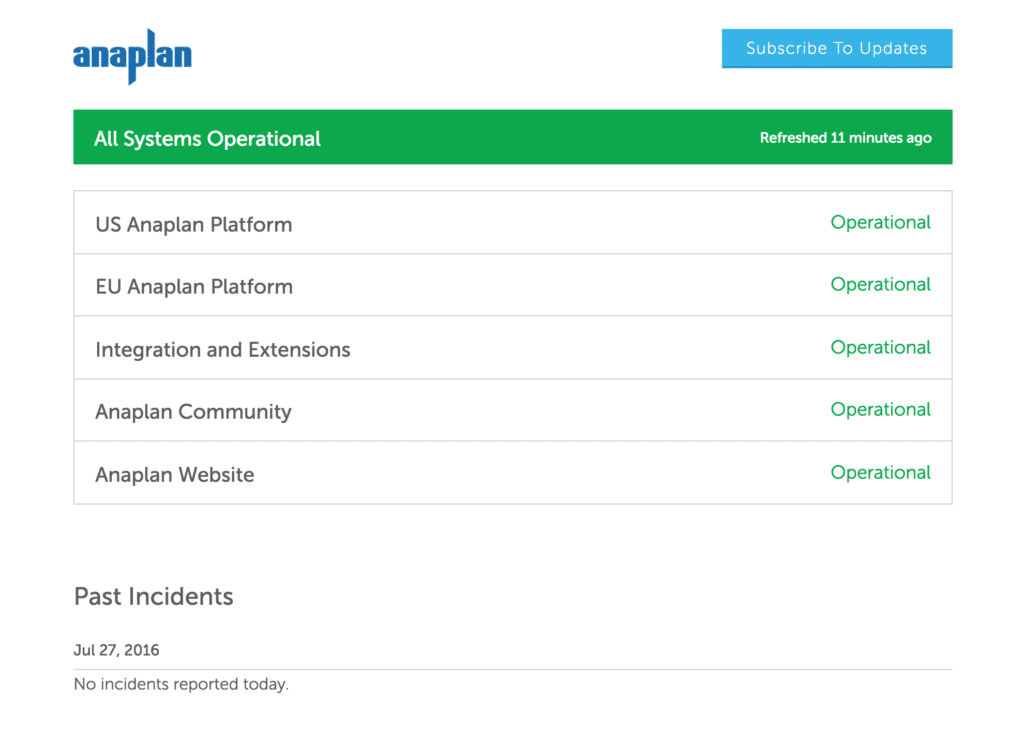 Tip:
Subscribe by email, SMS, or RSS feed for instant updates.To learn more about these enhancements, visit
Anapedia.
More apps for connected planning
Expand your planning with more apps to maximize your collective intelligence, control, and visibility of all parts of your business.

Sales
Sales Planning with Account Level Potential (ZS Associates)
The Sales Planning with Account Level Potential app allows you to calculate the potential sales by product from your customers and prospects, and immediately leverage this information to improve your sales force effectiveness. The concept of Account Level Potential is underutilized, and therefore, those organizations that truly leverage this data have an edge against their competitors.
Crossbow Cloud Pharmaceutical Forecasting (ZS Associates)
Crossbow Cloud is a proprietary ZS forecast model optimized for the pharmaceutical industry. The model leverages the Anaplan platform to facilitate a collaborative forecasting process and produce real time roll-ups of forecasts across brands and markets. The Anaplan foundation also allows for a high degree of flexibility both in terms of forecast structure and input values taken, enabling end users to perform extensive customization. The output metrics of Crossbow Cloud are designed to deliver the most impactful and relevant business insights surrounding the forecasting process.

Marketing
Channel Management Budgeting (ZS Associates)
The ZS Channel Management Budgeting Tool allows you to dynamically set your channel program thresholds and evaluate your annual budgets based on your programmatic commitments to partners. Budgets are broken down by product category, region, and partner tier segments, and split out by operating expenses and contra revenue. Additionally, the tool incorporates performance management functionality to track the performance of partners relative to forecasts. Ultimately, this tool will provide a powerfully centralized view of your channel performance and budget and will enable a more effective channel planning process.
Finance
Zero-Based Budgeting (Accenture)
Zero-Based Budgeting (ZBB) is an approach that is focused on taking costs out of areas with little impact and increasing spending in areas that drive growth. The Accenture ZBB app leverages our closed-loop methodology, which enables deep visibility to identify, eliminate, and prevent unproductive expenses on an ongoing basis.
Learning
COE Snapshotting Learning App (ZS Associates)
The PwC Account Reconciliation Automation app enables the implementation of leading practices into your organization's account reconciliation process. The app helps drive automation of multiple process steps, creates a single global platform for retention of reconciliation support, and provides end-to-end process transparency through real-time and postmortem dashboard reporting.

The Trigonometry Functions learning app explains how to build Sine (SIN), Cosine (COS), and Tangent (TAN) graphs in Anaplan.

This learning app teaches model builders the best way to easily apply time filters to modules in order to increase usage and performance of their models.

Fun
Wimbledon 2016 Predictive Scorecard
The predictive scorecard utilizes real-life performance data from the top 100 ATP ranked tennis players to predict the outcome of the 2016 Mens Wimbledon Championship.
Want to get in on the action? Submit an app to share and earn points at Anaplan.influitive.com.

(Note: All confidential customer information is scrubbed from apps before they are shared.)