We're excited to announce the latest release of Anaplan!
We're all about usability in this release. Whether you use Anaplan on a desktop, laptop, or a mobile device, you'll notice some clever improvements that allow you to analyze and manipulate your data more efficiently. Application builders, you'll be able to better organize the content of your models.
https://youtu.be/L-XzEeD3jxk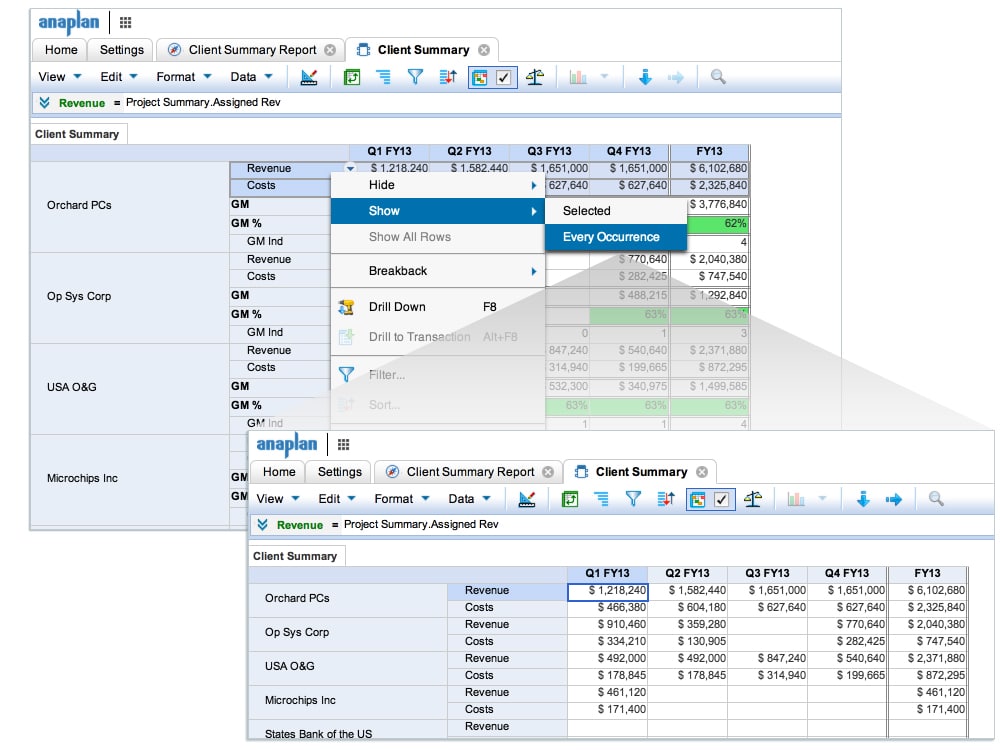 Hide and show items in nested dimensions
Within dashboards your lists can be nested on rows or columns and you might want to quickly reduce your selection. To quickly select an item that is repeated several time across the other list, select it once and show it or hide it for every instances, in just one click.
Easier Access to Filter, Sort, and Column Widths
Access common reporting functions, such as filter and sort, and adjust column widths quickly and easily.
From any grid, you can now right-click on a row or column to define and apply a filter or sort. Change column widths quicker and easier without having to click through menus.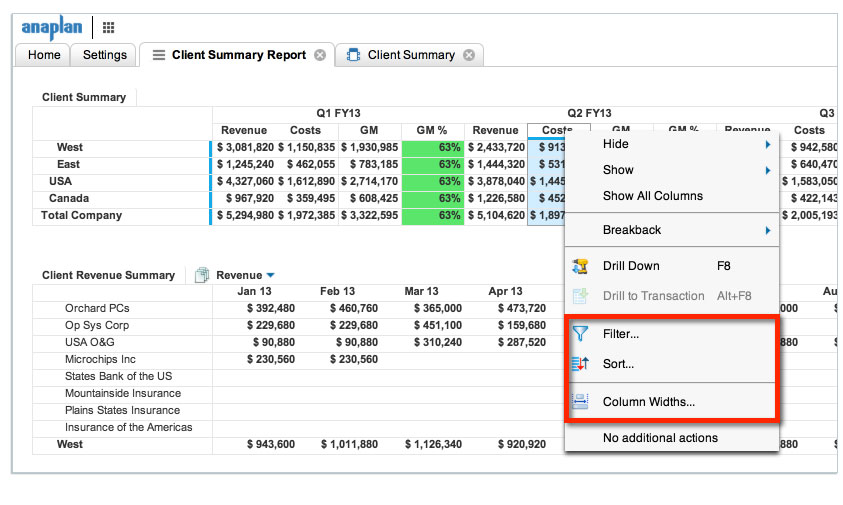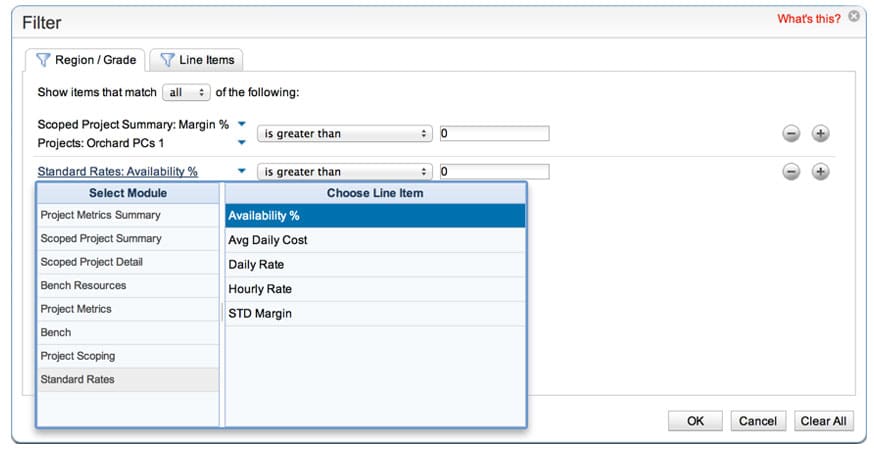 Intelligent Filter Dialog Box
We've removed the guesswork when filtering based on a different module. Now, when you select a line item to filter, only those modules with equivalent dimensionality will be shown, allowing you to quickly and easily select relevant line items.
Dashboard Form Usability
We've improved the copy and paste functionality to make it faster and more intuitive when entering data. Input into form-based dashboards is now easier than ever before. Tabbing is now cleaner: use the tab key to move quickly between data entry fields and list element items.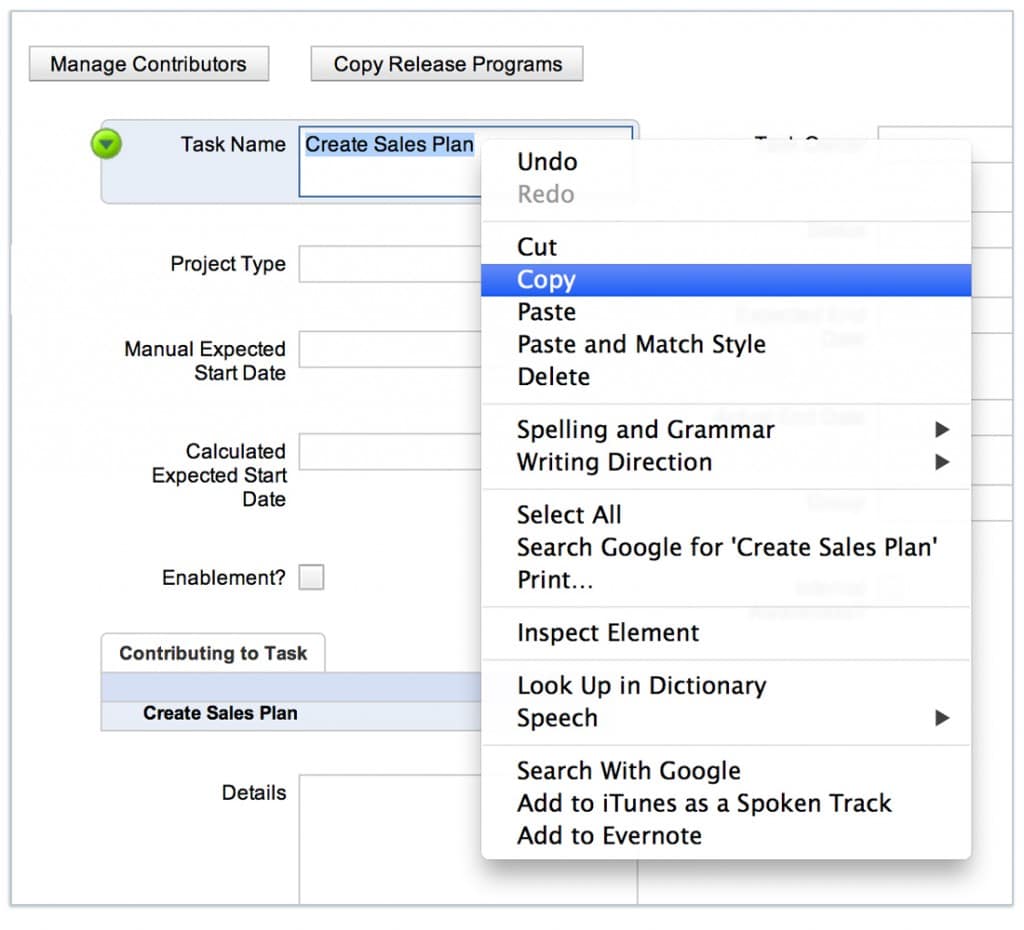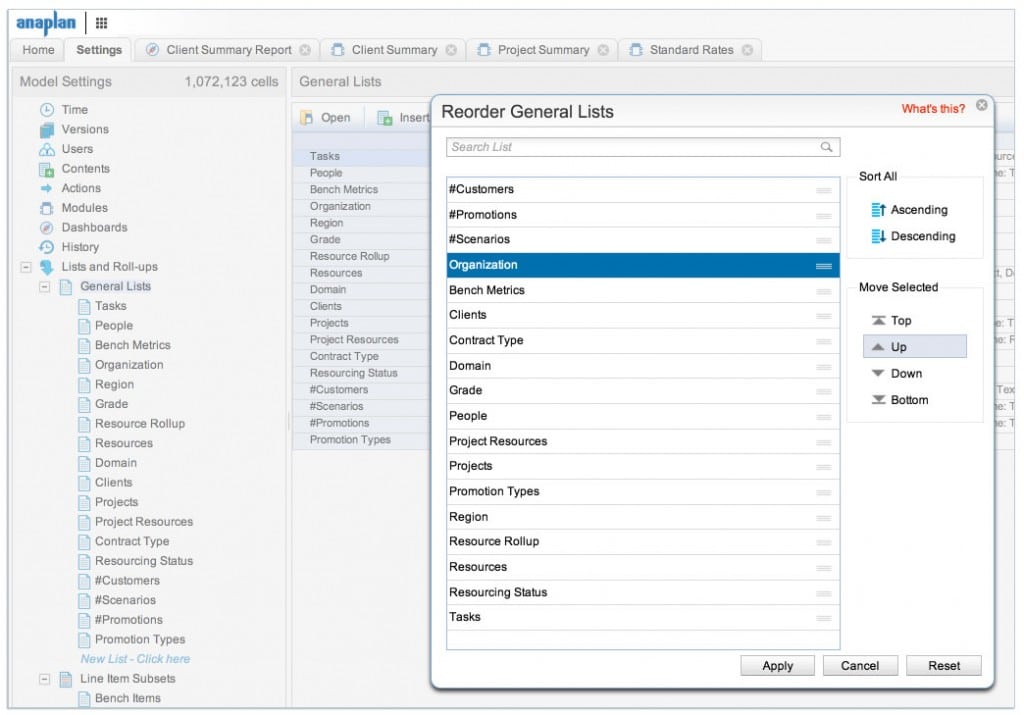 Settings Tab Usability
Administrators: streamline how you organize items in lists, modules and actions via the Settings tab. Re-order your items using drag-and-drop or the Move Selected buttons then sort. Use the search box to locate items instead of having to scroll through long lists.
PDF Export Improvements
Any styling applied to your grids (Classic, Clear, Ruled or Striped) is now preserved when exporting to PDF. Items that span nested dimensions are also faithfully reproduced in the PDF.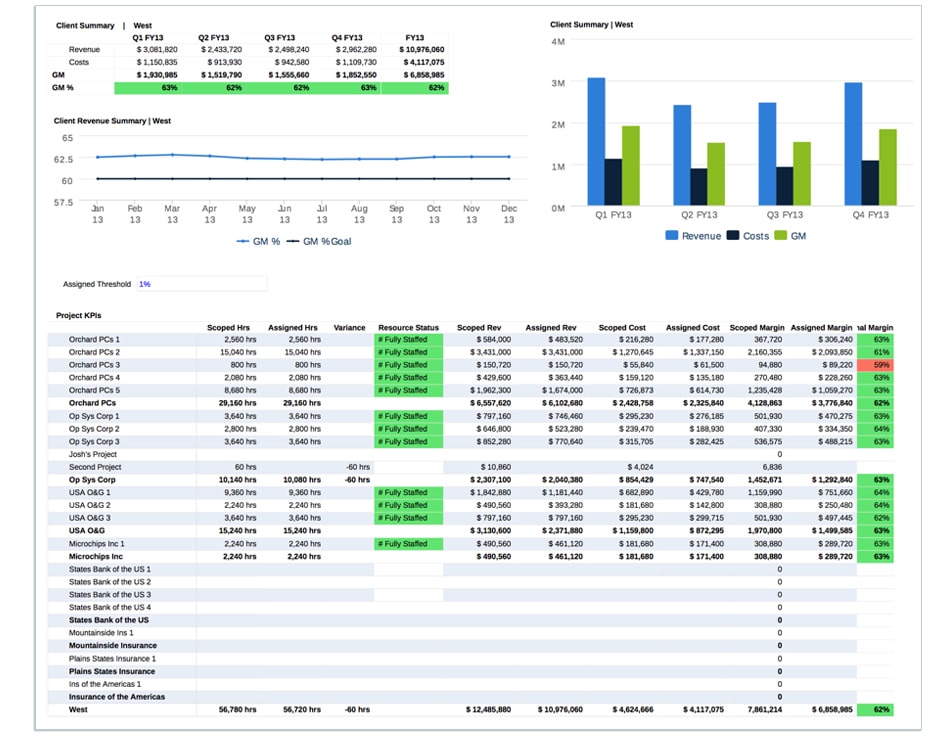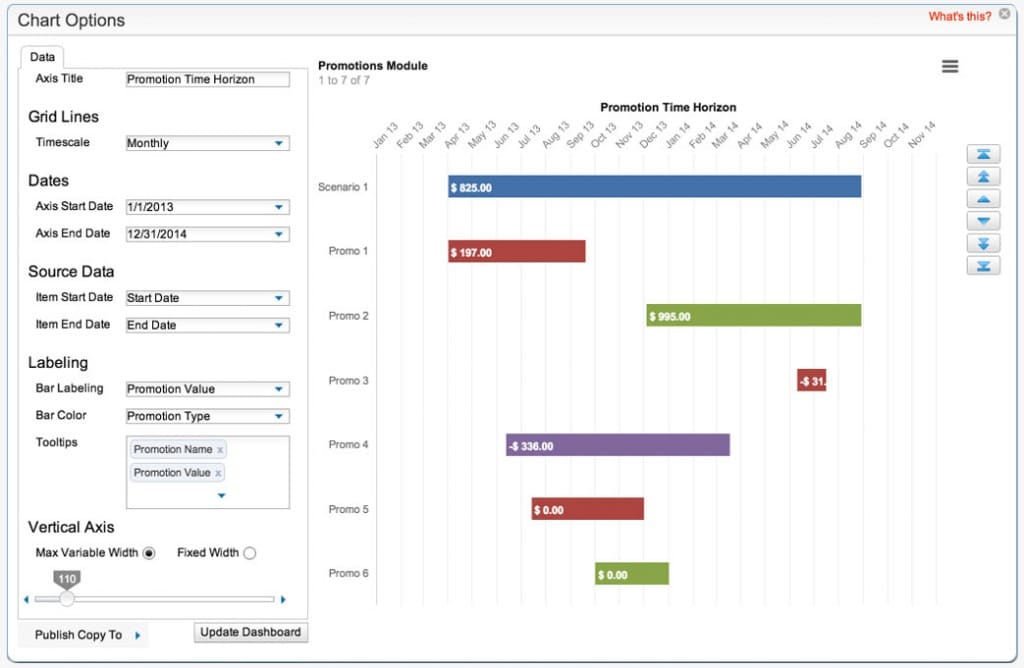 Timeline Chart – Flexible Vertical Axis for Improved Label Visibility
Display longer items names on your timeline charts simply by adjusting the width of the vertical axis. It's easy to make your change and republish without having to recreate the chart every time.
Mobile Device Experience
Do you use Anaplan on your mobile device or tablet? Experience smoother grid interaction, improved touch gestures, and a more spacious layout for cleaner, more usable dashboards.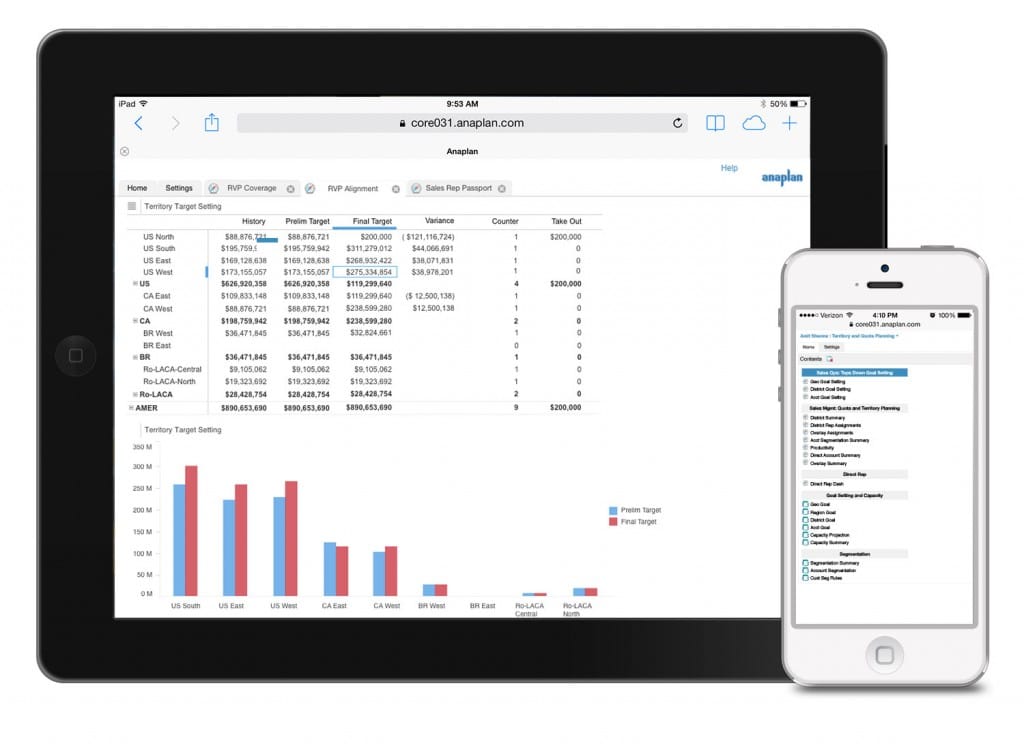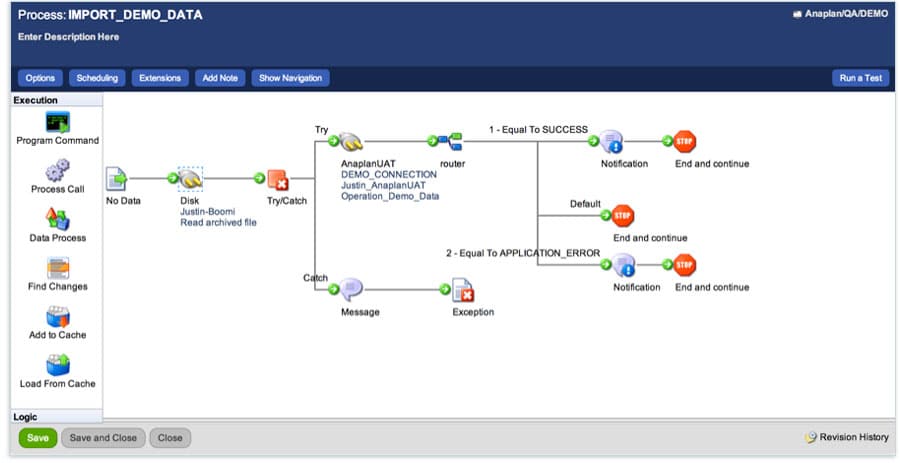 Anaplan Connector for Dell Boomi Integrations
Anaplan now supports integration with the Dell Boomi platform. Easily automate and schedule Anaplan data imports and exports using Boomi's simplified user interface.
A global community of customers