Early-access program opt-in
Anaplan Workflow
Terms and Conditions
In order for a company to use Anaplan's Enhanced Workflow feature, an authorized representative of the company must first join the Anaplan early access program ("EAP") for Enhanced Workflow and agree to the terms and conditions below.
Participation in the Enhanced Workflow Early Access Program
Participation. For now, Enhanced Workflow is only available for use by active Anaplan customers that have agreed to use a limited-release version of the feature as part of an EAP in accordance with these terms and conditions and other limitations Anaplan may separately impose.
Feedback. In exchange for your participation in this EAP, you agree to provide Anaplan with feedback on your experience with Enhanced Workflow as may be reasonably requested by our team. You will be contacted by members of our team after you have started using Enhanced Workflow.
How to Enable Business Map Once a company has joined the Anaplan Workflow Program, it must agree to the following terms concerning enablement of Business Map during the limited release period.
How does my company get started? You must be an authorized representative of your company and must indicate your interest in using the limited release version of Enhanced Workflow by completing the opt-in form and clicking the "Opt-in" button. You acknowledge that by doing so and by participating in this EAP, Anaplan will build new metadata stores to support Enhanced Workflow.
What happens first? Anaplan will perform a one-time activation for your tenant. In some cases, Anaplan may have to work directly with other members of your team to enable Enhanced Workflow, in which case you acknowledge that Anaplan may issue instructions that you and your team will have to follow to make the Enhanced Workflow implementation operational.
What else should I know? While unlikely, the transfer of Enhanced Workflow metadata to your Anaplan model(s) required as a result of your participation in this EAP and use of Enhanced Workflow may produce errors. In the event that errors do occur in the target model , Anaplan will look for the cause of the error, attempt to fix it and retry the transfer. Anaplan is providing access to Enhanced Workflow before the feature is generally available to other customers, and that Anaplan makes no representation or guarantee that it will make Enhanced Workflow generally available in the future. Anaplan is also providing Enhanced Workflow "as is" without warranties of any kind, and Anaplan may not support this product feature or fix errors as quickly as it would if/when the feature is made generally available.
How does Enhanced Workflow interact with my model data? By using Enhanced Workflow, it will access list names and members of those lists to assign tasks and update Client models with task status.
Will implementation of Enhanced Workflow affect my use of the Anaplan Service? Enhanced workflow has new UI areas as well as notifications; your team may notice these new areas of the product and have questions, but there should be no material impact to your model. Further, we do not anticipate any disruption to your use of Anaplan, but there is a possibility that disruption could occur. By opting into this EAP, you acknowledge that any performance impact Enhanced Workflow may have to your use of Anaplan does not constitute a breach of warranty or a failure regarding system availability by Anaplan.
AGREEMENT. By clicking the "Opt-in" button, I agree to the Terms and Conditions below and represent that I am authorized to bind my company (as a current Anaplan customer) to such terms with respect to the use of the Enhanced Workflow feature.
Terms and Conditions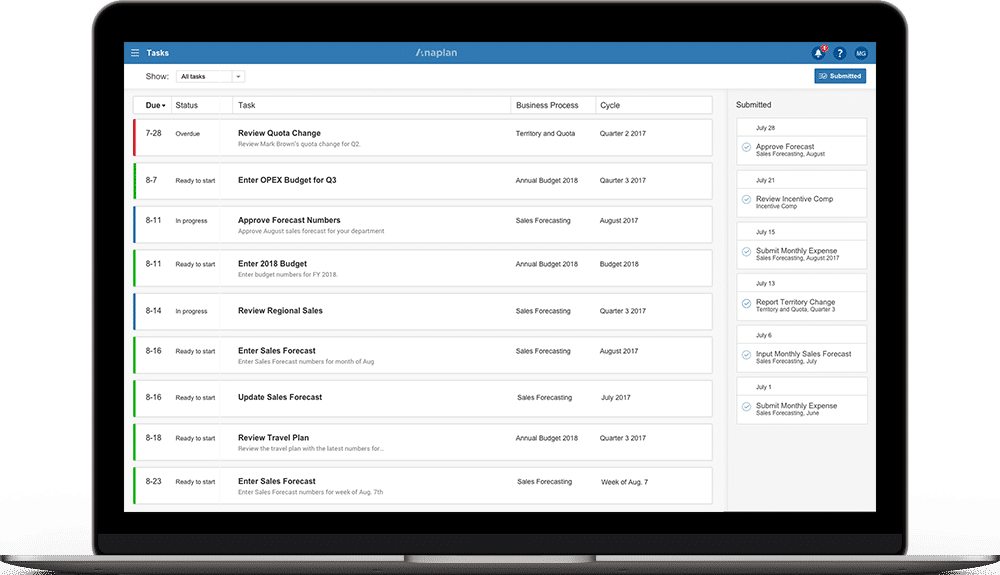 Take advantage of the latest enhancements in the usability and flexibility of the Anaplan platform
Anaplan's Enhanced Workflow enables you to engage your business stakeholders in fulfilling their role as a part of your Anaplan process. Organize the business processes in your Anaplan models with the new Process Builder, build out the steps of your process, and link those steps to users to guide them through their dashboard work.
Shorten business cycles by notifying users of new tasks with automated email and platform messages, reminders as due dates approach or are exceeded, and a task list. Streamline processes with straightforward call-to-action links from emails and platform notifications to help everyone get to the right dashboards at the right time. Users can then reference detailed embedded instructions to guide their navigation.

Please take a moment to fill out the form. We will review your registration and provide next steps based on your qualifications.

Anaplan Workflow opt-in form
What is an early-access program?
The early-access program (EAP) is used to onboard a subset of users that wish to take advantage of a new feature during a limited release period. EAP features are launched using a phased approach to a smaller group of users for a period of time before making the features more widely available.

Does this mean the feature is in an alpha or beta phase?
Neither. Alpha and beta phases are stages of feature completion. In this case, the Enhanced Workflow feature is complete and deployed, but will only available to select customers in an early-adopter program before general availability.

How do I sign up?
Early adopters must opt in and, in some cases, meet a list of prerequisites to qualify for the program.

What are the prerequisites for Enhanced Workflow EA?
As an early access customer, you agree to be contacted for a one hour user research session. All of your feedback and enhancement requests should be logged via the idea exchange in the online community group.