Connected Planning: All-inclusive, dynamic, collaborative, intelligent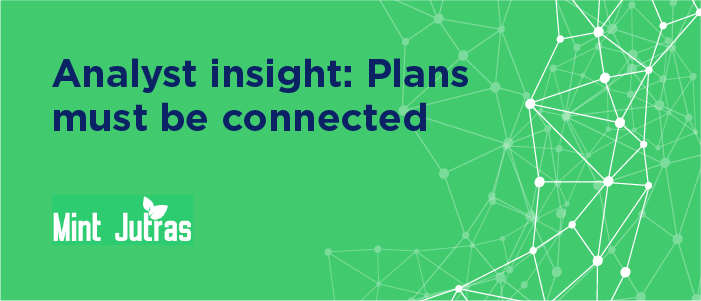 Mint Jutras, an analyst firm specializing in determining the business value of enterprise applications, finds through their research that spreadsheets are still involved in 67 percent of all planning activities and only 19 percent of those surveyed have the right kind of tools to fully support the strategic planning process.
Today, planning can and should encompass all aspects of the business from marketing and sales to operations and finance. It must reflect the workforce (people) you have today and the workforce you will need for the future. You not only need a strategic business plan, but also individual departments need to formulate their own plans for execution. Business functions can no longer afford to work in their own silos of data, applications, and reporting. They all need plans that pull together in order to achieve the overall company goals. The plan needs to be developed collaboratively; it needs to be a connected plan.
But there is more to "Connected Planning" than just connecting all the different departments within an organization. A plan must also be continuously monitored, which means it must be connected to enterprise performance management. It must evolve and adapt with changes within your business or the market. Continuing to operate against a plan that you know is not achievable is like continuing to do what you have always done, expecting different results. That is the very definition of insanity.
In short, your plan must be connected to reality.
Ideally, the enterprise should have a single, comprehensive and cohesive plan to maximize growth and profits. This should be both a financial plan and an operational plan. Of course, there are different components to that plan, but you need all the different functions within an organization pulling in the same direction. This requires each function to figure out exactly what it needs to do, without losing sight of the end goal. Traditionally, this required specialized tools and applications for each function, resulting in separate sales, finance, workforce, and supply chain plans. How do you bring them altogether? Too often the answer is: You don't and you wind up with a disconnected plan.
This is an intricate puzzle that must fit together flawlessly. You can't possibly do this in functional silos and a static plan just won't work. All the different parts of the organization need to operate from a common set of facts that are grounded in reliable data. The plan needs to be detailed, connected, dynamic, and collaborative.
Corporate planning at the right level of detail
Corporate planning also needs to be done at the right level of detail. The right level of detail allows you to use real transactional and operational data and reveals interdependencies between different functional parts of the overall plan, which always share some common data elements. If you are planning at a summary or aggregate level today, it's likely that you don't have the tools that can handle large volumes of data quickly enough. Look to replace those tools with 64-bit in-memory technology, which facilitates real-time modeling that can handle large volumes of data. This can open new doors for you, allowing you to plan using very detailed data that might not be possible otherwise.
Big data and machine learning
Plans in the past have been based on—the past. Most still base forecasts, plans, and budgets on historical data stored in enterprise applications. But that is just a tiny fraction of potential data available today: both internal and external data. But that vastness is also the problem. How do you contend with more data than the human brain can ever possibly assimilate? The answer could very lie in machine learning.
The human mind cannot possibly scan zettabytes, exabytes or even terabytes of data in search of patterns that can be useful in predicting and planning for the future. That is exactly what machine learning is all about. Although your (human) view might be limited to your own sales history, machine learning knows no such limitations. It can seek out an unlimited amount of structured and unstructured data, then recognize patterns and correlate data points that a human does not recognize as relevant. And as more data is gathered, it keeps on learning and connecting the dots.
In today's fast-paced era of disruption, you need to be working from a well-formulated plan, around which all parts of the enterprise can rally. You also need to marry that plan to corporate performance management and make it a living, breathing dynamic plan—one that is well grounded in real data and able to respond to the forces of change that impact businesses every day. It must be a connected plan.