Turn constant change into advantage
Anaplan (NYSE: PLAN) is a transformative way to see, plan, and run your business. As used by leading enterprises globally, only our Saas platform with proprietary Hyperblock™ technology lets you contextualize current performance in real-time, and forecast future outcomes for faster, confident decisions. We believe connecting strategy and plans to execution and results dynamically across your enterprise is required for leaders to move business forward. So you can be ready, as market conditions inevitably change, to rapidly pivot strategies, redeploy resources, and optimize plans for growth, efficiency, and demand. With Anaplan, you can equip your teams to overcome the obstacles and seize the opportunities you see right now and the ones you could never see coming.
Accelerate revenue growth
Revenue growth at its most basic comes from aligning your supply with market demand. Simple, right? We both know the answer to that. Whether it's ensuring your stores have the inventory on hand to meet customer demand or your sales territories are sized correctly to optimize effectiveness, your business must be positioned to maximize its ability to generate revenue. This involves orchestrating a complex set of data points that are amazingly dynamic. For most organizations, just finding and collecting the information needed to manage the business requires an energy expenditure that could be more profitability directed toward creating revenue opportunities.
Your competitors are using information as a tool to gain market share, improve customer satisfaction, increase revenue growth, and drive sales performance. If you just try to be better at it, you are being left behind. Better is not good enough. You either need to excel at collaboratively using data to identify and convert market opportunities, or you risk mediocre growth, lost customers, unhappy shareholders, and ultimately failure.
Anaplan can unlock the insight trapped inside your company. The information that could be helping you get the right amount of product to the right place at the right time. It could help you squeeze optimal sales performance from your existing sales team while reducing the cost of sales rep turnover. It could help you minimize product time on shelf, improve cash flow, and drive profitability that is waiting to be unlocked. We've done it already, multiple times, probably with an enterprise that is winning in your market space right now. Let us help you unlock the potential of your business today.
Thrive in the next normal
As the world emerges from Covid, understanding the next normal will be a full-time commitment for most enterprises. Some trends that existed before Covid will be accelerated, others will take a different path forward, and still others will be created anew.
The move away from fossil fuels will be accelerated by the permanent increase of working from home. The rapid growth in digital engagement will undergo a reset as people rebalance in-real-life with remote work, school, commerce, and entertainment. Consumer demand will emerge in different physical locations as people are freed to live where they want. They can migrate away from the densest cities, disrupting existing distribution models. Dependence on global supply chains, which proved very fragile during Covid, will be countered by businesses seeking more local and reliable sources.
Both businesses and consumers have developed adjusted priorities during the Covid lockdown. Those priorities will be reevaluated multiple times as we emerge. The key to success in this hyper-dynamic environment is seeing the trends as they develop and reacting to them first. Failure to do so will result in missed market opportunity, fractured supply chains, stranded inventory, strained cash flow, and failed business models.
Anaplan is the platform businesses need, not just to navigate and survive in a post-Covid world, but to break out and thrive. Using information to see and understand the evolving trends impacting your business, whether it's changing buyer behavior, weaknesses in the supply change, or emerging demands that did not exist, is the key to success as the next normal is created and created again.
Realize untapped potential
Enterprises empowering their people to perform at their individual and collective best are capable of breakout growth. Information should be your key differentiator—information readily available, easily shared, and powerfully adaptive to the needs of your people.
It can seem an inconvenience to have to manipulate isolated data in Excel or assemble data from multiple siloed sources. It is very easy to perceive improvement in these tasks as matters of efficiency, time, and cost. That misses the mark completely. Too often, critical talent is bogged down in manual tasks like creating and collecting data. And housing that data in multiple, disconnected locations wastes more than resources. It deprives your teams of astute decision-making and puts your company at a potentially terminal competitive disadvantage.
Equipping people with accurate, dynamic information—to iterate on it, share it, and make decisions using it—is the catalyst of success. Failing to can result in suboptimal performance. The measure of this impact is not just in time wasted; it is in key decisions not being made, in marketing opportunity lost, and in turnover of your best and brightest.
Our platform equips your people with fundamental, powerful tools to do their best work. Hours are not spent finding the data. They are spent using it, sharing it, refining it, acting on it. They are spent creating success with the data, not simply creating it. And success begets success. Realize your potential to make people and their performance your most potent competitive asset.
What motivates us
Six values define our company character
OPENNESS
AUTHENTICITY
INCLUSIVITY
COLLABORATION
CREATIVITY
TENACITY
Upstanding company character is differentiating, urgent, and required
Shared values mobilize people today. To buy your product, work for you, invest in you—or the opposite, when your actions contradict your stated values. The space between what you say and what you do is where people perceive your character. Anaplan CEO Frank Calderoni's new book explores how upstanding company character—values-led and inclusion-based— is essential to sustained relevance and performance. Upstanding character puts employees and customers first by recognizing their shared interest as critical stakeholders and the expanded role of business in society.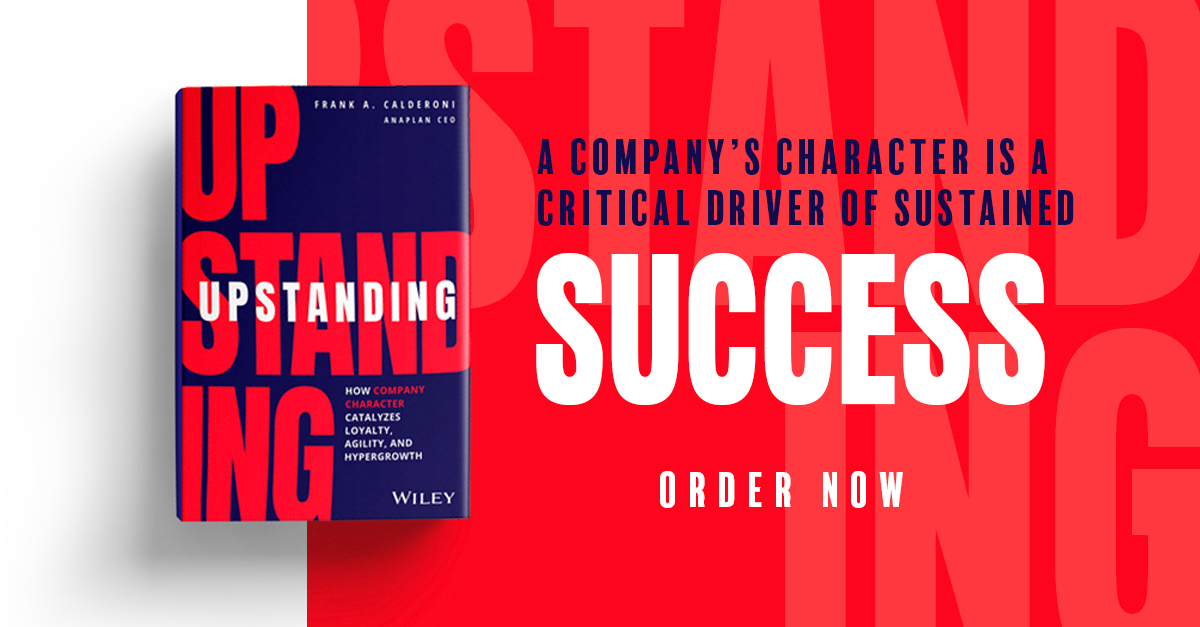 Chosen by the biggest and best organizations worldwide
More than 1,700 leading organizations, representing nearly every industry, use Anaplan around the world.
Contact us
Can't find what you need? Want to learn more? Get in touch.