Intuitive and responsive planning platform
Easy-to-use interface for optimized decision-making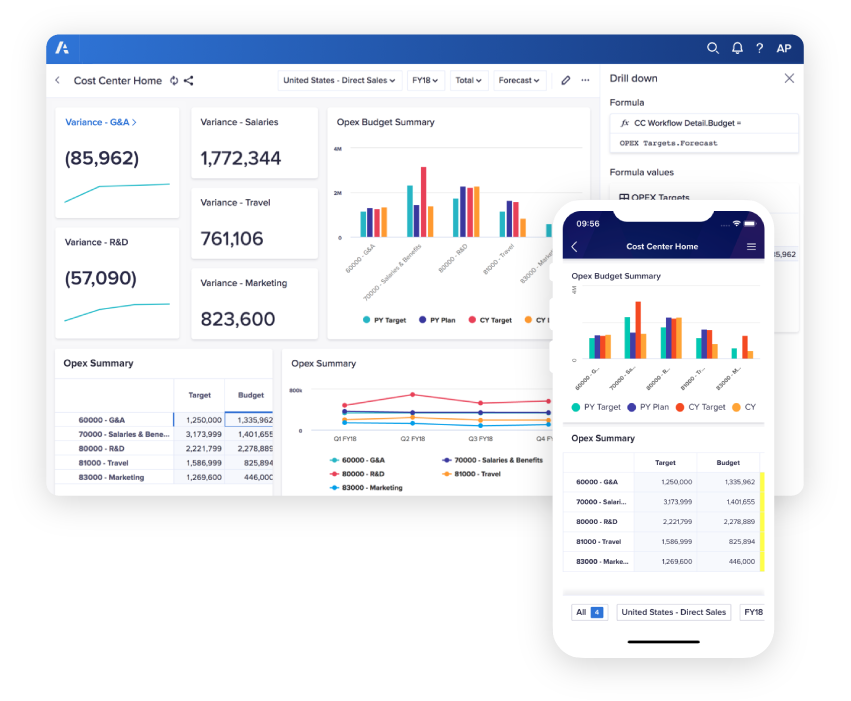 Put the power of hyperscale computing in your hands
The best tools won't help if they're too complicated to use. Anaplan synchronizes planning across your organization in clear, collaborative formats and dashboards. Connect across locations and devices with ease. Empower your leaders with edge-to-edge insight and distill complexity to strategic clarity. So you can drive performance, maximize opportunities, respond to change and achieve winning outcomes.
Intuitive capabilities of Anaplan's digital user experience
Enhance your ability to collaborate, participate, and execute agile planning across your organization with an expansive suite of capabilities within Anaplan's cloud-based, Connected Planning platform.
Get the critical, personalized information you need right when you need it the most
Personalize your Anaplan experience to see critical data. Quickly build pages, apps, and boards to create interactive dashboards with key performance indicators (KPIs), charts, and reports.
Slice, pivot, filter, and sort data to zero-in on the data that matters most.
Drive strategic decisions with visually compelling, contextual board-ready reports that can be bundled, exported, and shared as a consolidated package.
Leverage flexible styling, formatting, dynamic text cards, and multi-page reports with to bring data narratives to life real-time data.
Easily calculate variance on the fly to quickly make and execute plans that aligns with business goals and objectives
Deploy Anaplan via desktop, tablets, and native mobile apps for iOS and Android
Highly responsive and secure with a modern UX that spans across devices.
View KPIs, receive alerts, and make timely changes and updates easily and on-the-fly.
Multi-device accessibility simplifies planning from desktop to tablet to mobile.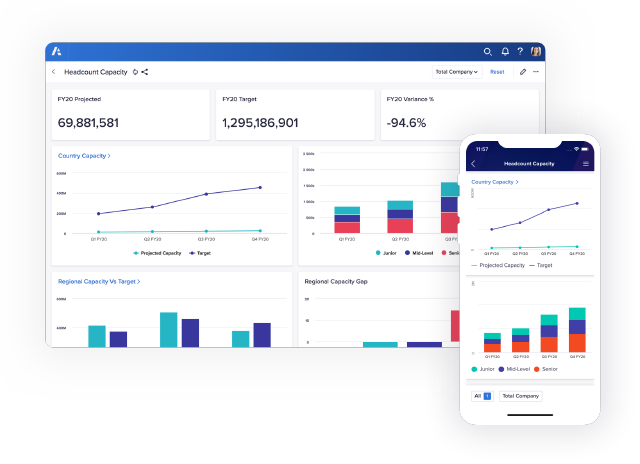 Enhance your ability to collaborate, participate, and execute agile planning across any device
Contextualize data together, unify strategy, and complete business processes with commenting.
Bring the right people into the planning process at the right time to make more informed decisions, faster by sharing the context and tagging users.
Enable teams to drive efficiencies, streamline collaboration, and reduce communication loops with real time notifications.
Integrate Anaplan with Slack to share pages directly with colleagues and reach new users via Anaplan Slackbot.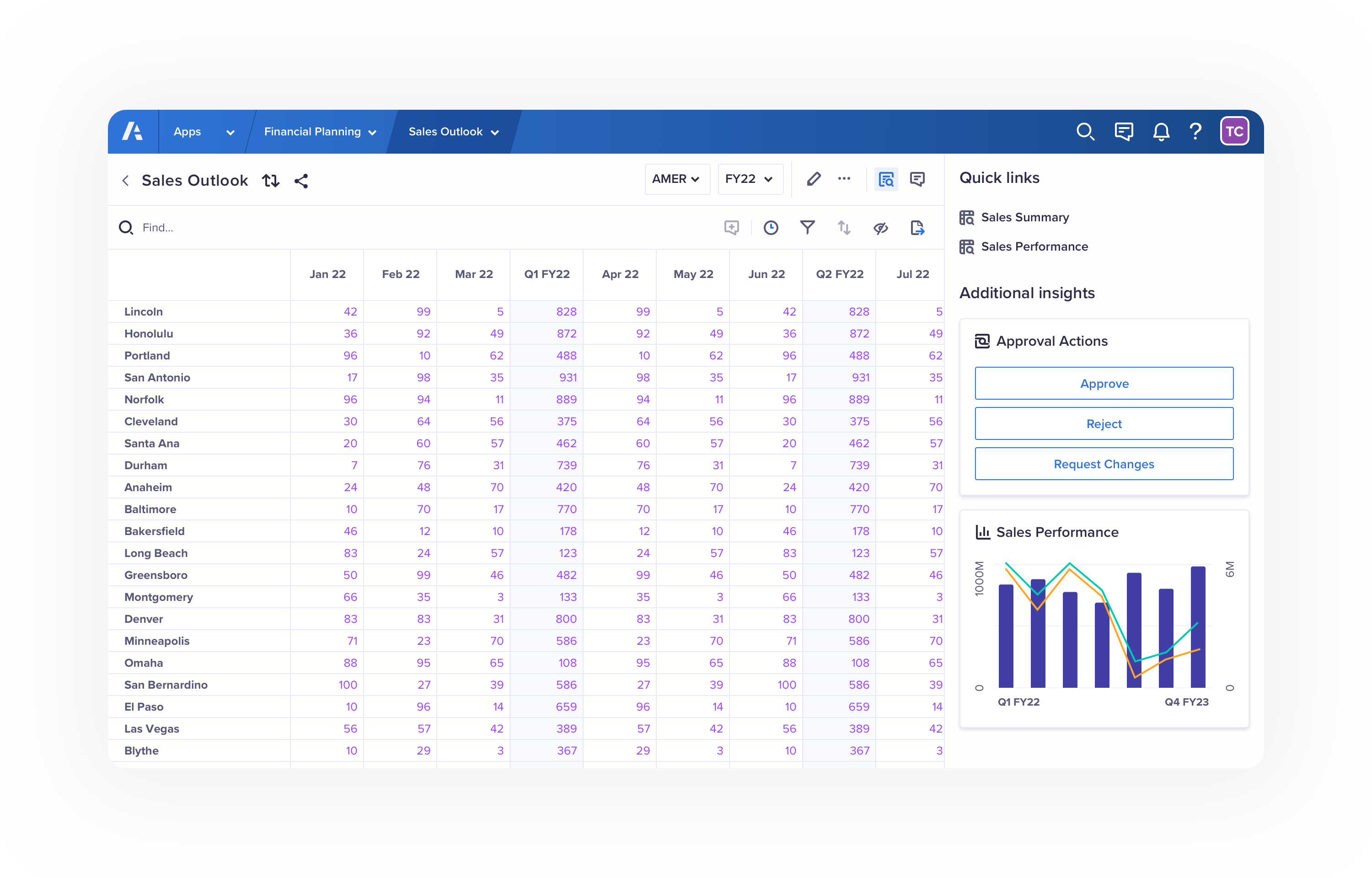 Drive productivity with Anaplan Extensions for Google Sheets, Microsoft Excel, PowerPoint, and Office365
Extensions help agile decision-making and break down silos between online and offline analysis and reporting.
One-click access to Anaplan data with sync, refresh, and write-back capabilities for offline and online planning.
Reporting with flexible formatting, styling, and quick-and-easy refresh.
Ad-hoc analysis with the ability to leverage Anaplan saved views.
New way to interact with Microsoft Office tools with Anaplan for Microsoft 365 (AM365) and leveraging Anaplan as the single source of planning truth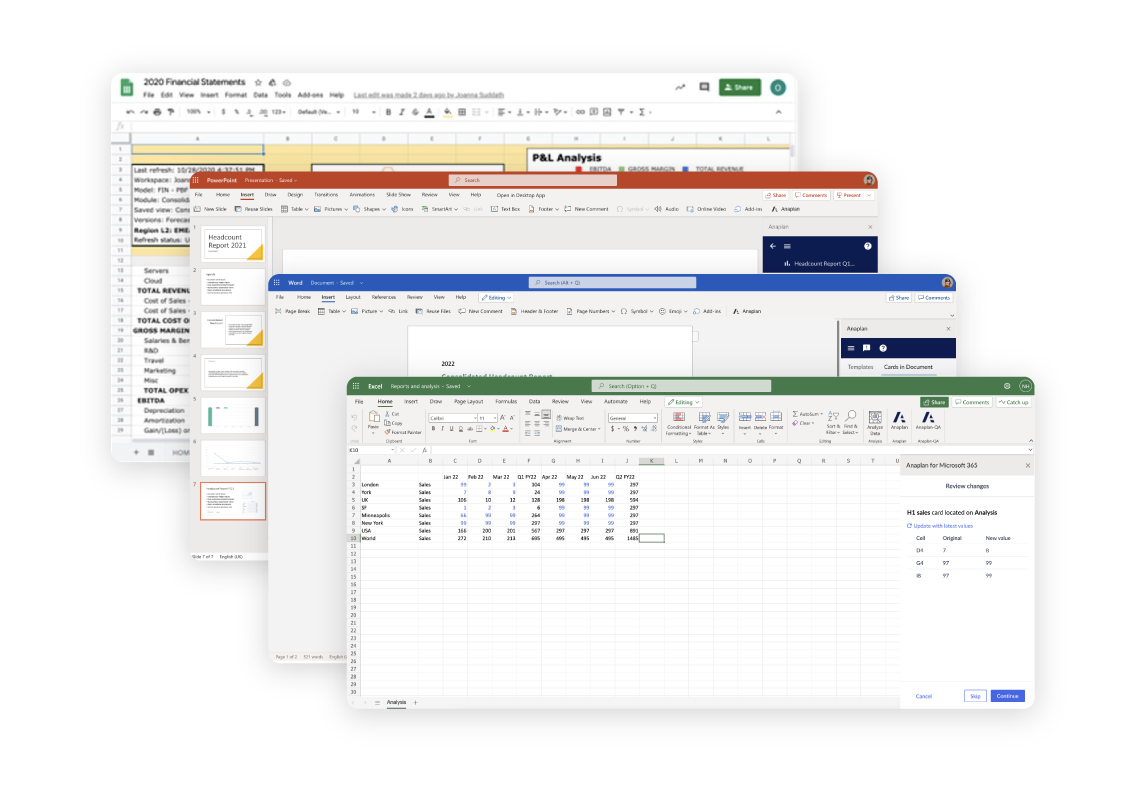 Drive user engagement, help deliver greater accuracy and efficiency with Workflow
Facilitate collaboration among large communities of users as part of planning with clear priorities to act with little-to-no learning curve
Detect patterns and trends for superior business insight and intelligence with Geo-Mapping
Surface data and insights with compelling visualization down to the zip code level across multiple use cases to drive business results  
Key benefits of the Anaplan User Experience
With Anaplan's user experience, you'll see enterprise-wide adoption and broadened collaboration. Business impacts will be visualized immediately and the planning experience for every user and every team will become intuitive and powerful.
Bring more people and key stakeholders into the planning process at the right times and end siloed thinking
Empower planners with an intuitive, self-service solution that they can use immediately without expensive training
Leverage data-rich dashboards and analysis to innovate and deliver business capabilities faster
Eliminate complexity to make it simple and efficient for more people to do more high-value activities
Remove manual processes to respond to business changes faster and make decisions more confidently
Keep up the pace without missing a beat with highly secure, multi-device planning accessibility
There are more use cases for Anaplan than I can imagine at this point.
Robert Ficalora, Senior Director, IT, Hewlett-Packard