Planning and modeling on the Anaplan platform
Unmatched flexibility for large-scale, multi-dimensional planning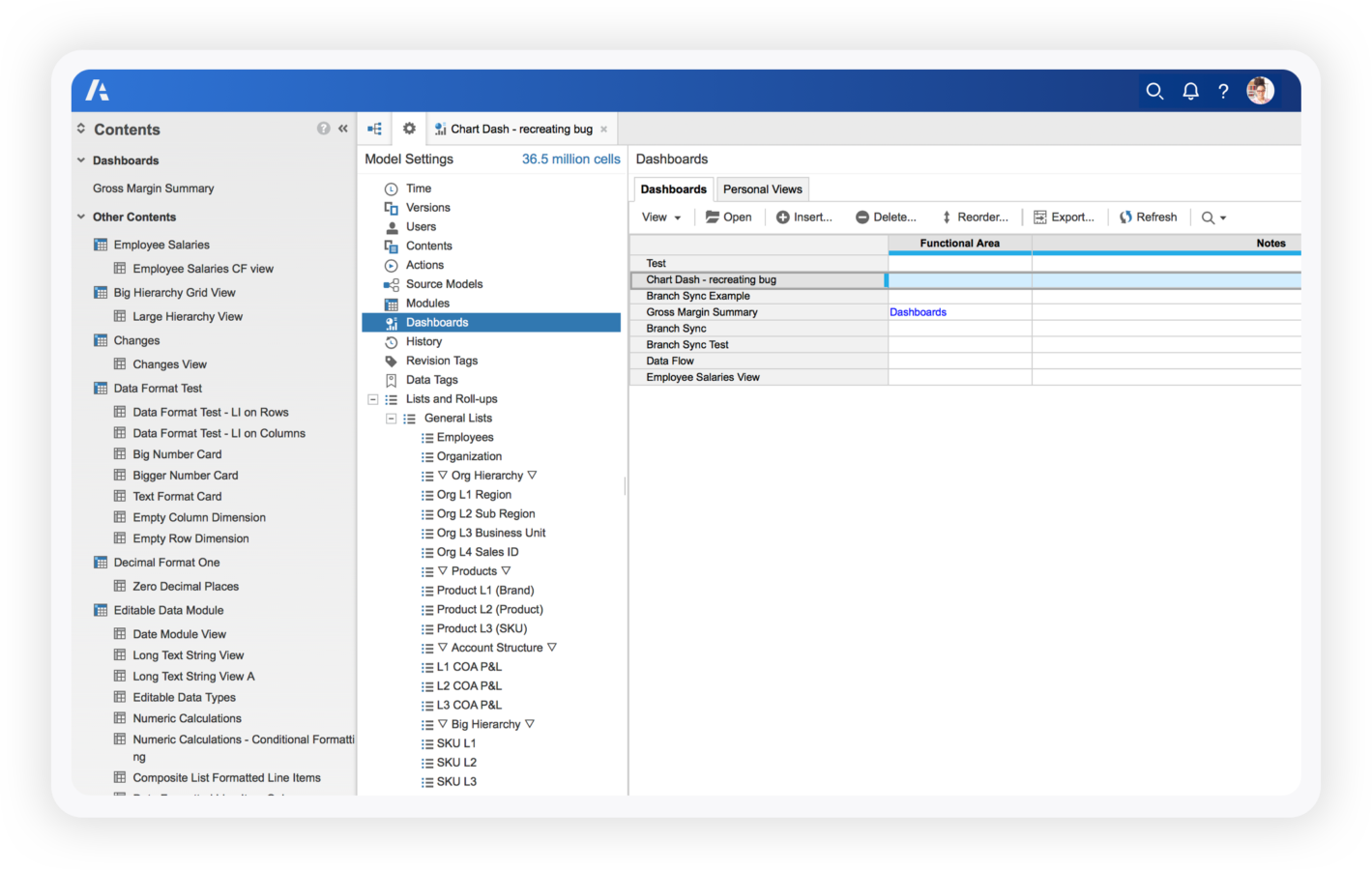 Model the future of the entire enterprise on a single platform
More insight enables more successful decisions. Anaplan is the platform that empowers you to take control of your outcomes with multi-dimensional scenarios at every scale of your business. Model potential outcomes based on real-time operational metrics and projected strategies, while sharing insights with users across your business so you can act with informed confidence time and again.
Hyperblock
At the heart of the Anaplan platform lies the Hyperblock calculation engine, which was designed to produce ultra-fast calculations at unprecedented scale.
Hyperblock combines an in-memory datastore and a calculation engine.
The architecture allows the system to know which downstream blocks will be affected by any change and to update only those specific cells.
As a result, the platform can calculate changes almost immediately even for incredibly large data sets.
Multi-dimensional modeling
Markets are complicated. Plan with models at scale and natural dimensionality, so you can anticipate complex market changes.
Achieve scenario modeling and multi-dimensional planning with any number of dimensions such as time, location, product, customer, expense, or currency.
Leverage HyperModels™ to anticipate market changes by easily adding large data sets, enabling fast analysis and forecasts that expand well into the future.
Solve business problems organically at the natural dimensionality and scale of your data with the Anaplan Polaris™* Calculation Engine.
Create robust models that incorporate expanded actuals and scale as the business grows.
Connect simple building blocks to plan across the enterprise
Plan a single use case or plan the entire enterprise.
Anaplan's modular approach lets decision-makers in Sales, Finance, Supply Chain, HR, Marketing, and other business units model their unique organizational structure.
But you can also connect these models to compare, connect and calculate the relationships between them.
In this way, executives can change variables to see their impact from edge to edge, across the entire organization.
Digitize your processes and drive effective conversations with Anaplan Workflow*
Data consistency to all users
Deliver consistent data to stakeholders throughout the organization.
Anaplan Data Hub houses all information needed to execute the planning scenarios. It is the one source of truth for hierarchies and data.
Because changes flow instantaneously, all users share the same real-time signals.
Any number of concurrent users can plan together, with real-time updates.
Changes in one area immediately roll to all other relevant areas.
Key benefits of Anaplan's scenario planning and modeling capabilities
Anaplan's Hyperblock engine uses a high-performing architecture that is optimized to process blocks rather than cells. This architecture allows large-scale changes to populate extremely quickly—most at a sub-second rate. All model changes are immediately reflected back to every user, and models remain 100% consistent at any size.
Create robust, actionable plans quickly and accurately, regardless of data volume
Connect workspaces and models to architect enterprise-sized scenarios
Adapt fast and model potential changes at sub-second speeds
Enjoy 100% consistency across the business
Incorporate an unlimited number of concurrent user

Model a single use case or easily scale and connect use cases to plan more complex decisions
Historically Unilever's large product volumes and robust offerings in individual markets made capturing and analyzing all relevant data in a single environment complex. Anaplan's HyperModeling capabilities aggregate our large data sets in one model, making it easier to analyze trends, spot opportunities and create agile forecasts for all products in market.
Meenakshi Chhajer, Supply Chain IT Lead, Unilever