Empowered decision-making
Anaplan PlanIQ™ helps users drive accurate decisions with forecasting that leverages powerful, integrated artificial intelligence (AI) and machine learning (ML). Collaborate across your enterprise, working with a single source of truth, updated and calculated in real-time. Test multiple scenarios and quickly operationalize best options.
Predictive intelligence
Plan intelligently across your organization with a suite of platform capabilities.
Optimized answers to complicated scenarios
Intuitive user interface
Optimization capabilities can be run from the user interface. Zero coding knowledge is required.
Anaplan PlanIQ with Amazon Forecast* delivers seamlessly integrated AI and ML capabilities for faster, more accurate results.
More accessible forecasting improves prediction accuracy and generates new insights to optimize decision-making.
Once models are created, users across the business can leverage intelligent capabilities.
User-friendly dashboards make navigating easy.
*
This product is currently in early access, please contact your business partner if you would like to learn more.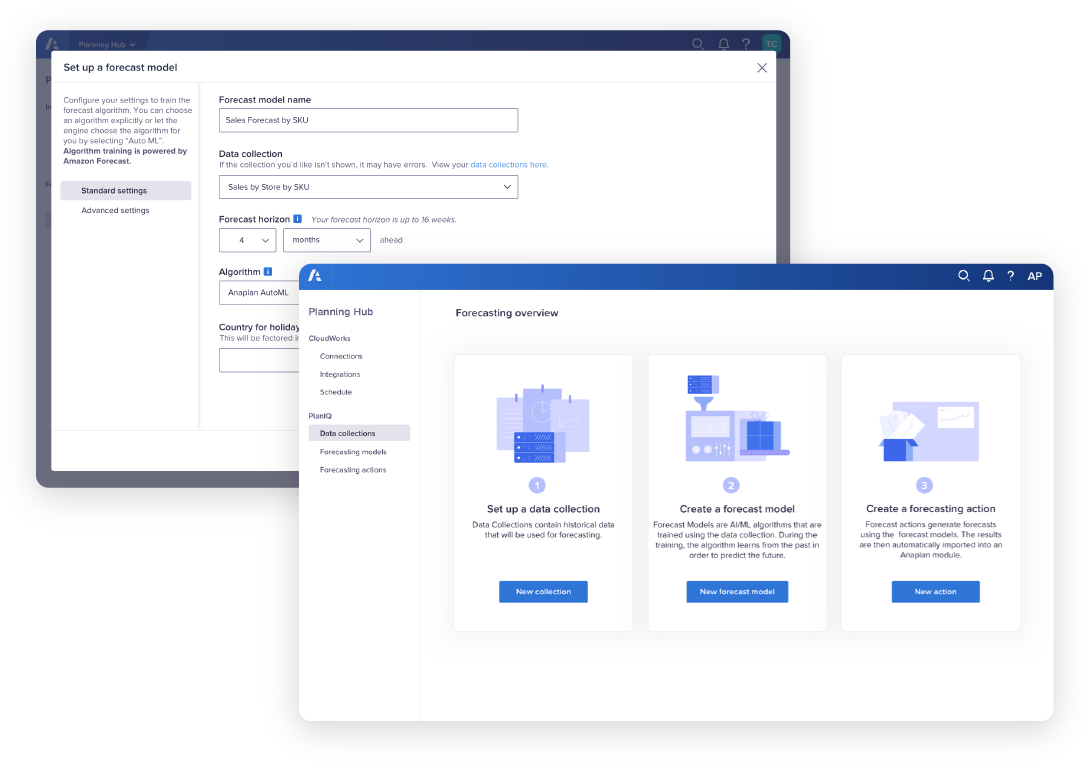 Enterprise-wide intelligence
Embedded algorithms enable statistical forecasting: Curve fit, smoothing, seasonal smoothing, basic, and intermittent.
Optimize for enterprise-level decisions to the edges of your business in real time.
Leverage data insights and identify signals to drive better outcomes.
Consider billions of options and isolate an ideal strategy.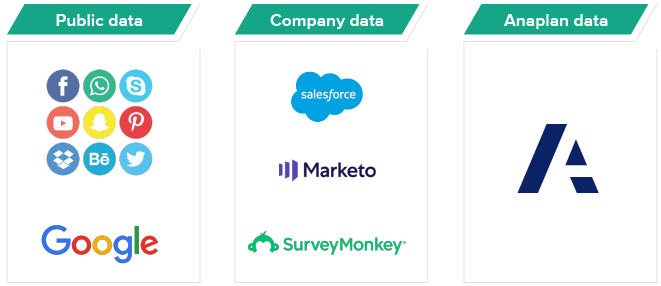 Key benefits of Anaplan's intelligence capabilities
Embedded intelligence allows you to evaluate an infinite amount of possibilities for any scenario, get optimized answers, then tweak constraints to assess different outcomes. Quickly narrow options and find the ideal solution.

Advanced analytical functions and predictive algorithms

Optimization capabilities offered through the user interface
Purpose-built solutions such as PlanIQ leverage third-party analytics and ML platforms
What-if analyses that used to take all day are done in seconds with Anaplan, with zero risk of mistakes.
Enrico Righini

, Group Controller

,

ASK Industries