IDC Recognizes Anaplan as a Cloud EPM Leader
IDC MarketScape: Worldwide Cloud Enterprise Performance Management Software for Planning, Budgeting, and Forecasting 2020 Vendor Assessment
Read the IDC report
Time's up for Oracle's legacy tool. Switch to Anaplan.
Give your organization the power to see, plan, and run your business through the next normal.
Explore benefits
Accurate and intelligent planning as a competitive advantage
Traditional planning, just like siloed systems and point solutions, is outpaced by change. Anaplan for Finance connects your people, data, and plans across your organization to empower the right decisions quickly.
It's time to close the gap between how you run your business and how you plan for your business
The financial planning and analysis solution for today
Anaplan empowers financial analysts to adjust scenarios quickly to include changing business conditions, without relying on IT. Anaplan's flexible modeling capabilities automate, structure, and connect a range of financial and operational use cases to steer business performance more effectively.
Respond to changing marketplace conditions clearly and swiftly, creating center-to-edge alignment. Simultaneously enable autonomous and coordinated market action by connecting headquarters and the field like never before.
Benefit from compliant, secure autonomy that directly empowers people across financial, commercial, and operational functions — independent of CIO cycles and resources, yet deployed to CIO standards.
Experience unprecedented agility by making a course correction in hours or pivoting entire organizations of thousands, in days.
Connected planning unleashes new possibilities
With Anaplan, anticipate performance gaps with greater agility. Analyze root causes by drilling down into dimensionally rich financial and operational data. Assess the impact of alternative courses of actions quickly. Enable more effective and collaborative decision-making and execution.
Replace rigid applications and cumbersome processes with a high-fidelity signal of your company.
Enjoy confidence in a single source of truth with accountability, governance, and traceability.
Leverage an integrated and dynamic data set that incorporates internal and external factors, relationships, and market context.
Tackle complexity and collaborate in real time to immediately see the impact of scenario changes.
Uncover hidden drivers of performance
With Anaplan, finance teams eliminate rigid tools and reporting silos, bringing value-added analysis, better management decisions, and collaboration throughout their business. Adopting a Connected Planning approach aligns corporate objectives with financial plans linked to market events and operational tactics. The result is transformation that accelerates business advantage.
Gain deeper insights and enhanced predictability.
Plan with new intelligence that yields relevant and timely insights.
Connect finance processes with line of sight into every asset, resource, risk, and change across disparate functions and systems.
Leverage a robust analytic data set, ad hoc analytic tools, and statistical capabilities, helping users discover root causes by drilling down into dimensionally rich financial and operational data.
Empower your decisions and plans of action
Reimagine and reinvent your finance operations.
Shift from reactive to proactive decision-making. Confidently anticipate the right moves to optimize revenue, cost, and profit. Use Anaplan
modeling scenarios
to inform financial and operational action.
Gauge the impact of alternative courses of action through Anaplan modeling and forecasting.
Plot and pivot from options to best outcomes. Collaborate and target future financial implications.
Empower your teams to predict the best ways to achieve financial and business goals, in any situation.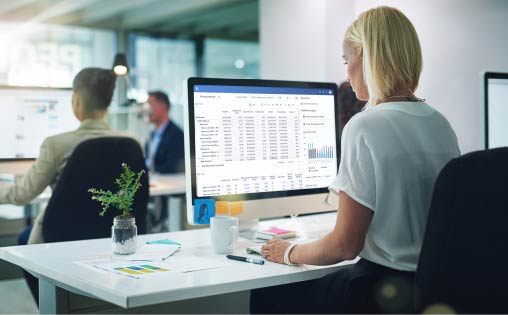 Increasingly, value isn't driven by knowing how things work. It's driven by knowing how things work together.
Jack McGarry

, Group CFO

,

Unum