Anaplan Named the 2020 Gartner Peer Insights Customers' Choice for Sales Performance Management
Anaplan been recognized as the one and only vendor in the 2020 Gartner Peer Insights Customers' Choice for Sales Performance Management (SPM).
Read the blog
Connect sales planning to sales performance
Driving growth in uncertain times
Predict and protect your revenue with flexible sales planning and a focused, productive sales organization.
Manage your go-to-market strategy to prepare for any future
Stabilize revenue and build agility into your sales strategy
Anaplan provides a single, connected platform for more agile sales planning and sales performance management. Anticipate market disruption and easily evaluate multiple scenarios. Motivate your sellers and maximize selling time while keeping your organization connected, flexible, and prepared for the future.
Eliminate sales management and planning silos
Collaborate in real time across functions and departments
Provide a single, reliable source of truth across all revenue functions. Connect stakeholders and decision makers with signals linked to planning.
Collaborate simultaneously with multiple teams and instantly link changes in quotas, territories, comp plans, or forecasts to all other relevant plans and decisions.
Make course corrections at the speed required by your business.
Enhance predictability and gain deeper insights
Uncover hidden revenue opportunities as you optimize sales performance
Always know where you stand and where you need to go, with multiple real-time scenarios.
Enrich internally collected signals with external sources and cutting-edge hyperscale computing to more accurately predict sales outcomes.
Transform complex sales planning inputs into actionable recommendations.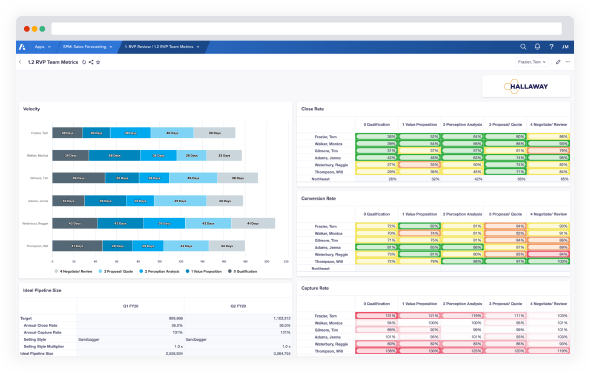 Anaplan is really one vision of the truth. You can look at it from all angles.
Alyson Lougheed

, Manager of Sales Compensation

,

TELUS