A powerful, easy-to-use platform that lets you plan with confidence
There's too much at stake to risk working with unorganized data from disconnected extensions. Anaplan combines your data into a single, trusted source of truth by integrating your homegrown and third-party extensions for clarity. It provides cloud-based accessibility for all of your stakeholders and allows you to share what's most important with ease and flexibility.
Anaplan's suite of extensible and interoperability capabilities
Design a decision-making process all your own with Anaplan's expansive network of integration capabilities and partners. With its flexible architecture and third-party data integration on a single platform, Anaplan equips your business with the ability to collaborate efficiently and share insight with stakeholders across your entire organization.
Flexible capabilities
Anaplan tools: Conduct manual import and export of data via the UI with Anaplan Connect, an integration utility that runs integration scripts for imports and exports.
Connectors: Leverage industry-leading ETL and ESB tools to integrate with systems of record, such as Informatica, MuleSoft, Dell Boomi, SnapLogic
Purpose-built integrations: Support for purpose-built integrations such as Tableau, Microsoft Power BI, Workiva, and DocuSign.
Custom integrations: Extend platform capabilities using REST APIs, scripting, and Transactional APIs
Technology partners: Leverage best of breed solutions for planning and execution through pre-built integrations with Microsoft Dynamics 365, Adobe, and Salesforce*.
*Coming soon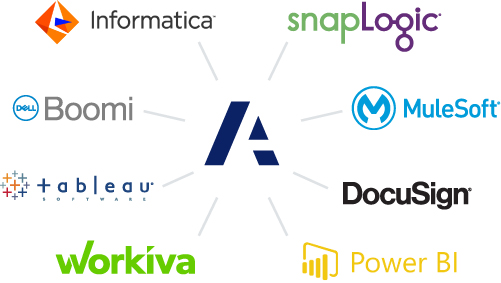 Orchestrate agile integrations
Anaplan CloudWorks™ unlocks faster, more intelligent planning
Seamlessly integrate with multiple cloud systems, such as AWS S3, Google BigQuery, and Microsoft Azure Blob, and leverage capabilities from industry-leading third-party systems with the CloudWorks framework.
Easily configure and manage integrations, empowering business users to run integrations without technical expertise.
Schedule and automate integrations to accelerate planning and integrate with artificial intelligence (AI), machine learning (ML) systems to solve pressing business problems.
Automate and daisy chain multiple integrations across models and workspaces with data orchestration*.
*Coming soon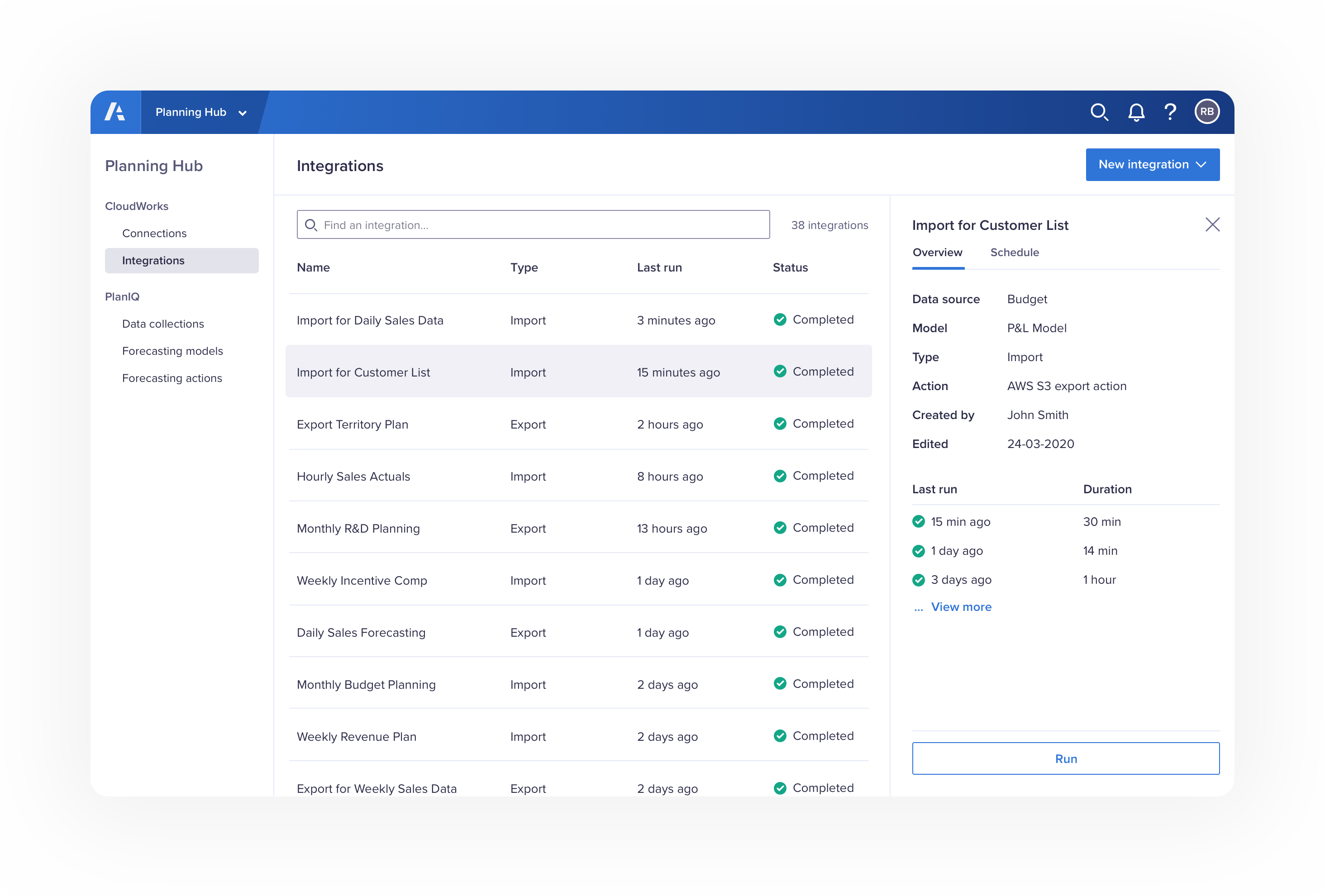 Key benefits of Anaplan's extensible network
Extend planning into every area of your business. The Anaplan platform collects and analyzes data in a single location, enabling both high-level and granular analyses and facilitating data-sharing and collaboration with all stakeholders at every level of your business. APIs, ETL/ESB connectors, and built-in integrations easily communicate with other solutions.
Data collection, access, and sharing within a unified location
Easy deployment and communication with other third-party solutions
A flexible suite of capabilities for customized integrations
High-level and granular analyses performed on a single platform
Facilitate and manage data-sharing with stakeholders across the enterprise
Supports industry-leading ETL and ESB tools for easy integrations
A key cloud-to-cloud integration, managed with Boomi, is between Zillow's Salesforce instance and its Anaplan Data Hub. Transaction data, entered and maintained in Salesforce, formerly was updated in Zillow's plans weekly. Now it is updated every 20 minutes for some groups.
Brandon Couch

, Senior Analyst of Sales Finance

,

Zillow