Compensation planning and modeling
Create compensation plans to motivate the right behaviors and drive actions aligned with your company values, culture, and strategy.
Turn compensation into a competitive advantage
Create compensation plans and frameworks that underpin your talent acquisition and retention with equity, diversity, and inclusion while driving performance.

With Anaplan for compensation modeling, you can:
Model compensation structures that are fair and reflect the value employees bring to the organization and your customers
Align compensation with organizational objectives and incorporate forward-looking insights to anticipate and adapt to changing market conditions
Leverage automation and real-time calculation capabilities to cut computation time and increase the accuracy of your data
See the potential impact of changes before applying them with powerful "what-if" scenario modeling and full visibility across the organization
Use compensation to drive performance
Streamline compensation planning
Minimize administrative details and spreadsheet management. With Anaplan, you have access to enterprise-grade compensation planning and modeling built for the cloud so you can standardize plans across regions, geographies, or industries and quickly resolve complicated disputes and automate clawbacks.
Enable real-time insights and analysis
Leverage dashboards in real time to:
Gain insight into all compensation plan elements
Assess equity within and across pay plans
Maintain an easily traceable record of historical data,
Dramatically simplifying audits
Visualize metrics in tables, charts, graphs, maps, lists, and more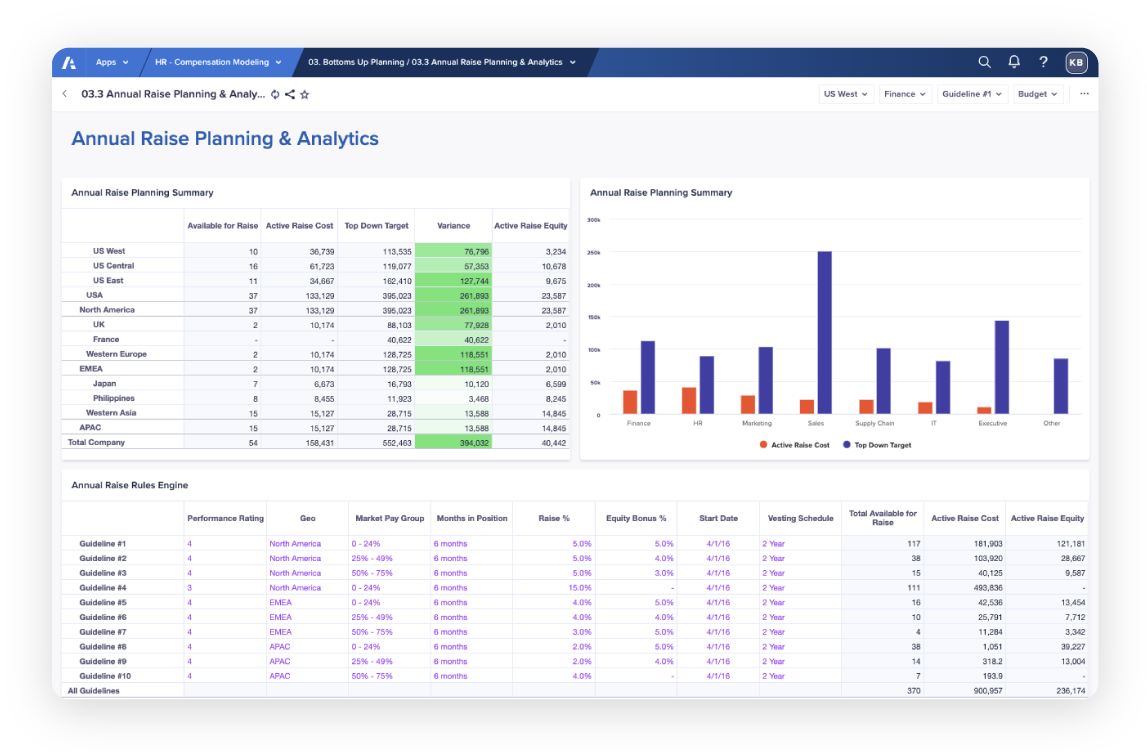 Collaborate across the organization
Eliminate version control issues and confusion about source and accuracy of data
Provide a centralized, shared source of data
Share planning data across the organization and keep everyone attuned to the more significant business objectives
Offer fair, competitive pay
Leverage third-party benchmarks in your planning process to provide insights into the fairness and competitiveness of your compensation and incentive plans and guide your decisions.
Drive performance and compliance
Maximize the impact of your compensation budget by leveraging the versatility of Anaplan to help you set up budget rules and model pay allocations within established limits.
Empower modeling and "what-if" analysis
Create "what-if" scenarios and assess the potential changes and their impact before committing and rolling out new plans to your teams. Optimize compensation plans by tweaking parameters and instantly viewing the effects.