Anaplan for Material Sourcing
Keep your direct materials strategic sourcing processes in sync to allow historical pricing and bottom-line impact analysis, support "what-if" scenarios, and establish an environment of ownership and accountability.
Introduce structure, speed, and consistency into strategic sourcing for direct materials. Using Anaplan's cloud-based sourcing management software, you can share, analyze, and collaborate on critical supply chain data anywhere across the globe.
Our direct materials sourcing software includes features of supplier collaboration, vendor allocation optimization, quote and pricing management, material quantity and cost forecasting, and supplier performance management. Incorporate Anaplan's market-leading financial planning software alongside your sourcing processes to drive improvement in cost savings and process efficiencies.
Why Anaplan for Material Sourcing software?
Optimize supplier allocation to unlock hidden savings
Accelerate objective decision-making by leveraging the Anaplan optimization capability to automatically select vendors based on cost, capacity, lead-time, quality, and other factors. Eliminate the need for manual allocations that were historically performed in industrial spreadsheets.
Provide a source of truth for cost and pricing
With zero-latency dashboards, procurement teams can share quote and pricing data across business units and geographies with ease. Reduce the potential for suppliers to provide different prices for similar products and services to different divisions or business units.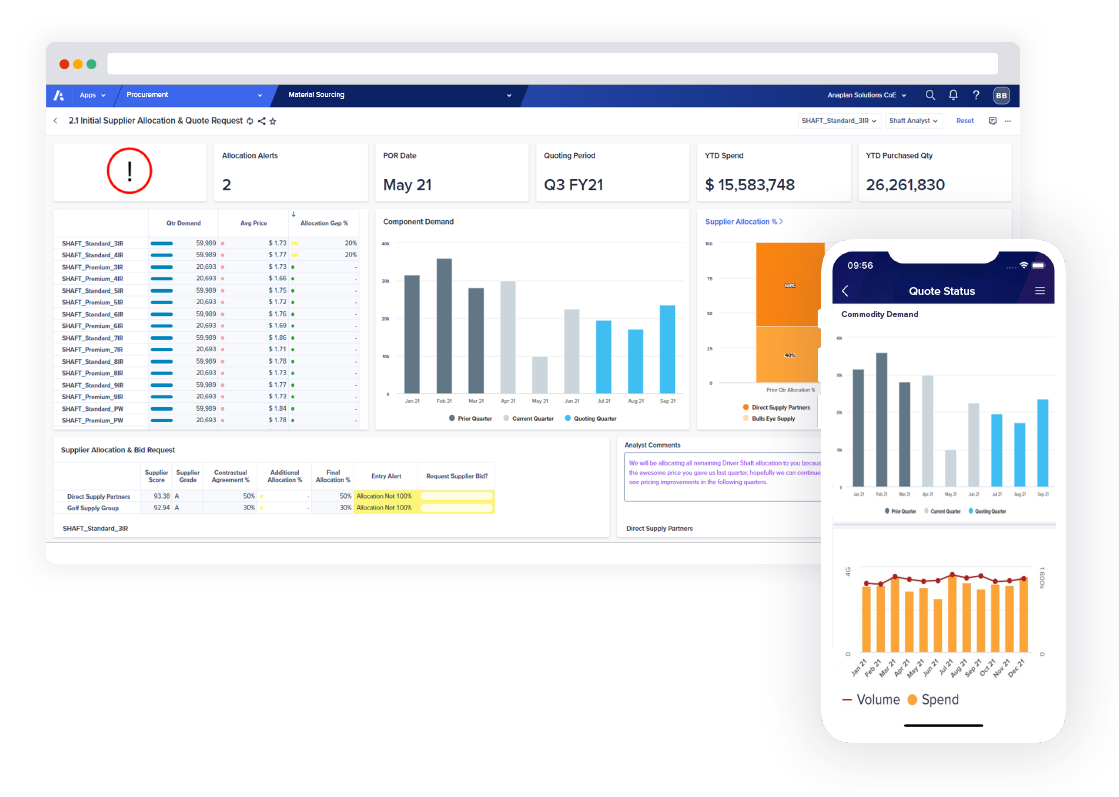 Collaborate on spend and savings goals
Provide a single source of truth for supplier data including pricing, inventory, capacity, delivery, quality, and risk information. Unify data into consolidated cloud-based software to help refine category plans that actively engage cross-functional stakeholders in the decision-making process.
Generate "what-if" modeling and analysis
Leverage shared supplier data to create "what-if" scenarios and determine the probability of increased savings for various sourcing alternatives. Assess the hard-dollar impact on sourcing decisions before they are made. Understand risks and prioritize the exchange of data that is vital for supply chain optimization.