3 benefits of moving your territory and quota management process off of spreadsheets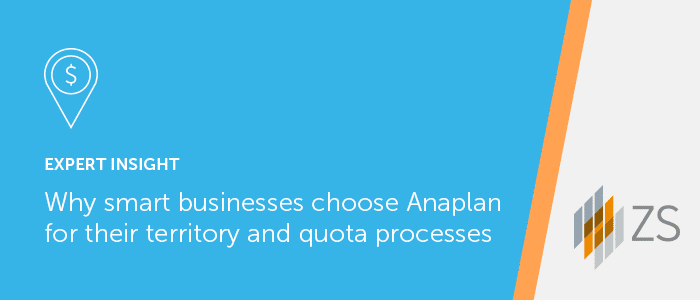 Planning sales territories and quotas is, in theory, simple: Put the right reps on the right accounts with the right targets. However, achieving it requires you to consolidate disparate sets data and actively collaborate with frontline sales—two things that are extremely difficult with a spreadsheet-based process.
According to SiriusDecisions, 38% of companies reported having a lack of effective processes to accurately set quotas, and 34% of them lack the information to accurately set quotas. With a plethora of sales technology solutions on the market, many companies still manage sales territory mapping and quota planning through guesswork and edicts rather than data and collaboration.
At ZS, we've helped hundreds of organizations design better territories and more effectively set quotas. Our experience has shown that these two disciplines are essential to overall sales force effectiveness. In our recently published paper, we discuss the three key benefits of moving your territory and quota management process off of spreadsheets and why Anaplan may be the right planning platform for your sales organization.
Accommodation of sales hierarchy changes: Accounting for changes that occur during the quota-setting process is one of the most difficult administrative tasks that organizations face. Anaplan's core functionality solves the dynamic assumptions issue by establishing a single source of truth for your quota-setting data, and by forcing all parties to work off of both the same numbers and the same hierarchy alignment.[gap height:5]
Territory design as a continual process: The process of designing sales territories and deciding how to balance them is a significant endeavor that establishes the foundation of a sales organization. While most companies understand the importance of redefining territories on an ongoing basis, very few revisit this analysis with enough frequency to ensure that it's up to date. Not doing so puts your territory design approach at risk of becoming obsolete and ineffective.[gap height:5]
Improved speed of plan delivery: Starting the fiscal period without knowing your actual quotas is all too common in sales organizations. One of the primary reasons that companies miss this deadline is both simple and frustrating: The consolidation process takes too long. For companies still using Excel as their primary platform, especially those that have to combine hundreds of spreadsheets, this is an arduous process that can take several months.
See why leading enterprises are investing in Anaplan for territory and quota management, along with many other crucial sales activities. With Anaplan, you can consolidate your sales data from the countless point solutions across analytics, forecasting and more to see a single consistent view of your business that can then be interconnected with finance's budget and marketing's go-to-market strategy.
Read more on how Anaplan enhances territory and quota management to discover how you can drive efficiency in your territory and quota management process and improve the effectiveness of your sales organization.