3 key insights on the importance of cross-functional collaboration in effective sales planning
The Sales Management Association (SMA) recently released a new research report on sales planning practices, underwritten by Anaplan. The SMA surveyed 112 global organizations and analyzed a variety of elements within the sales planning process. One of the most interesting areas of emphasis in this research was the importance of cross-functional collaboration.
By examining the collaboration between sales and other business units, the SMA research brings to light which inter-organizational collaborations are most important, which are most effective, and what high-performing organizations do differently in their collaborative planning efforts.
Importance of cross functional collaboration
The survey asked respondents to rate which cross-departmental collaborations are the most important for the sales planning process. The top-rated functions that need to collaborate with sales were, unsurprisingly, executive leadership, marketing, and operations.
Second, although HR and IT were rated lowest in importance to collaborate with sales, the survey did show that higher-performing organizations rated collaboration with HR and IT as more important than lower-performing organizations. This is evidence that collaboration across the enterprise is important to the sales planning process and that, in order to become a high-performing or industry-leading organization, all silos must be broken down and every functional area of the organization has to play a unique role in sales collaboration.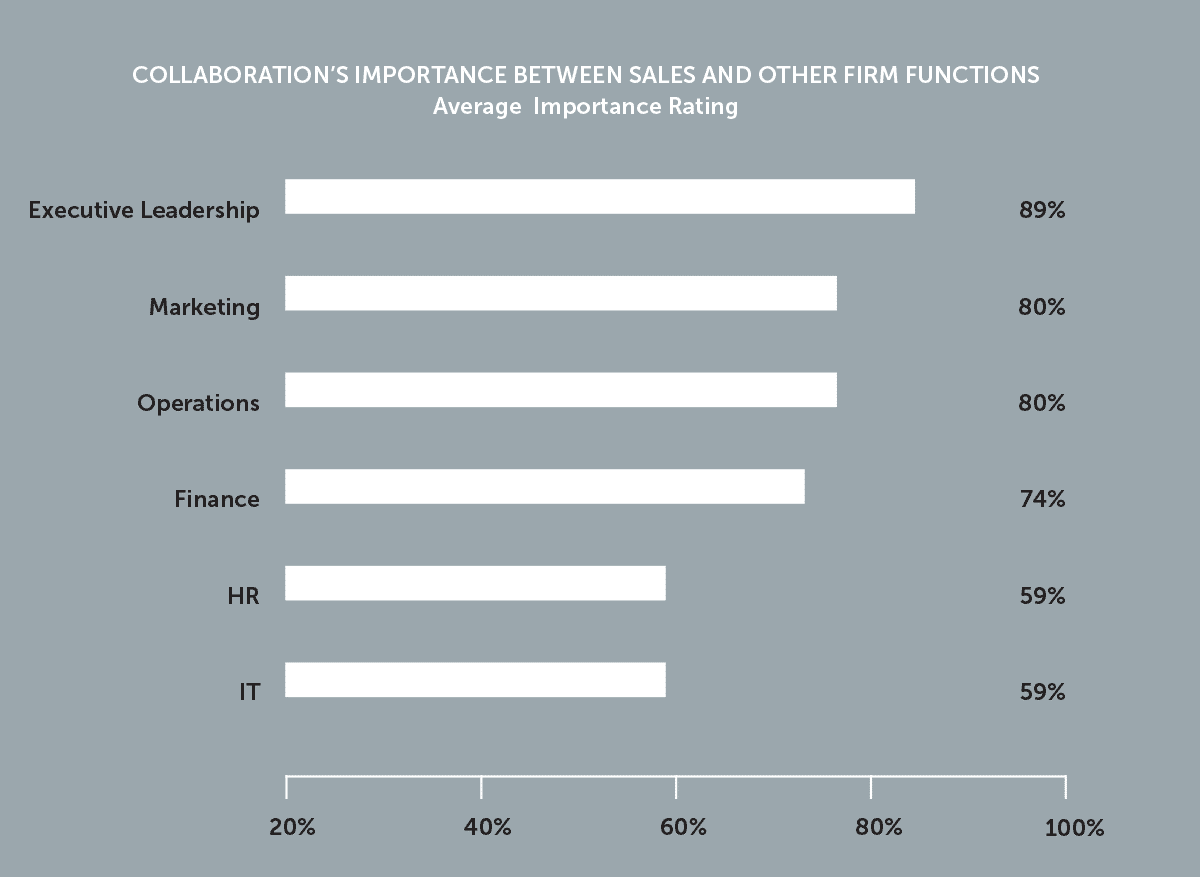 Overcoming the cross-functional effectiveness gap
The survey also asked respondents to rate the effectiveness of their cross-functional collaborations. Certain functions had a noticeable gap between the importance of collaboration and the effectiveness of this collaboration. The largest gaps between importance and effectiveness of collaboration were found in those functions that ranked the most important—marketing, executive leadership, and operations. Marketing was rated as the overall highest priority function to improve sales planning collaboration—but although it was rated as high in importance, it was also rated relatively low in effectiveness. Due to the age-old tension between sales and marketing, it is no surprise that there is a missed opportunity when it comes to importance of this alignment and the effectiveness of their collaboration. Forrester recently addressed this topic by discussing marketing's need to be more accountable for sales revenue.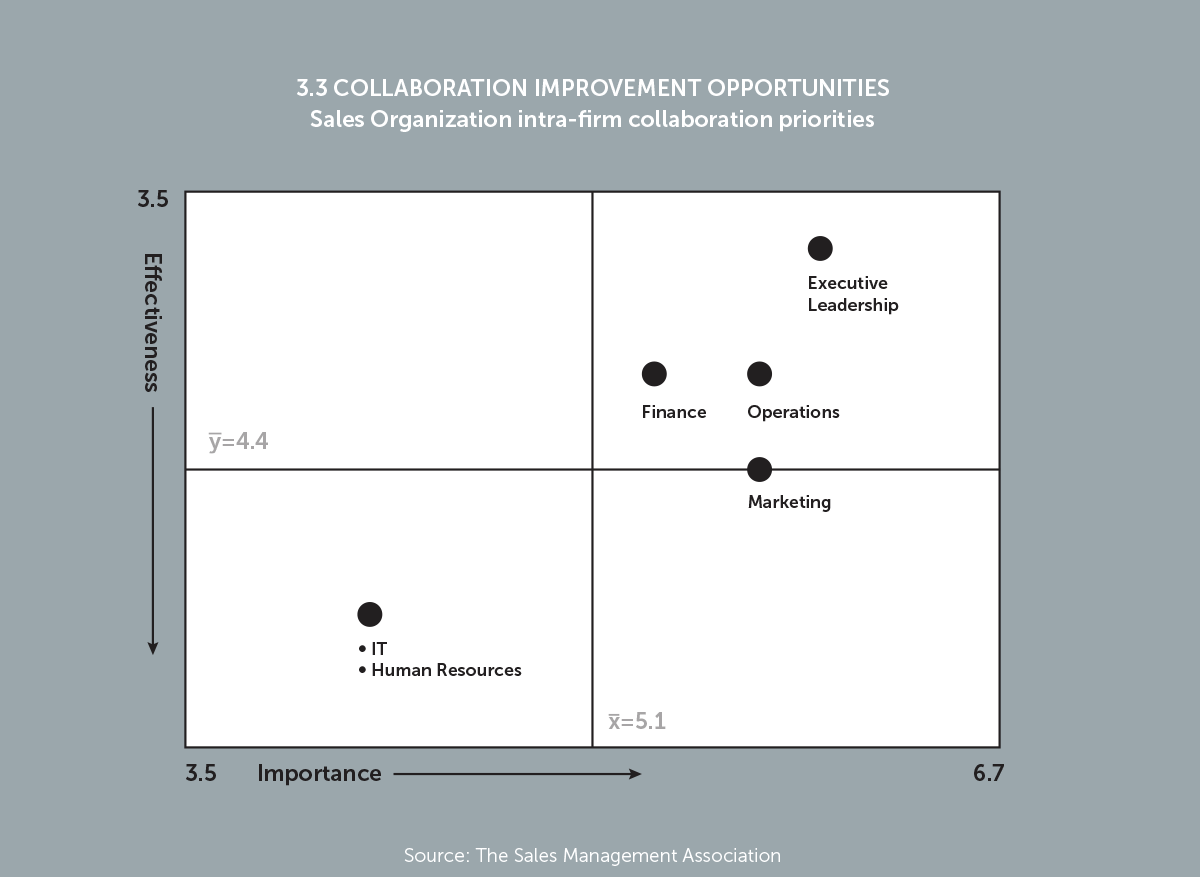 High-performing organizations set different priorities
The research survey also found that higher-performing sales organizations differ on what they consider the most important collaborative relationships. For example, high-performing organizations rated IT and HR collaboration 18 percent higher than lower-performing organizations. Considering the increasing importance of efficient and streamlined technology within the sales organization, it is no surprise that an alignment with IT results in higher-performing sales organizations.
High-performing organizations also have more effective sales planning collaborations. Their collaborative relationships with IT, executive leadership, and marketing are 23, 20, and 17 percent more effective, respectively, than those of lower-performing organizations—leading to enhanced sales performance.
High-performing organizations place more importance on collaborative relationships with non-executive functions and are more effective, in comparison to lower-performing organizations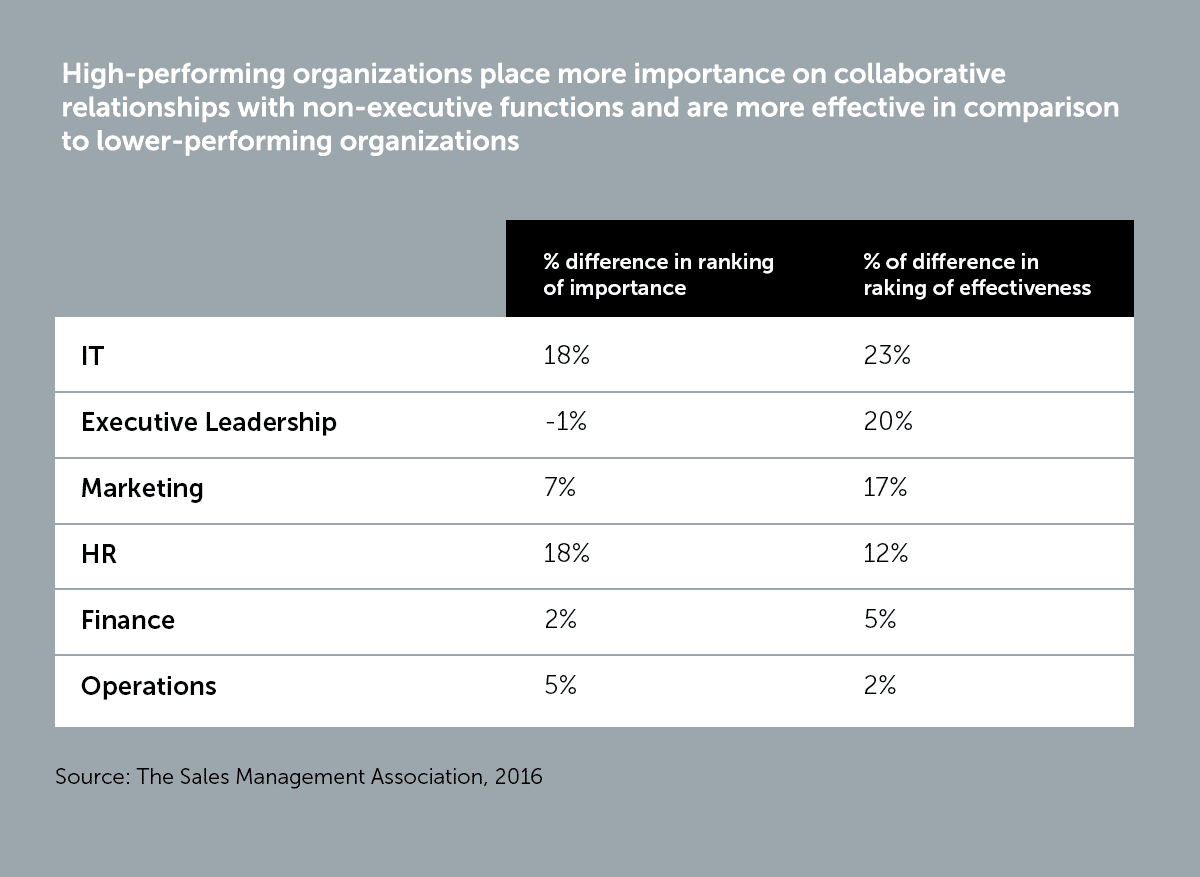 Improving your company's sales planning is crucial to improving sales performance and overall business performance—and this starts with more effective cross-functional collaboration. By better understanding which functional relationships are the most important based on the business priorities, you can set aligned goals, achieve buy-in across the business, and establish an accurate sales forecast.
Learn more about the sales planning insights and best practices of high-performing organizations by reading the full report from the Sales Management Association.
The sales secrets of high-growth companies 5 actions that distinguish sales organizations at fast-growing companies