How to Move from Siloed to Connected Planning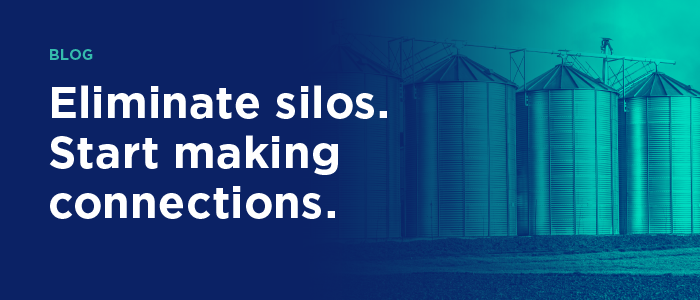 Today, you'd be hard-pressed to find an organization that doesn't want to be more collaborative, dynamic, and minimize the time between data crunching and decision-making. Yet many organizations still have siloed planning software built on a combination of spreadsheets and applications based on old technology. This ultimately holds them back from achieving the agility necessary for truly collaborative and Connected Planning.
Beginning your Connected Planning journey
Until recently, enterprise planning has been viewed as an annual back-office function executed in isolation over the course of weeks or months to provide a roadmap for the year ahead. This roadmap is then usually put on a shelf to gather dust. In a business environment that's rife with volatility, this approach is inadequate to respond or predict the rapid change that businesses face today.
If your organization's plans are built on disparate or disconnected point solutions, consider the benefits of starting down the path toward Connected Planning. A major leap for most companies, it all starts with investing in the right technology and having a culture that encourages change. That's why we're laying out the three key steps to move from siloed and traditional planning to truly connected business planning.
1. Get the right tools to build a connected plan
Uncertainty is greater than ever today and the possibility of new market entrants, new business models, and new technologies becoming mainstream are real threats of disruption. Unfortunately, the spreadsheets and point solutions of yesterday simply lack the agility to quickly pivot or handle the volume of data needed to spot risks or opportunities.
To move on from siloed to Connected Planning, start by considering tools like a cloud-based, collaborative Connected Planning platform No longer will you have to send multiple versions of the same model back and forth through email and worry about the integrity of the data. Instead, using robust in-memory technology and the ability to execute real-time modeling with massive volumes of live data rather than debating which version of the plan to follow, your team can work together, making the plan not only more easily embraced, but also more achievable.
2. Operate from a single plan based on reliable data
Traditionally, companies have used individual applications to plan for each business function. For example, they might have one tool for sales forecasting, one for demand management, and another for financial budgeting. Because these applications are usually disconnected from one another, cross-functional is collaboration nearly impossible. To compensate, organizations typically resort to sharing spreadsheets with one another, but this can quickly lead to version control and data integrity issues. Before you know it, no one trusts the plan and tracing the data back to its source becomes nearly impossible.
When everyone works off of the same plan with access to shared data, process inefficiencies and common errors that erode the trustworthiness of plans are reduced or eliminated. By moving to a collaborative platform, planners can instantly act on the same real-time data insights and let the technology do more of the leg work with predictive algorithms, machine learning, and real-time simulations. By automating the manual aspects of planning, you won't have to worry about your work leading to outcomes that aren't accurate.
3. Transform planning into a continuous connected process
Sales, supply chain, marketing, and finance may perform different purposes within the business, but they are inextricably linked and rely on each other for success. Although every company would like to be well ahead of impending change, most are held back by their limited technological architecture. But business planning doesn't need to bring a sense of dread or force you to work overtime making double-digit numbers of revisions in manual processes.
In today's era of rapid change, companies need to "establish and continuously monitor a detailed plan," according to a recent report by Mint Jutras. "This means that performance must be continuously monitored against the plan, which must evolve and adapt with change." And although point solutions and low-cost add-on software were developed to help companies solve enterprise performance issues, they're not truly integrated, they usually come with a hefty price tag, and they require ongoing IT maintenance.
With these three steps, you can begin the transition from traditional planning to Connected Planning. To learn more about how Connected Planning can help your business thrive in an era of disruption, check out the full Mint Jutras report.
| | |
| --- | --- |
| Connected Planning in an Era of Disruption | Read report |