5 model builder tips & tricks: enhance your Anaplan dashboard experience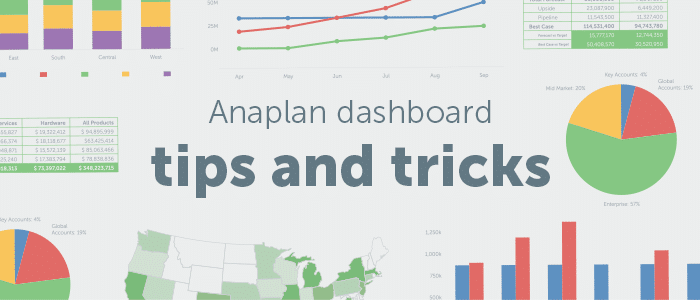 Are you an Anaplanner looking to hone your skills? Look no further! Whether you are new to Anaplan or a seasoned model builder, these five tips and tricks from Anaplan model builder Vicky Ascencio will show you how to enhance your understanding of dashboards and amplify your capabilities so you can plan, collaborate, and act quickly across your business. Because at the end of the day, we all want to get the job done faster and better.
Check out the 5 tips & tricks below:
Tip 1: Make your dashboards easy to navigate

As a first step to easy navigation, set your landing dashboard. Think of your landing dashboard as the homepage to your application and the navigation guide. Add buttons to take you to the relevant reports and input dashboards. I recommend creating dashboard templates to keep the look and feel consistent for the user.

Tip 2: Use text on dashboards to your advantage

Add text to your dashboards to enhance your collaboration with other Anaplanners. You can create section headers and add notes to help give context around what you're viewing. Text is also great for including instructions and important process steps. For example, on my landing dashboard, I like to add descriptions of the dashboards

Tip 3: Make your dashboards tablet friendly

For every element on a dashboard, you can customize the height and width settings so that it is compatible with any mobile screen size. For Graphs, the import setting is the Minimum. This prevents Graphs from getting too small on a tablet and is set based on pixels. The height and width percentages allow you to configure the percentage of the screen that you want the element to take up. Irrespective of these settings, grids will automatically expand to show all rows or columns if there is enough room on the dashboard.

Tip 4: Enhance text with symbols in Anaplan

Now you can add symbols in Anaplan! Add symbols any place you use text. For example, add symbols to List Items, Module Names, and Buttons—just to name a few. Symbols are great for status alerts and Custom Workflows. It helps keep your Buttons all the same width and makes arranging them much easier on a Dashboard. You can add a text box with a description right next to the Button.

Tip 5: Reinforce your understanding of the Global Default Grid Setting

The Global Default Grid Setting allows you to publish modules to dashboards with a pre-selected Grid Style. If you find yourself publishing a module and then changing the grid style to something other than Classic, this feature was created just for you. This setting is great for creating a consistent look across all of your dashboards. Of course, you can always over ride the Grid Style directly on the Dashboard. You can change it under Dashboards —> View —> Global Default Grid Style and it will apply to all published modules going forward. It will not change the Grid Style for modules previously published.
We hope you enjoy using the dashboards and all the additional new features. We look forward to bringing you more exciting updates in next month's release.
Did you find these tips and tricks helpful? Leave a comment!
To learn more about the latest updates from Anaplan register now for our live webinar featuring Simon Tucker, Anaplan's Chief Product Officer, on Thursday, September 10th at 10:00 a.m. PT / 1:00 p.m. ET