5 reasons to attend Connected Planning Xperience (CPX) 2019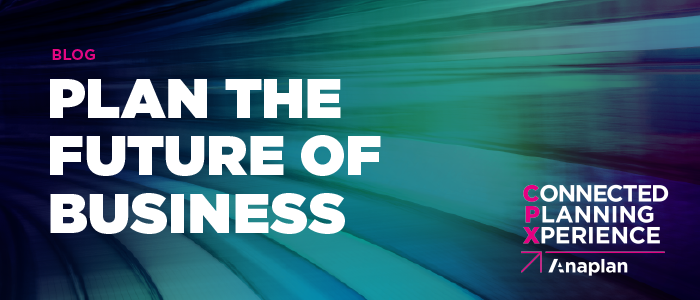 Anaplan's annual user conference, Connected Planning Xperience (CPX), is coming around the bend and we're already counting down to the welcome party. This June, more than 2,000 business planning professionals and 100 expert speakers will gather in San Francisco to plan the future of business and discover the secrets to Connected Planning success. In addition to being the world's largest business planning conference, here are five reasons you'll want to attend the CPX 2019:
1. Discover what it takes to truly achieve Connected Planning (with the leading enterprise platform for Connected Planning)
At CPX 2019, you'll learn how some of the world's best companies are overcoming complex planning challenges using cloud-based Connected Planning. Whether you're just learning about Connected Planning, or it's already a pillar within your organization, there will be something for Anaplanners at every stage of the Connected Planning journey. With over 40 breakout sessions led by customers and thought leaders, you'll be able to build a customized agenda that suits your comfort level and goals.
2. Take advantage of beginner and advanced training
For both beginning model builders and those well on their way to becoming Master Anaplanners, there will be a variety of hands-on workshops and sessions taking place at this year's conference. From model building basics to advanced model building and learning how to set-up a Center of Excellence, Anaplan experts will provide comprehensive guidance to help you tackle new ground on your Connected Planning journey. Depending on your schedule or level of interest, you can choose from dozen of sessions, and full or half-day workshops.
3. Network with over 2,000 users, business planning experts, and similarly-situated professionals
Meet Anaplan executives, Connected Planning experts, and similarly-situated professionals who will share your experience at the welcome reception and evening networking parties. Hear how others have tackled planning challenges, reduced risk/costs, and increased operational efficiencies, while make connections with the best in the industry and exploring all that the expo hall has to offer. And, of course, don't forget about attending one of the greatest closing parties of the year.
4. Hear real-life Connected Planning success stories
Hear from people who have walked a mile in your shoes and discover how some of the world's leading companies are leveraging Connected Planning to tackle key business challenges, including a track on the ever-changing IT and technology landscape. Gain insight into how the Anaplan platform has been implemented and hear from our CEO, Frank Calderoni, during his keynote speech regarding changing the face of business, and how it's reinventing the future. Tap into insider tips and best practices from Anaplan partners, and see for yourself how Connected Planning can have a real-life impact on business outcomes.
5. Get a sneak peek into the future of Connected Planning
On Day Two of the conference, take a deep dive into the Anaplan platform and explore its advanced capabilities, such as predictive analytics, artificial intelligence (AI), machine learning (ML), and advanced modeling. Listen as Sampath Gomatam, VP of Product at Anaplan, gives a keynote presentation on what the future of Connected Planning will look like across the enterprise. In addition, enjoy a customer panel on tackling enterprise challenges along with a variety of breakout sessions on topics ranging from applying AI/ML approaches in the enterprise to becoming your company's Connected Planning hero.
Event passes are available now. Register by April 19 to save $300 on early bird pricing. We look forward to seeing you in San Francisco this June!
| | | |
| --- | --- | --- |
| | Register by April 19 to save $300! | Register |