5 strategies of highly successful sales organizations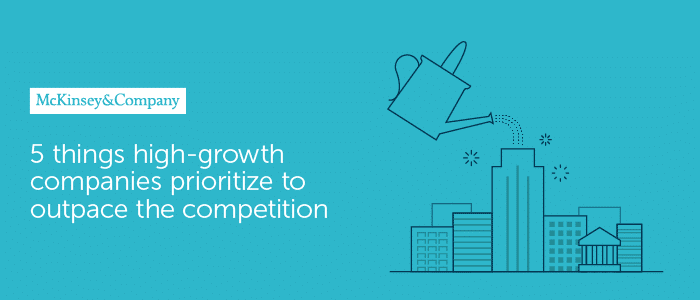 Achieving a strong sales edge is anchored in five key areas, according to a new report by McKinsey & Company. Here´s an overview of the five things fast-growing companies prioritize to outpace the competition:
1. Focus on the future and commit to opportunities. Find the challenges and growth opportunities in the macro environment, then determine—and act on—the smartest long-term courses of action. Identifying and responding to these findings need to be as top-of-mind as weekly or quarterly sales goals. Fast-growing companies take horizon-gazing seriously allocating on average 6% more sales budget than slow growers towards initiatives that are a year or more out.
2. Master digital. Go beyond simply employing the latest platform or sending emails to customers. Successful companies make digital the front line of customer experience, and internally they use digital tools to deliver relevant and actionable insights quickly to sales teams. Digital is embedded in the business landscape—the revenue from digital channels continues to grow annually in both B2B and B2C. The best companies use digital tools to help customers learn more about their products and services, and to augment traditional sales and service functions.

3. Develop and use analytics. Making better decisions, managing accounts, and uncovering insights to determine the best opportunities with the least risk are all possible with advanced analytics. Savvy users of advanced analytics see profit improvements 126 percent higher than companies not extensively using analytics. Going beyond simply analyzing historical performance to predicting the best opportunities remains relatively unique: Even among fast-growing companies, only 53 percent say they find using analytics for decision-making effective. Finding and implementing the right tool, such as the Anaplan platform, is needed to optimize a company´s best use of analytics. By accessing existing data and using current systems, team members see information that can immediately guide them, without getting lost in the weeds of learning a new system.
4. Make the most of talent. Invest in training the sales team to prepare them for the future. While this sounds straightforward enough, this is an area where even the top-performing companies struggle: Just 18 percent of fast-growing companies think pipeline management is a strong point. But that doesn´t deter them; rather, it strengthens their commitment to improve. Part of the issue lies in the need to make teaching and training an everyday occurrence rather than the occasional classroom or seminar event. Continuous training requires sales leadership to commit to being teachers, according to a recent Harvard Business Review white paper. The paper focuses on the importance of finding and developing any business leader´s innate development skills.
5. Develop clear plans from a committed leadership. Specific and measurable expectations from top management anchor and direct the plans for every aspect of sales. In the three years before being surveyed by McKinsey & Company for this report, 84 percent of the fast-growing companies implemented a successful major performance-improvement initiative. Clearly articulated plans and strategy must be consistently reinforced by sales leadership to be effective and to push through the daily noise. Leaders need to find focus and create the environment for success. In her article, "Key Leadership Behaviors That Improve Sales Force Performance," Dr. Tara Jones explains how sales leaders can improve their likelihood of success by sharing a compelling vision that inspires people, challenges staff, and supports the team's efforts.
Read the full McKinsey & Company report to get more details on the five strategies fast-growth companies use to take the lead.
Learn more about how Anaplan can help optimize your sales organization and get a demo.