A thriving supply chain needs a shared forecast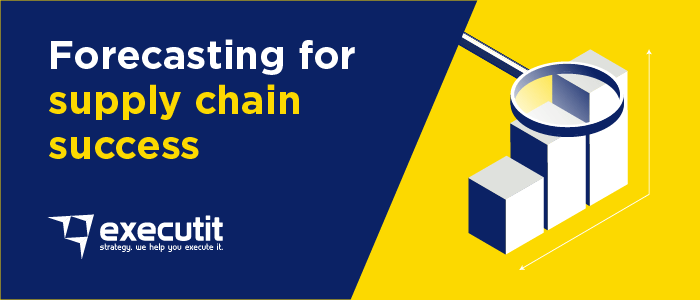 The modern supply chain is filled with a plethora of planning points: factories, suppliers, distributors, vendors, and beyond. As companies grow, increased complexity means more planning points that can intensify the risk of siloes, data issues, and manual re-planning. How do you keep key elements of your supply chain planning process connected so forecasts are accurate and business goals are met?
In a recent webinar with Nordics-based Anaplan partner Executit, Jonas Nordquist, Christian Sandstrom, and Carl-Fredrik Surtevall shared tips on connecting the supply chain for greater collaboration, efficiency, and accuracy. Here are three important points they covered.
It's a forecast-centered world
Since the supply chain forecast affects multiple areas of the business, such as finance and sales, key business goals often hinge on forecast accuracy. But different functions often take a different approach to forecasting: Sales builds a forecast that's often a bit optimistic (and rightly so; otherwise they wouldn't be in sales!). Demand planning takes a bottom-up approach, supply planning tries to fulfill as much demand as possible, and production planning adopts the optimistic view that their operations will always meet schedules.
As suppliers and distributors are added to the supply chain, its complexity increases further—and it becomes even more important to take a proactive approach to forecasting to balance the various needs and approaches.
Dealing with risk and change
Without an accurate, balanced, and transparent forecast that can be adjusted in near real time, you open yourself up to risks when things change. For example, deals can be missed due to the lack of visibility and re-planning capabilities, leading to missed revenue or order cancellations.
When inevitable disruptions hit, such as weather anomalies, without visibility across your supply chain, you'll be limited by your ability to react quickly. When new products are introduced, the demand can shift between existing and new products, affecting the forecast. And more often than not, reacting to these sorts of events creates more manual work if your supply chain planning is managed in Excel™ and legacy systems.
Who owns the forecast?
So who's responsible for the forecast in this complex environment? The job of creating and maintaining an accurate forecast falls to the sales and operations planning (S&OP) team. Their responsibilities include safeguarding business objectives, setting strategic directives, monitoring company performance, balancing opportunities and risks, and making S&OP decisions with goals and data in mind.
Because of those overlapping responsibilities, the S&OP team's choice of planning tools is key to their success. With an agile, cloud-based platform in place, the team can have a holistic view of data and make better-informed decisions that will positively affect business goals.
To learn more about how supply chain forecasting software affects business choices throughout an organization, watch the webinar with Jonas Nordquist, Christian Sandstrom, and Carl-Fredrik Surtevall of Executit. It includes a demo showcasing how convenience retailer Circle K creates an accurate, real-time forecast using the Anaplan platform.
| | | |
| --- | --- | --- |
| | Increasing supply chain efficiency and collaboration | |