Agile decision-making with conversational enterprise planning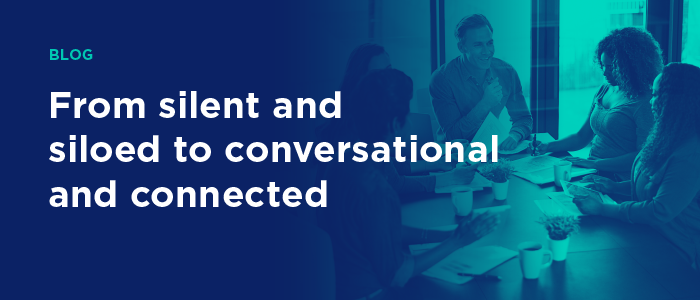 This is the second article in a blog series that examines how to democratize business planning with enterprise-wide planning technologies. To read part one, click here.
A simple conversation can act as a catalyst for strategic decision-making. Consider the day Bob Dylan met The Beatles. Modern folklore would have it that on August 28, 1964, at the now-iconic Delmonico hotel in New York City, the two powerhouses met for the very first time, partaking in an enlightened, influential, and legendary conversation about music.
This meeting-of-the-minds discussion marked a turning point for each party: afterwards, The Beatles went on to enter their peak songwriting years—trading in electric instruments for favored acoustics and releasing songs such as "Yesterday," "Help," and "Norwegian Wood." Dylan began to prefer the electric guitar and tap into new genres, transforming not just his own sound but the rock and folk music scenes as well.
Business leaders are artists of their own sorts, and their decisions can also benefit from sharing ideas with colleagues and other employees. Yet in the modern enterprise a host of factors prevent this from happening. As a result, what should be a conversational process can too often remain a string of one-sided talk tracks.
But good news is on the horizon for enterprise planners: businesses can expect these types of challenges to subside as technological advances offer new ways to improve the planning experience.
Making moves: from stationary to conversational
In the first article in this series, we explained what the democratization of planning is and explored three guiding principles that can help businesses establish a strong foundation for democratizing the planning process:
Fostering a decision-making culture
Maintaining an openness to change
Thinking about planning as a team sport
Here, we take a closer look at the first of those principles—fostering a decision-making culture—to better understand how the right planning culture can help business leaders transform traditional enterprise planning into connected, conversational planning.
The benefits of a strong decision-making culture
How businesses approach decision-making is as important as the decisions themselves.
This is why we see forward-looking leaders nurture business cultures that are steeped in enterprise-wide knowledge sharing and data-driven communication. Fostering a highly collaborative planning environment proffers businesses several advantages, chief among them being the ability to react nimbly to unexpected changes and access better-informed insights.
By creating environments that encourage strong decision-making, companies can produce high-performing cultures, which, as Bain and Company points out, not only grow 25 percent faster than average companies but are roughly 50 percent better at decision effectiveness.
So, what is it about high-performance cultures that rear better decisions? One striking similarity is the emphasis that both place on empowering people to make decisions. In high-performing cultures, employees are motivated and trusted to make and act upon decisions. The same holds true in strong decision-making cultures, where companies empower their planners to make data-driven decisions through highly collaborative processes and planning technology.
The right technology empowers the right people
The State of Connected Planning, a first-of-its-kind survey on the trends of global business planning, recently found a direct correlation between a company's ability to be agile in its planning and its success in achieving tangible business outcomes.
Its research also showed that 72 percent of aggressively growing companies consider themselves to be very effective at developing, executing, and tracking plans. These high-performing companies are also more likely to value planning technology as a critical tool for improving business outcomes.
Technology remains an opportunity for today's enterprises. According to the survey, 46 percent of organizations using point and on-premises solutions say that better technologies are necessary to accommodate current market conditions and 43 percent of executives say that a move to cloud-based technology would benefit their existing planning process.
Technology, more specifically cloud-based Connected Planning technology, is therefore a critical component of building a decision-making culture, especially as companies need to stay attuned to changes in the market, accurately anticipate future trends, and keep employees across the company aligned on business objectives.
This means that companies may need to examine their current approach to planning— both their planning processes and the technology that supports those processes. In companies with a strong decision-making culture, people tend to plan more frequently, put more of their plans into action, and leverage planning technology that intuitively connects people, data, and plans.
The most effective of these cultures leverage unified platform technologies that can:
Help more people do more activities with simplicity and ease.
Provide intuitive and self-service capabilities that allow users to use the platform without expensive training.
Empower users to respond to changes faster.
Innovate and deliver rich capabilities faster.
In the next post in this series, we'll dive into how companies can maintain an openness to change and think about their planning as a team sport in the process.