Anaplan for Retail: Smart innovations. Smart connections. Smart solutions.
With the growth of e-commerce and rapid shifts in consumer behavior, retailers that can meet consumer demand via multiple channels (such as the right product mix and shopper centricity) have reaped large benefits. 
Nowadays, retail planning isn't just about top-down merchandising or bottom-up assortment configuration. It also isn't just about store planning and shelf-life planning. Today, he supply chain presents a significant opportunity for retailers to reduce inefficiencies and compete on cost, which is increasingly crucial as companies in low-growth consumer markets battle for market share; therefore, retail planning has become more relevant to supply chain planning than ever before. 
Retail planning is also more relevant to financial planning. Low margins mean that costs have major effects on profitability. Retailers are now focusing on cutting the cost of sales, general, and administrative (SG&A) expenses, as well as the cost of goods and services (COGS). All of this directly impacts a company's financials, making retail planning increasingly connected to financial planning.
In these scenarios, it's clear that companies need to invest in a technology platform that can connect your supply chain management with financial planning and workforce (labor) optimization. Technology is key to proactively managing your supply planning to eliminate the risks of store shutdowns, losing market share to competition, and more. Anaplan is changing the way retailers plan by reinventing end-to-end retail planning and bridging the gaps between merchandising, sales, marketing, finance, workforce, and supply chain departments.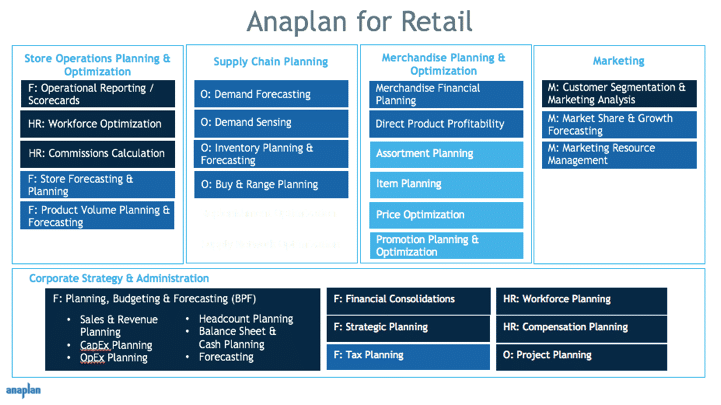 To learn more, meet Anaplan at the St. Regis Hotel in New York during NRF 2017—the retail industry's flagship event. You'll have the opportunity to learn and network with retail executives, while finding out why Anaplan has proven success with some of the world's largest retail organizations—like Louis Vuitton. 
For more information, visit /events/nrf-big-show-anaplan/.