Anaplan Hub London 2014 – a partner's point of view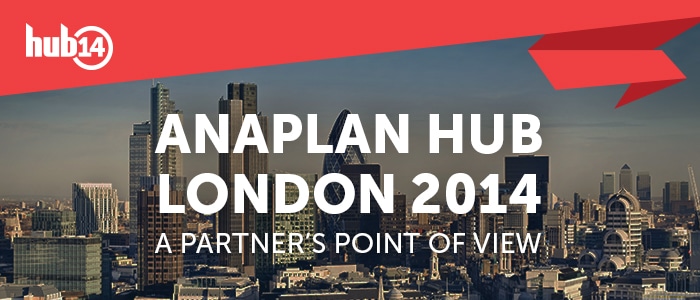 As a director of a company, the law says you must… make the company a success, using your skills, experience and judgment.  
The board of directors of a company is primarily responsible for:
determining the company's strategic objectives and policies; and
monitoring progress towards achieving the objectives and policies.
The Anaplan Hub world tour has already rolled through Eindhoven and Stockholm to wide acclaim and is now barrelling its way to London. The credibility of the Anaplan platform is now unquestioned, with clients including Prudential, Kimberly-Clark, Royal Sun Alliance, Hyperion Insurance Group, and Diageo all unanimous in their acclaim for the offering.
So as a company Director (advising you, a fellow company Director) what can you expect to take away from the Anaplan London event?
In attending, there are two key things that align beautifully with your role as Director:
With the opportunity to listen to and meet in person Michael Gould, you will hear from a technological visionary about the future of planning software and the potential for what you will be using to plan and manage your business in the years and decades to come.

This aligns with your key responsibility of making your business a success by improving your personal skills, experience and judgement.
Getting the chance to encounter a positive-disruptor of the stature of Michael is an opportunity not to be overlooked.
In listening to the journey that other independent business leaders have been through with Anaplan, you will have the chance to form your own opinion about whether this platform is right for your business.

You need this sort of exposure to be able to decide on your company's strategies and to enable you to monitor progress towards your stated goals.
None of these Anaplan customers have been coerced or induced in any way to participate in the London Hub. I'm confident that you will hear about the tough times as well as the successes. This sort of first-hand experience is like gold for those of us who are deciding how best to manage planning and goal-management in our organisation.
There will be customer success stories from high-powered clients, describing their journey from showing an initial speculative interest to having their planning processes fully re-empowered through use of the platform. As one client said recently at the Eindhoven Hub: "[we have seen] pain points turned into a simpler, more productive experience".
And it's always interesting to see integration examples with external platforms, including Salesforce and Workday. As well, you'll hear how EAT made the transition to the cloud to better manage core business processes, and learn how Anaplan has gone "viral" at Diageo: demand has become insatiable through word of mouth proselytising.
Naturally you can also expect some element of product marketing to showcase the latest and greatest for the Anaplan product.
But the promo reasons are clear: Anaplan has been on quite a journey over the last eight years. As a partner, we've seen the offering change from the original 'innovative, full of potential, but perhaps not complete' to a fully capable platform that's survived a relentless cycle of reinvention. The platform is enhanced every month with major new functionality and capabilities rolling out every 3 – 4 months. Total external investment in the company stands at over $150 million and, as a daily user of the Anaplan platform I can clearly see where most of those dollars have been invested.
So expect a busy (but very worthwhile) day! And as a last word of advice, don't forget to drop in to the Hub Hyper-Party. Now, I've been to parties before, but surely a 'Hyper-Party' has to be something in a different league? Intriguing to say the least…
Register now for Anaplan Hub London.