Anaplan profiled on French Channel LCI's Plein Écran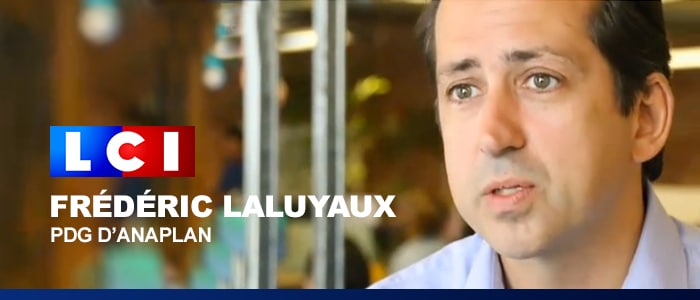 This past April, I met with Cedric Ingrand, the host of the French TV show Plein Écran, which airs on LCI, a leading news channel in France.  After introducing Anaplan's technology and discussing the company's global expansion, I extended an invitation to Cedric to visit Anaplan's San Francisco headquarters, to get a feel for the energy around the company firsthand.
A few months later, Cedric took me up on my offer and made the trip to San Francisco.  We took a tour of the office, and discussed the history and development of Anaplan's Hyperblock™ technology.  We also discussed how Anaplan is disrupting the way companies model and plan, and the many business challenges Anaplan solves.
Cedric didn't stop his visit there, however.  In order to get a complete picture, he spent time with Anaplan customer Jeff Brobst, Vice President of Financial Planning & Analysis, McAfee, and Anaplan investor Randy Glein, Managing Director, DFJ Growth, to get their point of view on what makes Anaplan special.
During their conversation, Jeff explained how McAfee made the switch from Excel to Anaplan, and the benefits they have seen as a result. Then Randy Glein shared why DFJ Growth chose to invest in Anaplan and feels confident about our future success.
Check out the video in French or read the English transcript below.
Anaplan/Plein Écran Season 10, Episode 42 Video Transcript
Plein Écran is in San Francisco this week to discover a startup which, it is rumored, could join the very exclusive club of $10 billion startups. Its name:  Anaplan, a startup that creates business software designed to analyze companies' mountain of data and make it readable, finally usable for the uninitiated. The software is designed to extract intelligence from data, and, by the way, replace Excel and co.
Also in this program the news of the week, with the very first tests of 5G mobile networks in Europe, and with Intel, that has created the chat via avatar, an avatar that mimics as closely as possible your facial expressions.
Plein Écran season 10, episode 42, starting now.
Hi everyone and welcome to Plein Écran. Suffice to say, the club is quite small; the club is that of startups that passed the $10 billion valuation. So obviously, in the lot, there are those that you know, Google, Facebook, Dropbox, Paypal, eBay and so on. A club that is difficult to join, and yet we may have discovered this week the next startup that could claim a card club, and as chance would have it, its leader is French. Have a look.
This is a startup whose name you have probably not heard, but you should. Welcome to Anaplan, not a consumer market startup, far from it. Here it is about software for businesses, where the cloud, the drastic increase in computer power, and especially the amount of data that companies have to manage before making decisions intersect. A startup that opened its doors to us; we were able to talk to its engineers, its investors and even its customers. Everyone here seems to be convinced that Anaplan will be the next to be invited to the $10 billion dollars startup club.
At the helm of Anaplan is Frederic Laluyaux, a Frenchman who has been working for two years to conquer a market previously monopolized by giants. At the genesis of Anaplan, a key technology, the fruit of several years of work for one of its English founders.
Frédéric Laluyaux: He locked himself up for four years, with a few pals, in his stable, which is the English version of the Silicon Valley garage, and actually for four years they developed a data engine, a calculation engine that is called Hyperblock™, which is an engine that now has a patent filed, and is in fact the base of Anaplan.
The Hyperblock, a technology designed to handle, to cross a huge volume of information, such as spreadsheets with several billion cells. The technological foundation that allows the analysis of the data to obtain a legible, synthetic presentation of information. At last, useful info. Decision support, or business intelligence, as they say, has been here for a while. Anaplan's direct competitors all are business software giants, from IBM to Oracle, through SAP; giants with feet of clay when faced with a more accessible solution that would take expertise in data analysis  away from the hands of experts.
Frédéric Laluyaux: People are sick and tired of working on ugly software, which are now completely disconnected from the reality of what they have access to at home: software like Google that gives answers in a split second regardless of the query, Apple software that is easy and simple to use. Then at work they have access to software that is horrible, which looks like tools from the eighties. They do not trust the data, they are unable to work, and actually the reality of all these companies is that people work on Excel, people work with PowerPoint, people work with their Outlook, and the decisions of the biggest companies in the world are made based on those tools.
Once all your data is exported to the cloud, you develop analytical models that allow you to cross this data, to cross all your data regardless of volume, in order to make everyday business decisions, but also, why not, to identify butterfly effects, those who appear only when crossing information which until now only existed in separate worlds. We will be back after the news.
Back to San Francisco in a second, just long enough to go have a glimpse at the rest of the high-tech news of the week. Look.
Intel saw the big picture by setting in Times Square, in New York to launch a mobile application rather unexpected, Pocket Avatars. This is special kind of a video application. Stand facing the camera, choose your avatar, and it is under its features that you can send messages to your contacts or on your social networks, faithfully reproducing the expressions on your face. A fun application of facial recognition technology on which Intel has been working for a long time.
Mike Bell, VP Intel: An Avatar message is actually a small, fifteen seconds clip you create by looking at the camera of your smartphone. The application will replace your face with that of the avatar, and the result is pretty cool.
Pocket Avatar is free, available on iOS and Android, but for now only in North America.
4G has barely arrived, and 5G is already on track. We are in Sweden at the supplier Ericsson for these rare images, those of the first tests of a 5G network flow. Laboratory tests, of course, with a transmitter and a receiver facing each other, which under these ideal conditions exchange nearly six gigabytes of data. Tests that foreshadow a tighter network, smaller antennas closer to each other. Still, it will take a few years before we can enjoy it.
Hakan Andersson, Director of Strategy, Ericsson: If you look at where we are in the development of 5G and the implementation of all standards that will be needed, I think we can expect see 5G on the market by 2020, or at least at the beginning of the next decade. But we also see the 5G in new areas, in new applications that are not yet using wireless today.
Back to San Francisco at Anaplan, the startup set to conquer business data.
So obviously, even if the startup has the wind in its sails, it is difficult to evaluate its real potential in a few hours; for this, we tap the expertise of a capital risker that just injected it with $100 million in new money. The man has been financing the break out of Twitter, Boggs, Tumblr, or Tesla's electric cars, so we are listening.
Randy Glein: The technology is really unique; it has the potential to revolutionize the market. The Hyperblock is an innovation that gives tremendous power to the software but also makes life easier for the user, allowing them to make very sophisticated data analysis, and giving them power over their own destiny, in a very productive manner.
What makes Anaplan impressive is that the software is not just a readable scoreboard of what is happening in the heart of the business, not just a way to view the information and figures; here you can change an element and see the effect on everything else. For example, change the price of one of your company's products and you'll see the likely effects on sales, on the work of your salespeople, your future recruitments, and your financial health;  a simulation which until now could take have taken days of work on dozens of disparate spreadsheets. For some of Anaplan's large customers, the use of the software allowed them to shave months off in the management of major projects or in strategic decision making. Agility is no longer reserved for small companies.
Witness an Anaplan user that we met in the Silicon Valley and that you know; welcome to McAfee, the antivirus champion, recently acquired by Intel; McAfee uses the software to plan its sales, its sales commissions and rebates to customers. Analyses that are based on all its business data, a volume that, as you will see, makes one a little dizzy.
Jeff Brobst: One of our applications handled a trillion cells of data. Optimizing a bit, we went down to 350 billion, but this is probably the heaviest model in the history of Anaplan. Before, we did all that on spreadsheets, each one working separately.  Each region made its calculations in its corner and we gathered it all at the end, but it took months just to get to get your hands on these data, and in any case this would not fit into Excel.
The software has a custom price, on which no one really dwelt on camera; yet there are simple ways to calculate profitability.
Jeff Brobst: One point difference in our discounting, that's a $10 million dollars gap in our year-end results. Simple. And then there are benefits that are more difficult to quantify precisely, for instance employee satisfaction when they are avoiding uninteresting repetitive tasks. Before, they spent 70% of their time gathering data and 30% analyzing it. Today, it is rather the opposite.
McAfee was one of Anaplan's first customers, but has since been joined by all kinds of large companies on almost every continent, an accelerated development which explains why the startup has moved from more cramped quarters to these large offices in an old warehouse.
I see plenty of empty offices, why?
Frédéric Laluyaux: People are not all in the office all day. The whiskey bottle, I don't know if we need to keep it there. Ha ha
There are still plenty of offices with nobody, why aren't they here?
Frédéric Laluyaux: Everyone is not always in the office 24/7, people move, people are in meeting rooms, people meet customers.
There is much more space than employees here.
Frédéric Laluyaux: Ha ha. No, that is to say we planned for expansion; we know we recruit 30 to 40 people per month, so you need the infrastructure. We have hired 200 people this year.
Starting with how many?
Frédéric Laluyaux: Starting with …  at the beginning of the year we were one hundred and sixty, we will finish with 360, 380 people. So we multiplied the size of the company by 10 in two years… We arrived at this point; then we will still add between 100 and 160 people.
Hypercroissance is not only for customers.
Frédéric Laluyaux:  No, for us as well.
Ironically, the company now finds itself in the same position as some of its customers, such as Facebook or others who use its software precisely to manage accelerated growth, a continued growth in the physical world wherever its clients are, by a company that only has the cloud for nationality, or close to.
Frédéric Laluyaux:  as of today we have opened 10 offices, in Asia, Australia, Europe, the United States, Canada; we are opening Latin America. But we try to be American in the United States, French in France, English in England, Singaporean in Singapore and Australian in Australia. It is sort of our roadmap. Now, we don't look at the nationality of people, we do not look …at any of these criteria; we take the best. There are very very good French engineers, there are very very good French business developers, we are pleased to welcome them wherever. This is not the problem.
A growth to manage with caution, nevertheless. Others burned their wings while hyper growing. However, no one here seems worried knowing the visible potential of the company.
Randy Glein: I absolutely think that they can not only compete with the likes of Oracle, IBM or SAP in this market, but beyond that I sincerely believe they make all these competitors totally obsolete. The market opportunity is massive and he sky can be the limit for a company like Anaplan.
Avowed purpose of Anaplan and its investors: go public to have the market validate its value. Only then will the startup win its club membership.
We reached the end of this program, thank you for watching this Plein Écran; you can watch it again on your favorite box and on the Internet; for instance visit our Facebook page. We meet next week, but this time in Paris. Bye.