Anaplan recognized in the 2021 Gartner® Market Guide for Cloud, Extended Planning and Analysis Solutions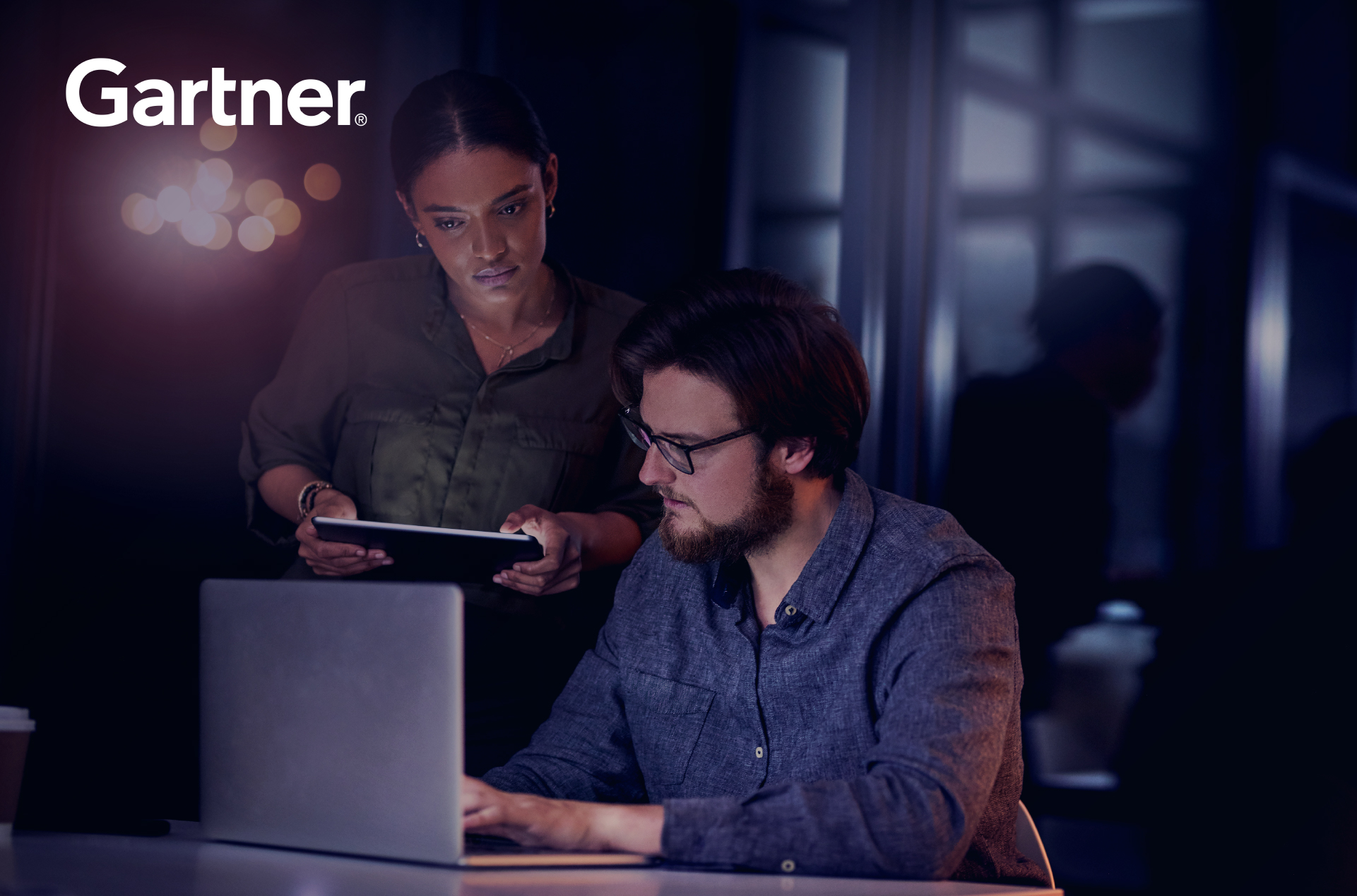 Gartner calls it xP&A. We've been calling it Connected Planning since 2017.
No industry has escaped the dramatic upheavals of recent years. Business has been buffeted by forces that even the most advanced organizations find bewildering. They need new strategies, tools, and resources to cope with a world where the scope and speed of change is unprecedented. But how do you prepare for uncertainty? How do you plan for disruption? How do you ingest agility into the organization in a meaningful way for future readiness?
Transformational leaders recognize that unprecedented times and crises are an opportunity to improve the business in fundamental ways. They move quickly to advance digital agendas that respond to the gaps exposed by sheer disruption. Growth-minded CFOs and other business leaders have embraced a new vision of enterprise-wide Connected Planning to enable the business to be responsive, agile, and resilient no matter what the future brings.
A future where all areas of the business can act in concert
In this new vision of enterprise strategy, all aspects of the business are connected. Enterprise-wide collaboration happens seamlessly around a single version of the truth. Data and plans are real time and impeccably governed for stakeholder confidence. Line-of-business experts weigh in where their insights have an impact. Planning and strategy throughout the business can be frequently refined and realigned as change occurs. It's clear how changes in one area ripple out to others.
It's a vision with the power to accelerate revenue growth, expand margins, optimize assets, manage risk, and help each aspect of the business become more effective—and makes the whole business thrive. With the right technology in place, these new capabilities can become reality, delivering a decisive business advantage despite a climate of ongoing disruption and uncertainty.
Gartner identifies xP&A as the way forward to navigate uncertainty
Having observed vendors and organizations moving rapidly toward this vision, Gartner has published its first Cloud Extended Planning and Analysis (xP&A) Market Guide. In this report, they set out the reasons that xP&A has evolved, including a look at the Representative Vendors in the emerging space.
The trend is clear. Businesses must infuse cross-functional agility to advance their digital business initiatives and navigate disruption. Meanwhile, the technology to merge financial and operational planning has arrived. According to Gartner, "Through 2024, 30% of FP&A implementations will be extended to support operational finance processes with 50% requiring a substantial xP&A roadmap from the vendor."
The destination isn't just agility, it's a way to identify and overcome limitations and bottlenecks created by separation and to forge new partnerships within the business. "Gartner expects xP&A platforms and architecture to continue to evolve, creating new enterprise performance management opportunities where none previously existed." 1
Anaplan's pioneering solution stands out in a crowded field
Although many vendors have begun assembling the pieces for cross-functional planning, only Anaplan offers a purpose-built complete solution for enterprise-wide Connected Planning, the term Anaplan coined in 2017 to describe xP&A capabilities. In the below table from the Gartner® report of xP&A vendors, only Anaplan delivers turn-key Connected Planning for workforce, sales performance, S&OP, and integrated business, marketing, and IT planning.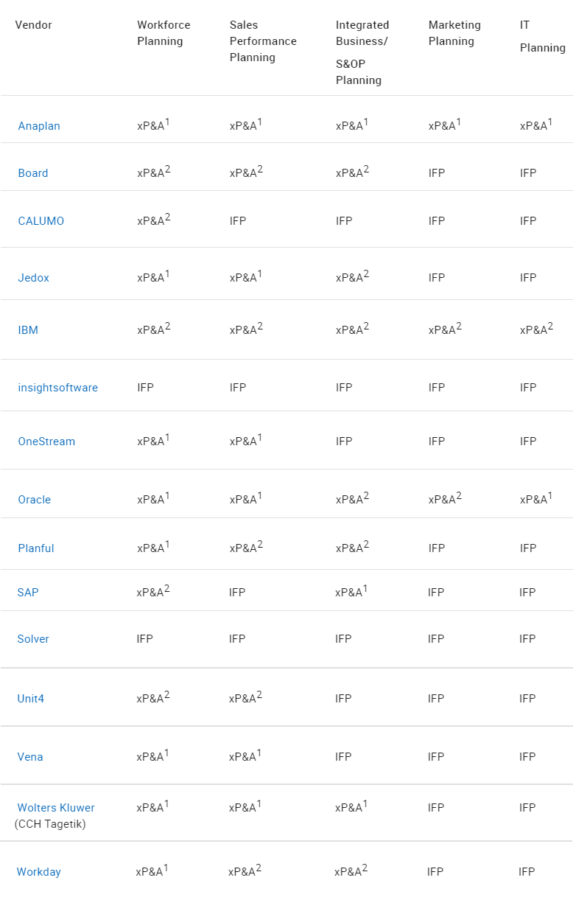 As a pioneer in the space, Anaplan created a platform specifically designed to connect systems and data, process massive amounts of data incredibly quickly, and enable collaboration. Anaplan's powerful platform lets business leaders create and explore various scenarios to better understand the impact of key drivers and decisions. And while we've been calling this space Connected Planning for years, now Gartner has officially given definition to this market with xP&A.
Connected Planning improves business performance and agility
In their Cloud xP&A Market Guide, Gartner analysts explain that "surmounting the challenges of digital business amid disruption will require organizations to plan in a more consistent, cross-functionally aligned, collaborative, agile, and accurate manner as they seek to pivot quickly and gain competitive advantage."
With xP&A and Connected Planning capabilities in place, businesses can analyze circumstances and options more quickly, make more informed decisions, align plans with those decisions across the enterprise, and ultimately improve business results overall. Connected Planning streamlines cross-functional relationships so that planning cycles can happen more quickly and frequently, per Gartner's illustration below.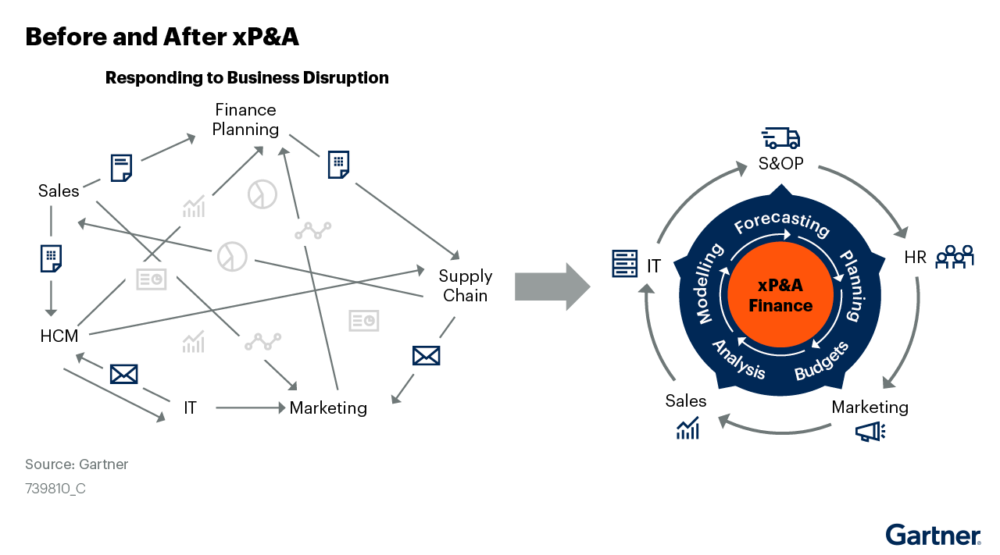 Create a platform for an intelligent, connected future
While others in the planning space are patching together pieces of the process—or even attempting to make a case for perpetuating siloes and retreating from technology advances—the clear trend is toward a unified xP&A platform.
Whether you begin with FP&A, S&OP, sales performance management, workforce planning, or another area of the business, bringing end-to-end visibility from strategy to plans and from plans to outcomes empowers leaders to drive business success. Anaplan's purpose-built Connected Planning architecture establishes a flexible foundation and powerful engine that is ideal for the journey toward enterprise-wide Connected Planning. We feel Anaplan's market-leading capabilities together with our ongoing investment in predictive and intelligent forecasting will give your business the insight and agility to lead despite adversity and to seize emerging opportunities.
---
1 "Market Guide for Cloud, Extended Planning and Analysis Solutions," Gartner, 29 July 2021, by Robert Anderson and Greg Leiter
This graphic was published by Gartner, Inc. as part of a larger research document and should be evaluated in the context of the entire document. The Gartner document is available upon request from Anaplan.
Gartner does not endorse any vendor, product or service depicted in its research publications, and does not advise technology users to select only those vendors with the highest ratings or other designation. Gartner research publications consist of the opinions of Gartner's research organization and should not be construed as statements of fact. Gartner disclaims all warranties, express or implied, with respect to this research, including any warranties of merchantability or fitness for a particular purpose.
Discover why the latest Gartner xP&A Market Guide validates planning beyond finance.