Anaplan a two-time visionary—for CPM and SPM—in Gartner's Magic Quadrant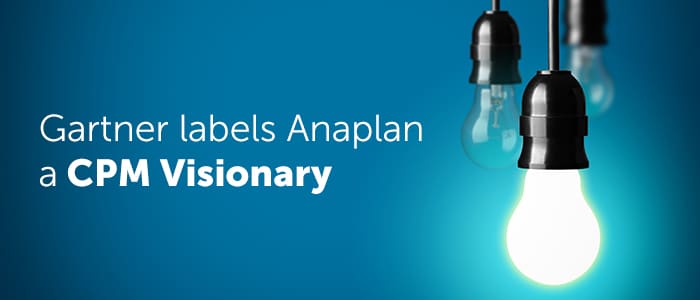 You know it's good to be a "Visionary" in a Gartner Magic Quadrant. It's even better when you're a Visionary in two of Gartner's Magic Quadrants.
That's what has already happened this year: Gartner labeled Anaplan a "Visionary" in their Magic Quadrant reports for both corporate performance management (CPM) and sales performance management (SPM).
So maybe you're wondering:
What exactly are CPM and SPM?
Why is it good to be a Visionary in those areas?
What does it mean for my business?
What exactly are CPM and SPM?
According to Gartner, CPM stands for corporate performance management. Others use the term enterprise performance management (EPM). Both are umbrella terms for the processes and systems used by the Office of Finance to perform the vitally important tasks of planning, budgeting, forecasting, analysis, and reporting.
SPM stands for sales performance management, and encompasses a wide range of sales-related activities, including incentive compensation management, territory management, and objective/quota management. (Anaplan's Kevin Gray posted Gartner sees Anaplan as SPM Visionary in January when Gartner designated Anaplan as a Magic Quadrant Visionary for SPM).
We do both.
Anaplan delivers a single platform for enterprise-wide planning across sales, operational activities, and finance. That's one of the many reasons Anaplan received Visionary status in Gartner's Magic Quadrants for both SPM and CPM.
Which brings us to the next question.
Why is it good to be a Visionary in SPM and CPM?
Gartner's SPM MQ report has its own, very clear definition of Visionary:
"Visionaries are ahead of most potential competitors in delivering innovative products and/or delivery models. They anticipate emerging/changing sales needs, and they move the market ahead into areas in which it hasn't yet been."
More broadly, I find that visionaries deliver innovation. They anticipate the constantly changing needs of the business, and they push past traditional boundaries to deliver game-changing ways to drive better business results.
Anaplan has delivered a new foundation for strategic and financial business planning and execution. Nothing less than a complete re-architecture of enterprise business planning technology would do, and after a successful launch, Anaplan's "new kid on the block" status quickly morphed into that of innovator.
That's what a visionary does.
What does it mean for my business?
If yours is like most businesses, your financial planning process can be painful. You're either using spreadsheets, or some combination of a planning solution and spreadsheets. Unfortunately, sticking with the status quo means you also stick with the pain points and all the justifications for staying the course, including these:
My people are comfortable with spreadsheets
My spreadsheets are mostly accurate
Spreadsheets are easy and free
The solutions out there are all the same and aren't worth the effort of change
Maybe it's time to think this through again.
Are you investing your resources wisely?
Here are four practical tips to help you find a planning solution that can get you where you want to be.
Look for a solution that helps you update, modernize, and be innovative. Cloud architecture is just the first step in making this possible, so also make sure the planning solution you choose lets you be innovative in your planning, budgeting, and forecasting. For example, can you easily iterate your "what-if" analysis? Introduce new or changed drivers and then see your downstream results instantly as you compare scenarios?
Look for a solution that's intuitive for business users. Let's face it, people don't like change, but if the change doesn't seem like a real change, it can actually shorten the learning curve and drive faster adoption by your users. Find a solution that offers the comfort of spreadsheets with the performance and scalability to handle upwards of a billion data records.
Look for a solution that gets you up and running quickly and keeps moving with your business. You don't have time to slow down. Planning and business just doesn't stop. So make sure your solution deploys in weeks instead of years. Once you are up and running, make sure the system you choose can handle your growing data and performance needs and doesn't hold you back.
Look for a solution that offers a variety of planning applications that can grow with your business. You may be looking only for financial planning today, but tomorrow you may need operations or sales planning. Make sure the solution you choose will expand and scale with your business.
Visit www.Anaplan.com to see how you can dramatically improve your planning experience. For a first-hand look and a chance to chat with the people behind the vision, join us at Anaplan's Hub 2015 in San Francisco, May 18-20.
For additional information on Hub 2015 speakers, agenda, and more, visit: /hub15/san-francisco/