Announcing Anaplan's new brand
Early this morning, the Anaplan digital marketing team changed a few lines of code on our website and officially kicked off an exciting new chapter in the life of the company. Anaplan has launched a new visual brand identity that we believe is more reflective of the company we are today and want to be in future. Over the coming weeks, you'll see our new brand everywhere—on our digital properties, on marketing and sales materials worldwide, around our offices, at Hub, and in the Anaplan platform itself.
A new perspective
While a new visual identity is much more than a new logo, it is the logo that people mostly associate with the change. So what does the new Anaplan logotype—and in particular the big "A"—stand for? The rationale behind it is called "Perspectives":
One platform, unlimited possibilities. Anaplan is a versatile and flexible technology platform that is able to address a huge variety of use cases in business. How our different customers and users perceive Anaplan varies greatly, depending on their perspective, even though the technology is exactly the same for all customers.
Anaplan's new visual identity draws on this unique aspect of our platform. At the heart of the identity is a single, distinctive "A" that juxtaposes positive and negative space to reveal the symbol. It is the perspective that makes the A, not the literal drawing of it. Furthermore, the symbol can be displayed from different angles. A slight rotation here, a pivot there—a changing of perspective—and the object takes on a new look, a new meaning, a new utility, even though the object itself has remained entirely unchanged.
Aesthetically, the "A" is strong enough to stand alone (without the rest of the Anaplan name) when needed and once established in the market. The design theme can be further extended by altering the viewer's perspective, by combining multiple A's in novel ways, or by applying the perspective concept to other characters, illustrations, and icons. This versatility and flexibility will allow the brand image to evolve and grow over time while continuing to reflect the "one platform, unlimited possibilities" theme.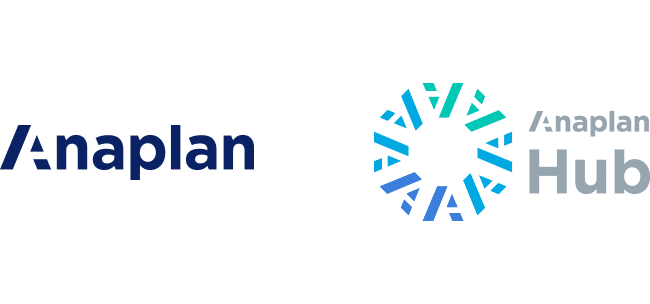 The Anaplan logotype was created to be extended, as seen in the Hub logo at right.
Home-field advantage
I was very proud to be asked by our CMO Grant Halloran to lead our branding effort. The work was executed by senior members of my wonderful in-house design team. Grant and I felt that doing the re-brand internally was better suited to Anaplan's culture, and the team did a terrific job over a long period of time.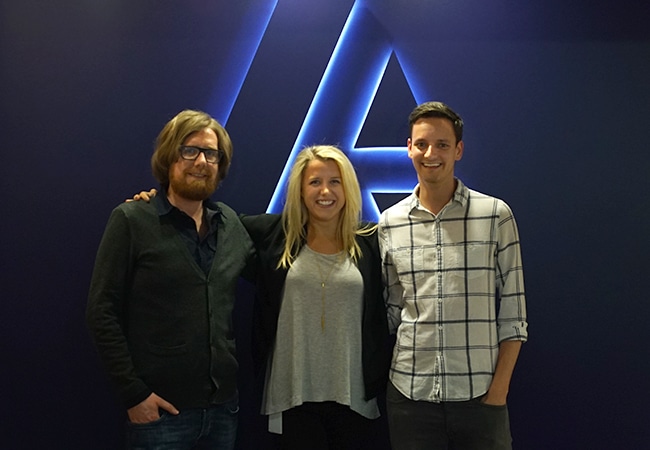 The rebrand team: Alvin Perry, Georgina Brown, and Nick Levesque.
Having the rebrand team and Grant, our executive sponsor, just steps apart from each other gave us all plenty of opportunities to ask questions, bounce around ideas, and explore concepts side by side with the people who would eventually be responsible for the brand. That was incredibly valuable and a lot of fun.
The playbook
So how did the in-house design team create the new visual identity? It started with understanding the essence of what Anaplan is. We learned the story behind the company because we had to build an identity that made sense with that story. Then we did months of research.
With that foundation, we established a set of objective criteria that Anaplan's brand identity would need to meet. We pursued many concepts, creating hundreds of sketches and investigating upwards of 50 initial directions. From that, we created extensive presentations and built mini-architecture systems for 10 different logotypes.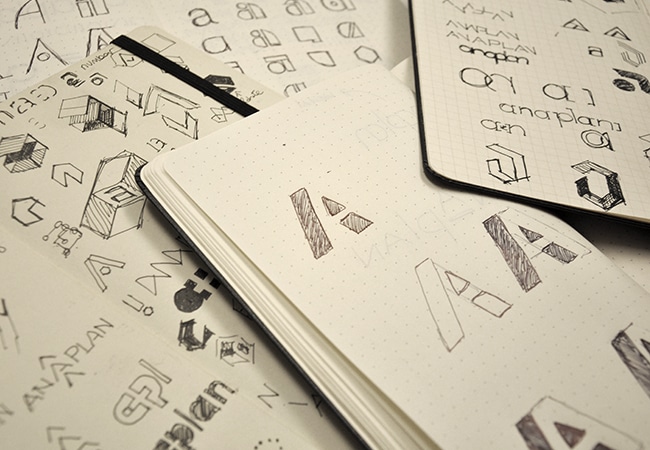 The rebrand team filled countless sketchbooks during the idea-gathering phase of the project.
These were distilled down to three candidates, which were presented to various focus groups of employees, trusted partners, and customers. Of the final three options, "Perspectives" met all of our criteria. Grant socialized the choice with his Anaplan executive colleagues, and the choice received unanimous support.
"Rolling out our new identity is a huge logistic exercise," Grant said. "So as much as the effort has been super-creative, it also needed to be very pragmatic. My thanks to all involved on the logistics side."
We're incredibly proud of, and excited about, our new visual identity, and we hope you love it as much as we do.