At Hub, many paths to a connected sales plan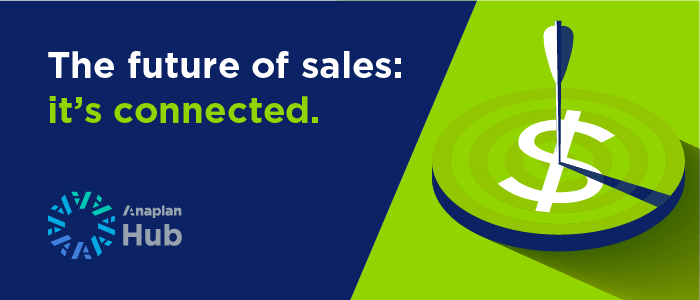 Earlier this month, nearly 1,400 members of Anaplan's community converged on seasonably-warm Las Vegas for Anaplan Hub, joining together to exchange ideas, stories, best practices, and sheer excitement about the power and future of connected planning.
With so much shared knowledge in attendance, insights suffused the Vegas air like freshly-cashed racetrack slips. From the sales track, one such insight was this: Each connected planning journey is unique.
To be sure, sales customers tended to cluster around a repeated question: When an organization struggles with siloed data or incapacitating manual calculations, how can it create a cohesive sales plan that filters down to all parts of the organization?
As customers shared a wide variety of answers, however, what they showed above all is that there are many paths to a connected planning future.
Incentive compensation management (ICM): the first step
For many Anaplan customers, including Zillow, Vasco Data Security, Travelex, LegalZoom, Cisco, and many more, ICM proved to be the first step in their connected planning journeys. Again and again, presenters told stories of tedious manual exercises—spreadsheets, emails, reconciliation—giving way to automated processes, accurate data, and visibility across the organization.
At Travelex, for example, sales reps can now track their performance in real time. As Rebecca Riley, Travelex's Global Head of Rewards, showed, the feedback loop has impacted sales performance; reps remain aware of where they stand relative to quotas and incentive payouts and can adjust their behavior as often as necessary. Travelex's sales team is now selling the right products and selling more of them. Managers are managing proactively. Employees are sticking around, and are more committed to Travelex's mission.
The other major benefit is time savings. In session after session, customers emphasized how sharply Anaplan has reduced the time it takes to calculate incentive payments. At Zillow, the process used to take two weeks; with Anaplan, it takes 20 minutes. At Meraki, it used to take three weeks; with Anaplan, it takes half an hour.
Expanding their reach
Incentive compensation wasn't the only thing on people's minds. For other companies, such as Criteo and Dairy Farmers of America, Anaplan for Sales was implemented to help with territory planning, quota setting, sales forecasting, and scenario planning. Both extolled the power of being able, finally, to quickly adapt to changes in the market or evolving organizational goals.
For the first time, it seems, companies are able to coordinate plans across the organization. Nicholas Prenat from Criteo said it best: "Anaplan makes sure the right people have the right information to make the right decisions."
Envisioning the future
Whether beginning with incentives management, sales planning, or territory management, the future for customers in sales lies in further connecting the disparate elements of their sales operations, or even of their companies as a whole.
In one session, Scott Kempton from Anaplan spelled out a vision of how using Anaplan can align sales and marketing. In another, Drew Olmsted and Alex Craig, both also from Anaplan, offered a tantalizing glimpse of what it might look like to have the sales performance management (SPM) system connected to financial planning and analysis (FP&A) and supply chain, the whole organization working to enact a wider corporate strategy.
With Anaplan, fragmented data and dispersed sales teams can finally be brought onto the same page. Regardless of where their individual journeys might have begun, sales organizations at Hub could see how these disparate paths all bend towards a fully-connected future.
| | |
| --- | --- |
| See other Hub sessions you may have missed. | |