bluecrux joins Anaplan partner network in Benelux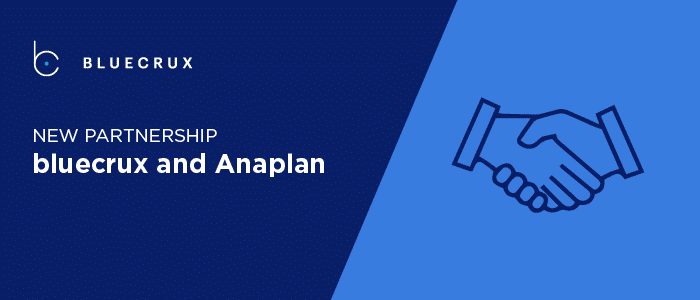 bluecrux has joined the Anaplan partner network in Benelux. A team of talented experts with a passion for business and supply chain operations, the people of bluecrux are dedicated to improving business processes and optimizing organizational performance. From concept to implementation and beyond, bluecrux aims to create durable change and sustainable business transformation in its clients' supply chains.
"Our vision is a planning process supported by a technology platform that allows transformation from a rigid, irregular planning process to real-time optimized scenario planning with the help of dynamic data," said Geert Wullaert, Partner at bluecrux. "As Anaplan and bluecrux are both leaders in innovative planning concepts, we believe that our joint approach will add value for our diverse set of customers in the Benelux area."
"We're thrilled to add bluecrux to our community of best-in-class consulting partners," said Marco van Oosterhout, Managing Director of Anaplan Benelux. "bluecrux represents a new model for business consultancy in supply chain and operations—one that is based on disruptive, innovative thinking in supply chain planning."
Based in Belgium, bluecrux works for leading companies and has a strong client base. The company will present its first joint webinar with Anaplan, "5 steps to move to financial S&OP/IBP," on October 4. And on December 7, bluecrux representatives will share the company's LightsOutPlanning concept in the context of connected planning at an afternoon event, "Digital supply chain planning is coming fast—are you ready?" to be held in Antwerp.