Booking.com streamlines FP&A process to manage hyper-growth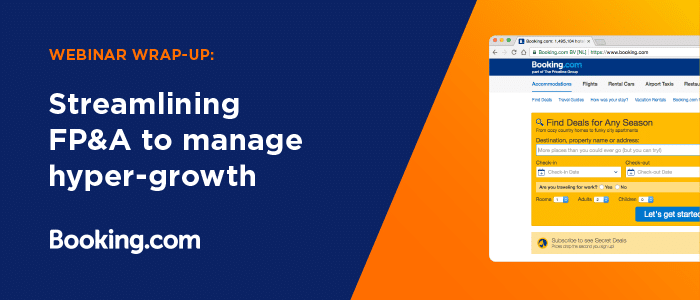 Global digital travel company Booking.com averages one million bookings every 24 hours. With digital travel sales continuing to rise, the company needed to tackle a significant opportunity: evolving its financial planning process in lockstep with its substantial growth.
In a recent webinar, Chiara Guglielmetti, FP&A Manager from Booking.com, shared insights into how the company used the Anaplan platform to revolutionize its financial planning and begin its connected planning journey, as well as three areas where her team was able to make process improvements.
Finding a solution for hyper-growth
Booking.com, part of The Priceline Group, has grown immensely over the past three years—doubling both its number of employees and the properties available on its website. This level of hyper-growth turned its manual, Excel®-based FP&A process into an obsolete and unsustainable approach.
To scale and centralize its financial planning process, Booking.com selected Anaplan's cloud-based platform for its flexibility, robust functionality, and speed. The platform enabled the company to dynamically analyze and refine financial plans in real time across all business levels—ultimately aligning different functions of its organization.
"We were looking for a single secure source of planning data to enable greater collaboration and faster alignment between the different players in the planning process," Guglielmetti explained.
Beginning the connected planning journey
As Booking.com embarked on its connected planning journey, it began by rolling out the Anaplan platform in operational areas over the first half of 2017. As operational plans such as headcounts and forecasts went live, the company began centrally managing consolidation and improving overall process efficiencies.
The Anaplan platform gives the Booking.com team greater levels of granularity and insight into its forecasting capabilities. Guglielmetti shared that teams using the Anaplan platform recognize that they have more time for analysis and the benefit the platform is bringing to their jobs and lives.
Throughout the second half of 2017, Booking.com has expanded use of the Anaplan platform to support its marketing, human resources, and remaining finance and budget planning functions. With the entire implementation on track for completion by the end of the year, expansion plans continue to be discussed for different use cases.
Three areas of opportunity for process improvements
Addressing the role of change was another important piece of the overall implementation process. In the webinar, Guglielmetti called out three specific areas critical for success:
Communication is key. At the beginning of the implementation, Booking.com's central team fielded questions from employees who did not fully understand the direction of the project. According to Guglielmetti, it was a critical moment for the central team to collectively ask how they can improve their communication.The team found that explaining the reasons behind changing a process and incorporating new tools helped people understand and embrace the change. It was important to keep the team aware of the changes happening and the decisions being made. When decisions were made centrally, they were communicated out in a timely manner, with different approaches based on how specific teams would interact with the Anaplan platform.
Invest in training. Training is an integral part of technology implementation. People need to understand how to use the tool and, even more importantly, how it will enhance or improve their daily tasks. Even the most user-friendly tools require time for users to adapt to new functionalities and navigation.Guglielmetti advised allowing teams ample time to digest, try, and test. This allows them to explore the tool, ask questions, and fully understand its functionalities as it relates to their specific needs.
Make employees a part of the change. Team members need to feel part of the project, and they should be involved throughout the project. Communication between all levels of the organization ensures that requirements of different departments are thoroughly accounted for. For Booking.com, doing so laid the foundation for the work and minimized any backtracking for missed opportunities or department needs.
For deeper insight into Booking.com's connected planning journey and how you can connect your financial plans with less effort and more accuracy, tune in to the full webinar.
| | | |
| --- | --- | --- |
| | Streamlining FP&A to manage hyper-growth | |