Why business leaders, including CMOs, need connected planning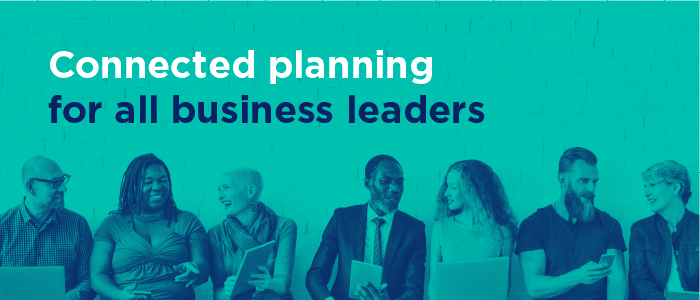 I begin work as the Chief Marketing Officer at Anaplan soon. It's an exciting time; I choose the companies that I work for carefully, so I learned a lot about Anaplan before I accepted this new role. I talked with friends and former colleagues who know the company and the technology, and explored the ideas behind connected planning. As I admired the speed, agility, and visibility that the Anaplan platform delivers to 800+ companies worldwide, I realized something fundamental: All leaders need connected planning, including marketers like me.
Let me explain why. Leaders need connected planning because, regardless of our industry or function, we share several objectives. We need to:
Understand how our work impacts sales. Driving growth is at the top of leaders' priority lists. That's why we need to understand (and quantify) the impact our teams have on sales. In marketing, we might call it demand generation, growth marketing, or even growth hacking, but regardless of the name, we're judged by whether we deliver measurable results.
Connect the dots across complicated processes. Business processes can have many facets and long timelines. The most effective marketing campaigns are like any business process: They move through multiple complex stages—from planning to production, execution, measurement, and optimization—ideally with maximum visibility and minimum friction. Leaders need to see the big picture within this complexity, focus on what's important, and make sure we're all putting our efforts in the best places.
Know and control spending in real time. This one's kind of a no-brainer, but it's true: It's awfully hard for many companies using spreadsheets and legacy planning solutions to manage their budgets on a quarterly basis, much less in real time. Business leaders need to see where the money is going, and we all want to avoid wasting cycles on activities that aren't valuable.
Be agile. All of us, no matter our industry or discipline, need the ability to move quickly when conditions change or new technology arises. For me, emerging disciplines such as account-based marketing and customer advocacy are constantly altering the way marketers work, so I can't be locked into rigid legacy systems that tie my hands or scattered spreadsheets that take days to assemble.
As a passionate (and often vocal) advocate for marketing technology, I'm eager to join the Anaplan team and get an inside view of how the Anaplan platform meets these needs. I'm confident that connected planning will help me be a better, more effective marketer.
And I'm equally confident connected planning can help other business leaders, no matter their focus. By connecting data, people, and plans, we can put our work in context, achieve visibility into complex processes, get a real-time handle on budgets, and pivot as needed to meet changing conditions. That's a combination that will help us all to stay competitive.