Capturing enterprise value through integrated data and Connected Sales Planning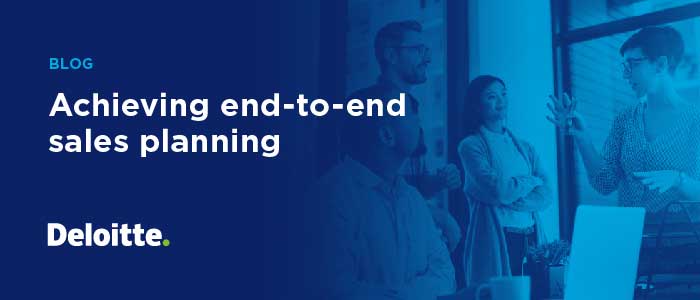 Companies, regardless of their size, are dynamic entities—customers and their profiles change, employees come and go, and sales and go-to-market strategies shift throughout the year. The minute a company "finalizes" its plan for the year, changes can happen at a granular level that require active management. The orchestration of managing a living, breathing plan can become a near herculean task when data lives in different systems, processes are misaligned, and business units and/or geographies have autonomy to manage their own tools and methodologies. At Deloitte, our clients are working with us to transform their sales planning ecosystems and try to offset the impact of disconnected and fragmented planning.
Achieving true end-to-end sales planning
A current trend we're seeing in the market is a focus on true end-to-end sales planning—and the "Plan to Pay" capability set. Our clients are integrating data, processes, and tools across sales strategy execution (segmentation/coverage), operational execution (territory design and territory/quota management), sales enablement (customer relationship management), and sales motivation (incentive compensation). Layered on this foundation, organizations are embedding predictive analytics into these processes to further improve planning and execution. The resulting connected and augmented sales planning allows companies to more quickly drive sales strategy into sales execution and improve ROI, including:
Quicker speed to market, with two to five times faster planning cycles
Decreased operational expenses of 3 to 5 percent
Decreased cost of sales, yielding up to 10 percent savings, which can be in the hundred-million-dollar range
Revenue growth, with a 3 to 10 percent increase in focus areas
While the value is evident, the path to Connected Sales Planning and performance management can be challenging.
To address this, we have developed a pre-built set of data models and integrations called "DigitalMix for Plan to Pay" to help our clients accelerate collected sales planning and break through siloed data across back office, middle office, and front office applications. Our application combines Connected Planning capabilities, CRM features, and incentive compensation management tools to help organizations transform how they plan and execute sales strategies. When coupled with appropriate process change, this creates a foundation for better collaboration and transparency across functions and can help shift the conversation from data accuracy to strategic planning.
"DigitalMix for Plan to Pay" allows for both changes in upstream sales strategy (e.g., product introductions) and seamless flow through to territory and quota planners for alignment reps, into CRM for sales execution purposes, and into incentive compensation for credit and pay. Specifically, the end-to-end application enables:
Sales finance and operations planning to set geographic quota targets, complete headcount coverage capacity planning, and segment and score accounts
Sales planners and leadership to roster sales teams and associate individual sales representatives to their compensation plans
Territory and quota planners to work collaboratively to create profile-based territories and assign representatives, as well as to set, manage, and tie-off quotas and generate sales letters
Sales reps to get more immediate visibility into their accounts in CRM
Sales compensation administrators to manage compensation plans and drive more accurate and timely credit and pay
Taking best-in-class sales planning tools to the next level
The industry-agnostic, pre-built nature of DigitalMix works for organizations that are already using best-in-class tools but that seek greater benefit and interoperability in their cloud-enabled environment and solutions. The solution is a powerful combination of cloud applications and integrations, including Anaplan's territory and quota management tools, SAP's compensation and crediting tools, Salesforce's automated data flow, account, and opportunity management tools, and Deloitte's predictive analytics models. Together, the combination benefits a company's entire sales operation through end-to-end tool integration that increases visibility and takes planning and forecasting to the next level.
While implementing new solutions can be challenging, working with a partner with deep expertise like Deloitte can reduce implementation and training time, which allows sales teams to quickly capitalize on new capabilities, better manage performance, and plan for what comes next. With the power of Connected Planning, cognitive capabilities, and predictive analytics, you can accelerate your plan-to-pay transformation and prepare for success today and in the future.
Reach out to us for more information about achieving true Connected Sales Planning and the value Deloitte's DigitalMix solutions can help deliver.
As used in this document, "Deloitte" means Deloitte Consulting LLP, a subsidiary of Deloitte LLP. Please see www.deloitte.com/us/ about for a detailed description of our legal structure. Certain services may not be available to attest clients under the rules and regulations of public accounting. Copyright © 2020 Deloitte Development LLC. All rights reserved.