Companies preparing to go public turn to Anaplan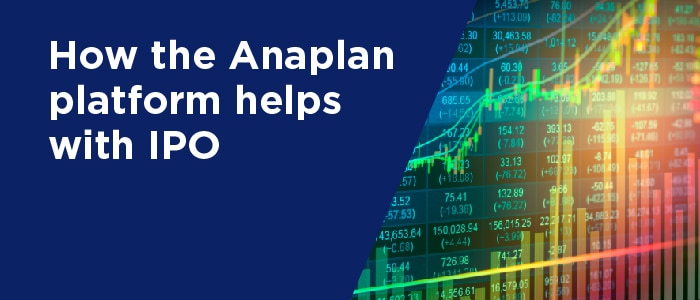 According to CNBC, 2017 is on track to have more initial public offerings (IPOs) than 2016—the first year-over-year increase in four years. I've noticed something that several newly minted public companies and their hyper-growth kin have in common: They use the Anaplan platform to drive better-informed business decisions.
Anaplan customers that prepared for and launched an IPO in the last few years include Cloudera (CLDR), Okta (OKTA), and Pure Storage (PSTG). Several other Anaplan customers in hyper-growth mode are our companions on the Forbes 2017 Cloud 100 list, including DocuSign (#4), ForeScout Technologies (#31), and Optimizely (#59).
Our own experiences as a hyper-growth company—adding a record 250 customers in 2016 and achieving greater than 75 percent annual year-over-year subscription revenue growth—have given us valuable insight into the connected planning needs of fast-growing organizations.
"Companies that are going public or growing rapidly—or maybe doing both at the same time—need to enhance their decision-making process in dynamic environments," our President and CEO Frank Calderoni explained in noting our customers in hyper-growth mode. "The Anaplan platform helps these companies connect data, people, and plans to make better-informed decisions. That's why they see Anaplan as essential to help them reach their next stage of growth."
For example, apps in the Anaplan App Hub (developed by Anaplan and our partners, including Deloitte, Accenture, and PwC) demonstrate how the Anaplan platform handles the intensive planning needs of hyper-growth companies. Our customers appreciate that the Anaplan platform doesn't lock them into hard-coded models that cannot be changed as their business grows and evolves. In fact, we find that many companies start using the Anaplan platform in a single area or line of business—such as finance, sales, or supply chain—and then expand their implementation into additional areas, connecting their plans across the company so that the flow of data and decisions are made in real time.
The Anaplan platform helps companies with revenue modeling, "what-if" scenario planning, driver-based forecasting, and many other tasks, so companies can model their business-decision processes the way they want to, not the way the software tells them they need to. This is particularly important when preparing to go public. "When you are a public company, there is very little margin for error, especially as we plan for the year ahead," said Yousuf Khan, CIO of Pure Storage, as he explained to me how Anaplan helped his company in the run-up to its October 2015 IPO. "Anaplan's connected planning platform allows us to model various scenarios and get accurate data more quickly so we can make the right moves with confidence."
What's more, the Anaplan platform puts these powerful capabilities in the hands of business users, freeing companies from inflexible hardwire templates and formulas that don't connect with each other. We've noticed revenue modeling and forecasting tasks that are important for private companies become absolutely critical when a business is publicly traded. Companies that need to develop long-range plans, conduct workforce planning, calculate customer lifetime value or the cost of an acquisition, or do cohort analyses love Anaplan's flexible toolkit.
"Accuracy in forecasting and reporting is always important, but there's a different set of priorities and an expanded audience when you're creating reports for public scrutiny," explained Brett Tighe, VP of FP&A at Okta, the leading independent provider of identity management for the enterprise. "A mistake can have repercussions in the marketplace. When taking a company public, there is a premium placed on reliable forecasting, which is why we chose Anaplan. The connected planning platform allows us to model various scenarios and get accurate data more quickly, helping us make smart financial decisions."
To learn more about how a connected planning platform can help any business—from a Fortune 500 firm to a fast-growing startup—read "Connecting Plans and Performance: It's a New Day for the Enterprise." This IDC-authored report includes real-world stories from insurance, technology, and consumer packaged goods companies that have connected their planning across the organization to drive real business impact.