Congratulations to our award-winning partners and customers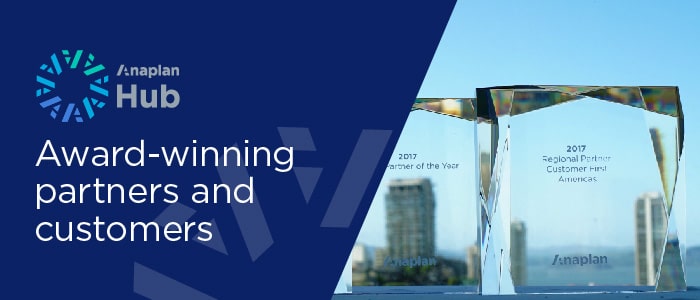 Recognizing outstanding accomplishments by our customers and partners is one of the most satisfying activities at Hub. It's our opportunity to share the creative things our customers and partners are doing around the world with the entire Anaplan community. If you couldn't be at Hub17 in person, here's who took home prizes.
Customer awards
During the morning keynote on March 28, Chief Customer Officer Simon Tucker announced four awards that had been given to Anaplan customers the previous night. "These people are extremely strategic in their organizations," Simon said as he announced the winners. "They're leading the vision of how Anaplan is going to be rolled out and connected across their organizations."
Visionary of the Year (Americas): Kelly Phillips, Halyard Health. Halyard, a spin-off from Kimberly-Clark, uses Anaplan for FP&A and Analysis of Change, and its Anaplan footprint is only continuing to grow in 2017. Kelly is a champion within Halyard for the global rollout and team adoption, and demonstrates Anaplan's scalability in use cases within the company.
Visionary of the Year (EMEA): Louis Vuitton Malletier. In July 2016, the global luxury brand tested the concept of demand-driven material requirement planning (DDMRP)—a sophisticated supply chain use case—in a hackathon. Today, Anaplan is the operational tool used daily to plan product distribution for seven regional warehouses, and additional Anaplan use cases are under development. A member of the Louis Vuitton team (who chose to remain anonymous) was recognized for passion, enthusiasm, and positive energy related to Anaplan.
Visionary of the Year (APAC): Wayne Lo, Dimension Data. Anaplan has been in use at Dimension Data since 2014, starting with financial analysis and moving into business process optimization. Wayne has helped connect his Dimension Data colleagues around the world with Anaplan; the next use case being developed is for treasury in South Africa.
Anaplanner of the Year: Tyler Snellings, AdRoll. Tyler oversees all things related to Anaplan at AdRoll and was a member of the very first Anaplan user group. An active model builder, he is an advocate for Anaplan within his company and an active member of the Customer Advisory Board (CAB). A great analyst has curiosity, organization, discipline, and tenacity, and Tyler excels in all of these areas.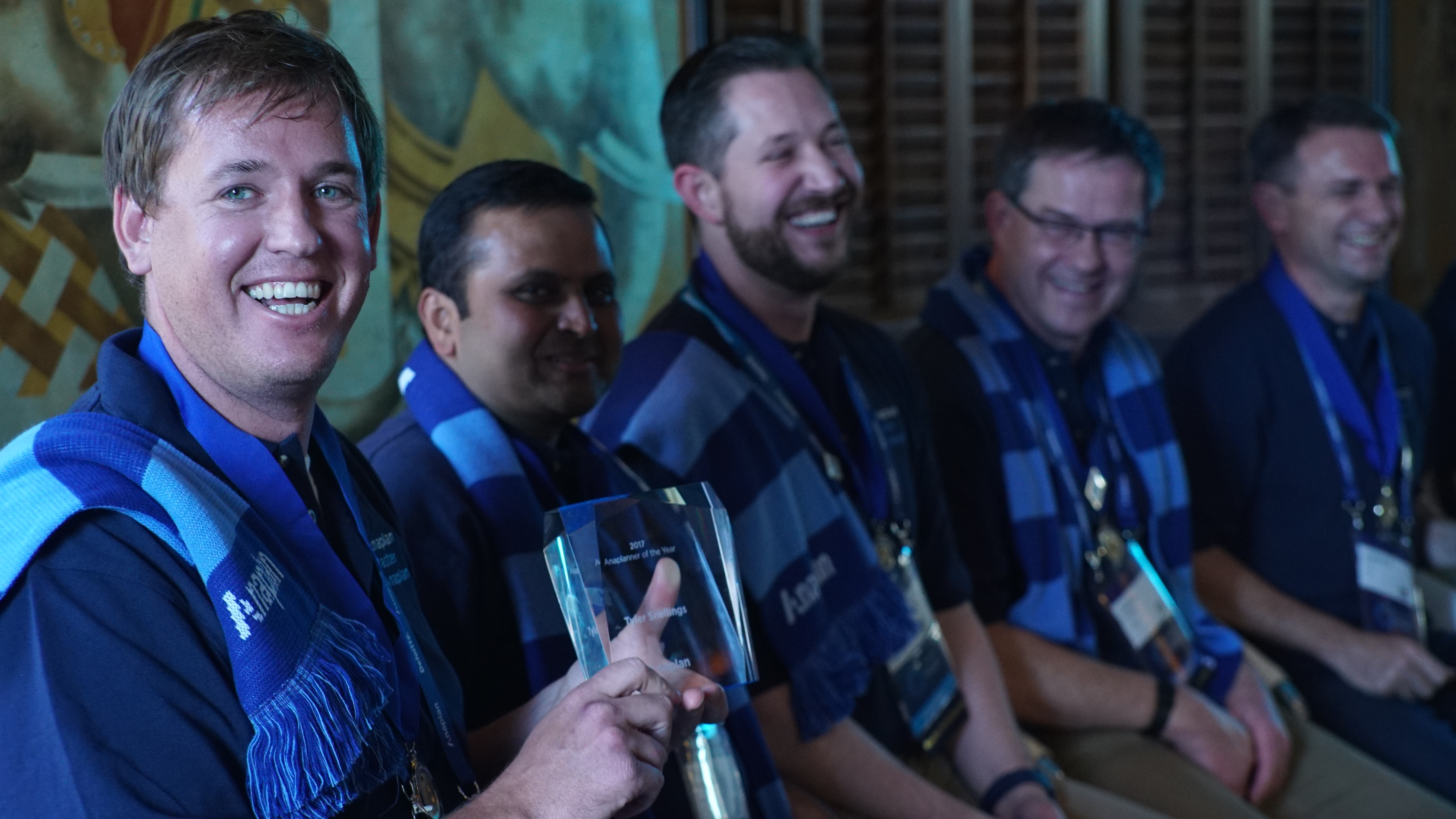 Anaplanner of the Year Tyler Snellings of AdRoll holds his award as fellow Anaplanners look on.
Partner awards
Anaplan's incredible partner community is invaluable in helping us drive a new age of connected planning to organizations around the world. "We're excited to have a rapidly expanding global community of best-in-class consulting partners," said Paul Melchiorre, Anaplan's Chief Revenue Officer, as he presented the awards on March 27 at our Partner Hub meeting. "Our partner ecosystem is committed to enabling connected planning for customers in a range of sectors and territories." Four key Anaplan partners took home awards:
Customer First Award: Plan Rocket Consulting. Because of its tenacious work to delight its customers and drive value throughout every part of the Anaplan ecosystem, Plan Rocket Consulting received Anaplan's inaugural Customer First Award.
Customer Success Excellence: Twelve Consulting Group. Twelve delivers exceptional value to Anaplan customers by empowering them to design and deploy connected planning models that unlock their potential to democratize data-driven decision-making in planning processes.
Rookie of the Year: Voiant Group. Recognized for delivering significant impact to the community in its first year as an Anaplan partner, Voiant Group is creating high-value, industry-specific solutions for sales planning and operations.
Global Partner of the Year: Deloitte. Deloitte was recognized for its continued global investment and innovation with Anaplan. The company is driving a transformation of the connected planning process for some of the world's largest, most complex companies.
Congratulations to all of our award winners.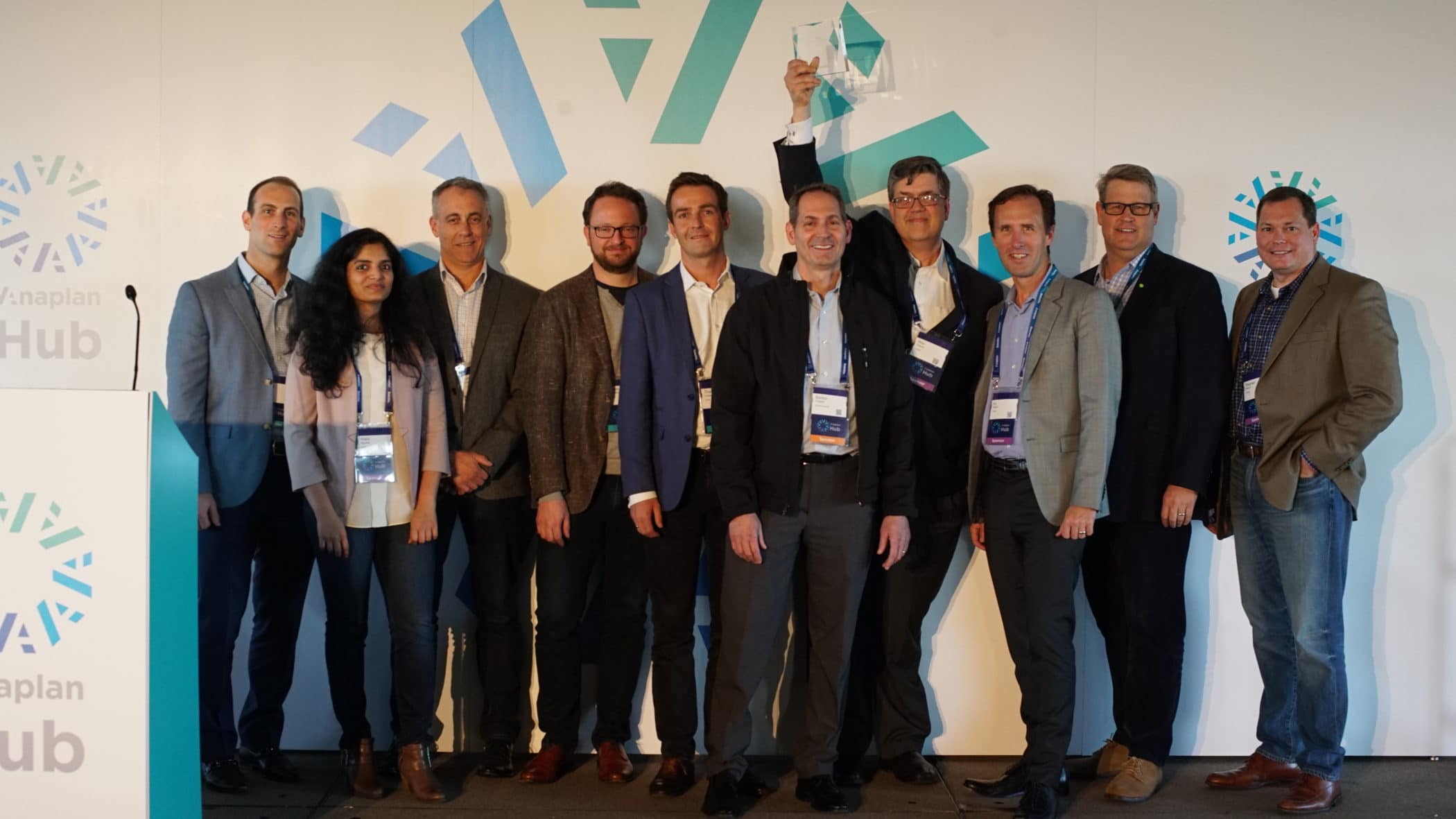 The Deloitte team celebrates their Global Partner of the Year award.