Democratizing enterprise planning: what it is and why it matters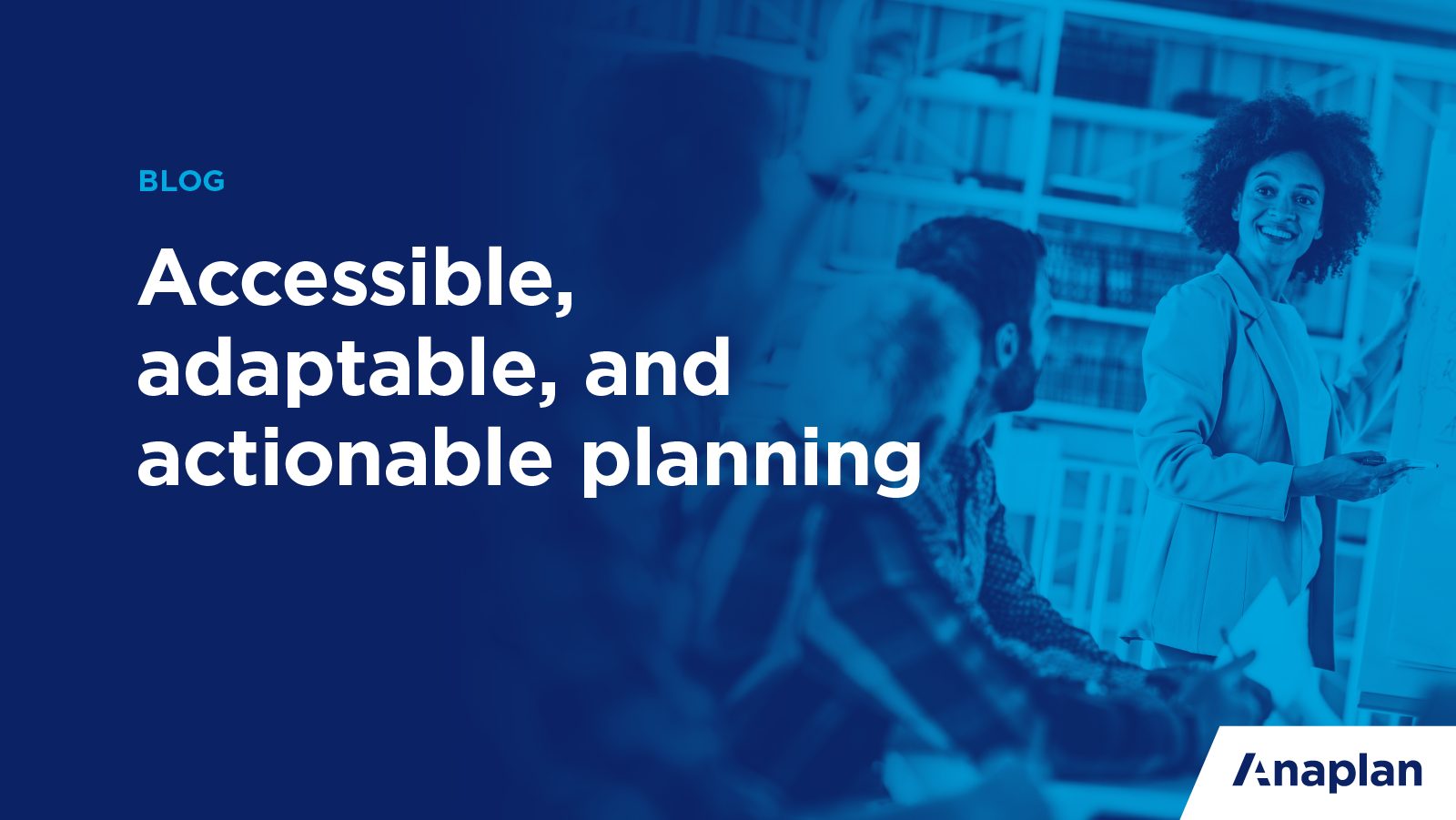 This is the first article in a blog series that discusses how to democratize business planning with enterprise-wide planning technologies.
People use technology to do things quickly, efficiently, and easily. Groceries can be purchased online and delivered within hours, GPS-based apps convert unfamiliar routes into seamless navigation, and strangers often become friends through online social networks.
In many ways, social platforms make it easier to drive meaningful change in a dynamic, fast-moving world. For example, politicians, celebrities, and business leaders take to Twitter multiple times a day to share real-time ideas, information, and reactions to breaking news and global events.
What Twitter does well—providing users with an impactful, efficient stage to share a louder voice—epitomizes a similar opportunity for business planning. As enterprises incorporate greater degrees of collaboration into the planning process, a growing network of planners need technology that not only enables, but encourages, widespread participation in decision-making.
Every planning team has a voice—and with Connected Planning technology, every single voice can help inform and improve the decision-making process. It starts with democratizing the planning process and is sustained through highly capable planning technology that intuitively connects people, plans, and data through an engaging experience.
Democratization: what it is and why it matters
Thriving in fast-paced, competitive markets means that business leaders have to plan efficiently to make quick, accurate decisions. Yet, for many enterprises, planning can involve a complex mix of disparate planning systems, diverse decision-makers and planners, and fluctuating data sets.
As a result, people across the same organization are resigned to working with disconnected tools, analyzing different types of data, and collaborating with a smaller net of accessible people to make decisions for independent business units.
Yet, employing the right technology to democratize the planning process can help business leaders better solve for these types of planning challenges. Democratizing planning makes participation throughout the planning process accessible across the enterprise. In doing so, teams in a company are given a voice within the decision-making process through heightened collaboration and active participation in the planning platform.
The importance of democratization cannot be understated. By providing the right enterprise planning platform at scale and with ease, every business decision in a company becomes intuitively informed by up-to-date, connected information from across the organization.
Using Connected Planning platforms to democratize enterprise planning
Connected Planning is an approach to enterprise planning that accelerates business value. It is successfully applied across industries such as retail, CPG, manufacturing, finance, high-tech, and logistics to replace traditional planning siloes with increased agility and speed.
By providing a real-time connection of people, plans, and data across an entire business, Connected Planning technology yields a shared platform for enterprise-wide collaboration. Engaging and easy to use, the Anaplan platform connects people across the enterprise in the right places at the right time.
For business leaders, democratization is equal parts technology and culture. Here are a few guiding principles that can help businesses establish a strong foundation for democratization.
Foster a decision-making culture. The way businesses approach decision-making is as important as the decisions themselves. From the top-down to the bottom-up, look for ways to strengthen and encourage a planning culture that is based on enterprise-wide knowledge sharing and data-driven communication.
Maintain an openness to change. In today's world, change is the only constant. Become familiar and comfortable with the anticipation and effects of change. Rather than fight it, look for ways to improve planning through transparent, effortless conversations that allow the business to adapt in lockstep with market dynamics.
Think about your planning as a team sport. Connecting people, processes, and data is a necessity in today's complex and evolving markets. Take inventory of your current processes and tools to further empower planning to become an engaging, conversational experience across the entire business.
In subsequent posts in this series, we'll explore each of these three pillars in depth and how business leaders can use them to establish a foundation for planning democratization.