Do you manage by a well-defined sales plan or gut instinct?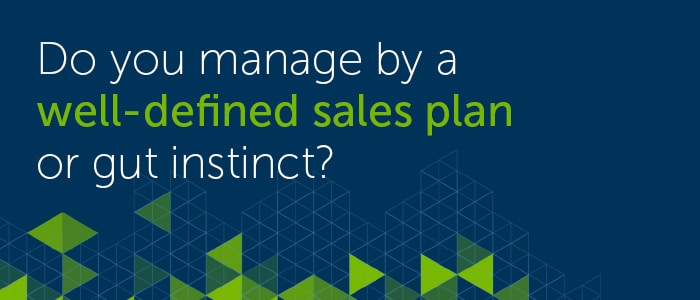 It's not unusual for us to go with our gut instinct or intuition when making decisions in our lives. Recently, my wife Lisa and I were traveling to take our son to a sporting event in a town that we had never visited. Going on gut instinct, I made a left turn in the car, then a right, and another left and before I knew it, we were lost beyond return. I took Lisa's advice to finally pull over and ask for directions – you would think that I'd learn this lesson by now. She never said, "I told you we should have planned our directions" but I could read her mind. Having a plan is important, and even more important if you're a sales leader responsible for achieving your assigned sales quotas and driving better sales performance and not simply driving your son to a sporting event.
A well-defined sales plan helps to direct the sales team to reach their destination. High performing sales leaders recognize that if they "fail to plan, they are planning to fail" so they go through a planning process every year in an attempt to align their sales strategy to corporate objectives. But is this enough? Having a sales plan is essential, but far too often sales leaders ignore the sales plan and revert back to relying on gut instinct for driving their day-to-day activities.
I remember working with one group of sales leaders from a medical device company who all agreed that having a sales plan defined was critical for them to deliver better sales performance. I spent several days with them working through their corporate objectives and understanding their customer segmentations, customer buying habits, geographic locations, and the company's product offerings. We discussed and designed their sales territory coverage model, key accounts, and what sales people and roles were needed to support their go-to-market approach. We crunched numbers well into the late evening hours, looking at historical sales rep performance and market opportunity in each of the territories, and finally reached consensus that the sales reps all had attainable quotas. As the final step, we met with the compensation team to map key performance metrics and components of the incentive compensation plan to ensure that the sales reps were receiving credit for the desired behaviors that aligned with the sales strategy and corporate objectives. We were done. We had a sales plan that could be tracked, monitored, and adjusted should we need to adapt to some kind of disruption or change.
Surprisingly, it all started to go wrong almost immediately. After investing significant time and hours establishing this sales plan – one that we all agreed upon and thought would lead to success – some of the sales leaders went back to making decisions based upon their gut instinct. Like me driving my car to take my son to that sporting event, they ignored the plan. I took note of some of their comments.
"I'm going to bump up Sally's quota by a few points. She's our best sales rep – she'll crush her numbers like she did last year."
"John needs to maintain account XYZ. I know it is not part of the territory that we discussed and assigned but he has some relationships in that account."
"We need to give some relief to Sandra. I know that the accelerators defined in her incentive plan don't kick in until she has attained X% of her quota but remember how she reacted last year when she was just shy of reaching her quota. I don't want that to happen again."
Far too often, sales leaders agree that having a well-defined sales plan is essential but in the end turn to gut instinct and start to make exceptions. Once a sales leader makes exceptions for one sales rep, they begin to do the same for others. And once one sales leader starts to make exceptions, others quickly follow and gut instinct wins over the sales plan.
Remember, the sales plan is intended to help direct the sales team to reach their destination, which is really to achieve the overall corporate objectives. A well-defined sales plan can make or break your sales productivity and making exceptions to the sales plan can lead to shortcomings of the sales plan.
In order to better understand what global sales organizations' planning processes looks like and to diagnose common inefficiencies, SiriusDecisions conducted a primary research project to gather data across a large audience of global companies. Here are a few findings from the survey and points from experience that sales leaders should pay attention to if they want a well-defined sales plan and avoid relying on gut instinct.
For most large organizations, sales planning is a siloed process. It is important to have the right people engaged in the sales planning process including sales, marketing, human resources, finance, and others.
High performing sales leaders start the sales planning process two to three months before the end of the current fiscal year and finish before the start of a new fiscal year. The sales planning process can take time – get started early.
Most organizations are using two to three years of data to support the planning process. A well-defined sales plan is partially based on historical sales performance. Having the sales plan that is derived from the numbers helps sales leaders avoid reverting back to gut instinct.
Half of the organizations that participated in the survey go through more than five iterations of their sales plan before completion. Revisit your initial assumptions, challenge them before you lock down the sales plan.
Adoption of better sales planning tools cuts down the number of planning iterations, which increases productivity. When everyone collaborates and agrees on the sales plan, it becomes more difficult for one sales leader to waive from the plan and begin making exceptions.
Sales planning is an essential exercise for sales leaders and it is challenging to get it right. However; without a well-defined sales plan established through collaboration, reviewing historical performance, market opportunity, and ensuring consensus – you are 'failing to plan, and planning to fail' and when you discover you're failing, it is not easy to pull over and ask for directions…it's too late, you're lost beyond return.
Join Mark B. Levinson, service director, sales operations strategies at SiriusDecisions, and Kevin Gray, director, product marketing at Anaplan, for an upcoming webinar that will reveal key findings from the survey conducted by SiriusDecisions and learn "How your enterprise sales plan can make or break your sales productivity" while discovering:
How long is the average sales planning process?
What are the effects of this process on quota setting?
How do sales reps react to delays in sales planning?
How Anaplan has helped enterprise organizations address the challenges uncovered in the SiriusDecisions survey
Register today to save your spot for the webinar on November 12, 2014, and get on track for a more productive sales planning process.