Dusting the cobwebs off zero-based budgeting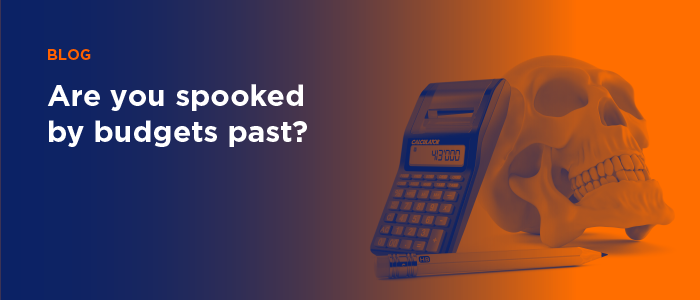 As Halloween draws near, I am tempted by the array of spooky movies Netflix has to offer. What gives me pause are the memories of my sleepless nights after watching some of the classics when I was young, and a line from the classic horror movie "Psycho" continues to haunt me. When Norman Bates says, "She just goes a little mad sometimes. We all go a little mad sometimes. Haven't you?", I can't help but think about the many scenarios to which this line can be applied.
Any planner who has prepared for and survived budget season has probably gone a little mad. As a former financial analyst and budget owner, I've always found it ironic that the year's two scariest seasons—Halloween and budgeting—line up so closely to one another. However, what experience, research, and evolution have taught me is that finance teams need not go mad with anxiety, anticipation, and dread while preparing for budget season.
Adopting better budgeting practices, especially a zero-based budgeting (ZBB) approach, is easier than ever with today's flexible planning technology. To this end, I recently hosted a global webinar with our strategic partner, Deloitte, on adopting and implementing a ZBB approach.
Here are some of the highlights from the thoughtful dialog with our attendees.
How ZBB differs from traditional budgeting methods
One of the first questions planners ask is the difference between ZBB and other budgeting approaches. The biggest differentiator is shifting the mindset around the expenditures the business needs to keep or remove. ZBB requires budget holders to think about every single expenditure and how activities and resources align to strategic objectives—how they support the goals of the organization.
This differs from traditional approaches where budget holders begin with the previous year's budget and look for areas to tweak, not necessarily taking the time or ownership for thoughtful reflection on the impact of those expenditures. In contrast, budget holders are required to justify and own their budget with a ZBB approach.
Implementing ZBB best practices
As more organizations embrace a ZBB mindset, there are critical tenets to supporting the culture change. The following principles are critical to making the shift and driving success in ZBB adoption.
Budgets start at zero and are not tied to a prior period's spending. This drives appropriate spending for activities that are necessary, rather than tying spending to historical trends.
Reductions are not systematic and uniform. Spending is aligned appropriately to drivers that move the needle, meaning spending in some areas goes down and goes up elsewhere. Spending is analyzed and prioritized, which results in strategic allocation of budget dollars.
Budgets are aligned to activities that support strategy. This supports the notion of doing the right thing at the right time with the right people for the right amount.
Identifying and setting realistic expectations
Adopting a sustainable ZBB approach requires clear direction and commitment from leadership. Because it is a very tactical and bottoms-up approach, organizations need to be clear about why they are embarking on the journey, what they can expect, and how they will accomplish their goals.
How should a planner begin to seek executive buy-in? Start by providing stakeholders with visibility into the expected benefits. This can help build adoption and personal investment in the value of the process. Commitment to cultural alignment and strong governance will support the goals of the enterprise addressed through ZBB.
Steps toward organizational readiness
As businesses contemplate their ZBB journey, it is important to think about several elements of organizational readiness:
The level of visibility and transparency in the organization to thoughtfully align drivers to strategy
Clear goals and supporting initiatives that can be aligned to resources
Cultural awareness and enthusiasm for adoption, and the supporting process and technology improvements to foster success
Ultimately, for ZBB to be successful, it needs to be modeled and delivered through a capable and flexible planning solution. The Anaplan platform, a cloud-native solution, can enable, support, and execute effective ZBB methodologies, especially amid today's increasingly volatile business environments.
To learn more about the methodology of ZBB, access our on-demand webinar with Deloitte, "A Digital Approach to Zero-Based Budgeting (ZBB)."
| | |
| --- | --- |
| How does zero-based budgeting (ZBB) differ from traditional budgeting? | Read blog |
Keyword: Zero Based Budgeting