Eliminating the strategy-execution gap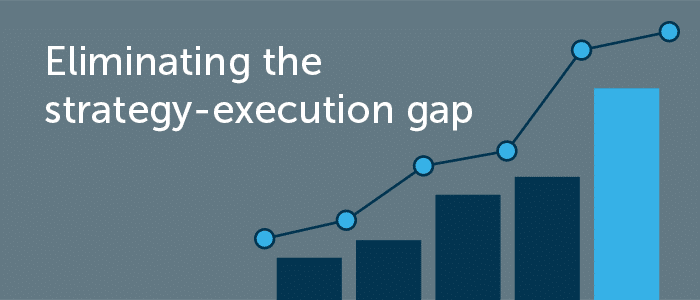 Most businesses fail to re-plan and re-align quickly enough to capitalize on (and let alone deal with) change. The constant torrent of changes that take them off their planned course is used as a reason for failure in every part of the business. "We had no way of seeing that coming" is a common phrase used in quarterly reviews. The reality is that all competitors felt the same impacts. It's the ability of a company to rapidly respond to unpredictable and uncontrollable change that defines who the smart businesses are that will survive and thrive over the next decade.
Those smart businesses will have closed the "strategy-execution gap." This ability to pivot the business quickly will need to be made available throughout the whole company. The days of centralized decision-making are over.
According to a PWC executive survey, 96 percent of executives indicated concerns about the barriers between strategy and execution. The number-one reason for their concern? The inability to maintain alignment between departments and resources within the business.
The examples are all too common and the stakes are high: A UK company lost billions due to a single spreadsheet error. Another failed to forecast commodity prices effectively, resulting in eroded margins and ultimately uncompetitiveness. A global consumer electronics manufacturer was forced by regulators to issue a global recall on a flagship product—how can this electronics giant re-align supply chain, marketing, and sales to bounce back rapidly and recover the $10B of value they lost in only one day? How can a business mount a coordinated response in the face of a military coup or a major natural disaster? Meanwhile, others are subjected to unpredictable socio-economic shifts beyond their control. For instance, how will companies react effectively to the changes coming with "Brexit"?
This strategy-execution gap is not a new phenomenon. A while ago, a set of software solutions came about from companies like IBM, Oracle, and SAP that promised to help close the gap: corporate performance management (CPM) solutions. These were intended to bridge that gap. Ideally, these solutions would unify strategy, planning, execution, and results.
These solutions have essentially failed to deliver on their promise, because they are siloed by business function, require heavy IT and programming support to make changes, and do not support real-time collaboration. Business users had to turn to ill-fitting personal productivity tools, like spreadsheets and small-scale databases. The intentions were good, but over the last 20 years, the outcomes have been bad.
The Economic Waste is Huge
Anaplan analyzed the amount of economic waste the 2,000 largest companies (the Global 2000) incur, and calculated that over $100,000,000,000 is lost every year. This $100B waste comes from:
Productivity cost. We estimate that the Global 2000 are wasting three billion hours a year on "zero-value" tasks associated with planning and performance management, like data aggregation, literally waiting for Excel files to open, fixing broken data connections and macros, auditing workbooks, and checking numbers.
Opportunity cost. The use of spreadsheets is causing major planning processes to run for up to 80 percent longer than they do in Anaplan. Companies that fail to increase their productivity and planning speed are missing key opportunities. Alternatively, businesses that have more free time are able to better identify opportunities for growth and capital to spend on new ventures.
Risk. The cost of errors is real. Using outdated technology is a threat to both a company's top and bottom line. One company lost $6B in one day due to a single spreadsheet error. Without quick access to accurate data, operations and analysts fail to be the enablers they should be. Additionally, external threats are becoming more common and can have serious repercussions—experts note that hackers often use email attachments such as documents and spreadsheets to gain access to corporate systems.
Eliminate your organization's strategy-execution gap
In order to eliminate the strategy-execution gap, companies must work smart, rather than hard. A smart business is one that plans with greater precision and speed, is able to frequently connect performance data with plans – enabling it to course-correct earlier, faster, and more often. It is proactive and fast to respond to both expected and unexpected changes. And you, as the smart business leader, must lead this transformation in your area of the organization.
Ask yourself—is your business at risk of being disrupted by this strategy-execution gap? Do these characteristics sound too familiar?
You only make one plan a year.
Your company tries to align departments with emailed worksheets and presentations.
Your corporate budget and/or sales targets are delivered months too late.
You predominantly rely on spreadsheets as the default method to model, plan, and develop forecasts throughout the company.
What could happen if your business had the ability to re-plan and re-align rapidly to capitalize on change? How would you invest your liberated time and capital?
The strategy-execution gap is on every smart business leader's mind. See how smart businesses are using Anaplan to change the way they close that gap—by decreasing operational risk, increasing opportunities, and decentralizing informed, smart decision-making—resulting in a higher growth, better productivity, and long-term competitive advantage.